This summer, parents, take the opportunity to let your child explore our community through stories and art in different ways – like at Step Into a Story, a weekly story time and hands-on art experience at the Missouri History Museum in St. Louis' Forest Park.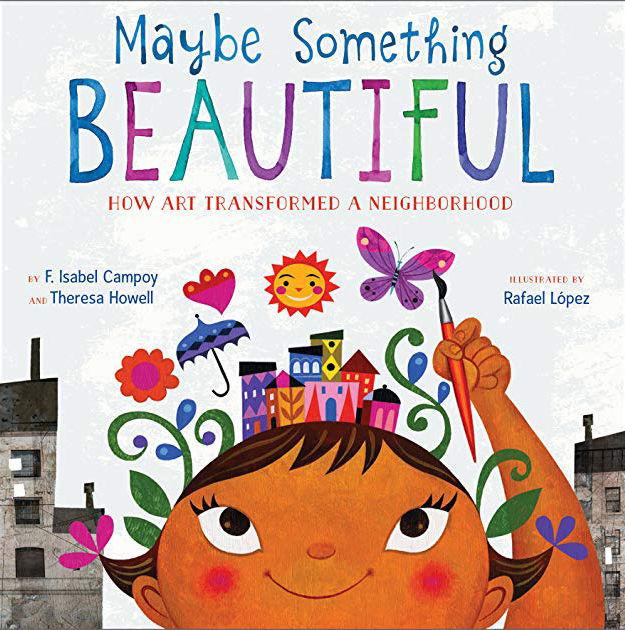 Next Wednesday, July 18, that program features an utterly marvelous children's book, Maybe Something Beautiful: How Art Transformed a Neighborhood by F. Isabel Campoy and Theresa Howell with illustrator Rafael López. Based on a true story, Campoy and Howell's tale centers on one small girl's belief in the power of art to evoke change in ways both subtle and substantial.
Mira sees beauty and possibilities all around her. A prolific artist of doodles, drawings and paintings, she creates small masterpieces. Believing that when color fills her room, joy fills her heart, Mira brightens her neighborhood (and neighbors' moods) by taping her paintings on buildings "in the heart of a gray city."
One day, she sees an interesting man "with a pocket full of paintbrushes" peering thoughtfully at Mira's rainbow painting taped to a cold gray building façade.
"What do you see?" Mira asks.
"Maybe … something beautiful," the man replies.
He introduces himself as a muralist – an artist who paints on walls. Learning that Mira, too, is an artist, he and she immediately begin lighting up their bleak surroundings, painting with abandon. The artistic enthusiasm proves infectious – and soon children, parents, musicians and other community helpers join them, infusing the environment with vibrancy and delight.
López effectively evokes a range of feelings from dismay through exuberance by his use of colors, tones and carefully imbued spots of fluorescence. He opens the story by depicting the forlorn cityscape in straight, bold lines and patterns, then juxtaposes brilliantly hued free-form shapes as the area and its inhabitants joyously change.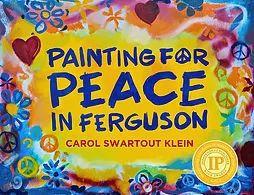 A second children's book that embraces art as a transformational tool has its roots in the St. Louis metro area. Carol Swartout Klein's Painting for Peace in Ferguson begins with a broad concept that even young children should understand: "In the small town of Ferguson in 2014, some people did things that were meaner than mean. Some people were mad, some people were sad. But everyone, everywhere felt pretty bad."
Klein's book chronicles how people of different ages, races and abilities worked together to turn stark, boarded-up doors and windows into outdoor art displays. The photos in Painting for Peace showcase more than 250 original pieces of art created in response to the civil unrest.
Klein's book highlights the beauty, hope and cooperation that grew from the unimaginable seeds of despair, anger and separation. Also available, a companion coloring book suitable for all ages provides an opportunity for family creativity and discussion. 
You, too, can serve as a catalyst for positive change by joining Ready Readers! We prepare children from our community's low-income neighborhoods to enter kindergarten ready to learn and ready to read through providing new children's books and weekly story-time visits with trained and caring volunteers. To learn more, please visit our website, readyreaders.org.