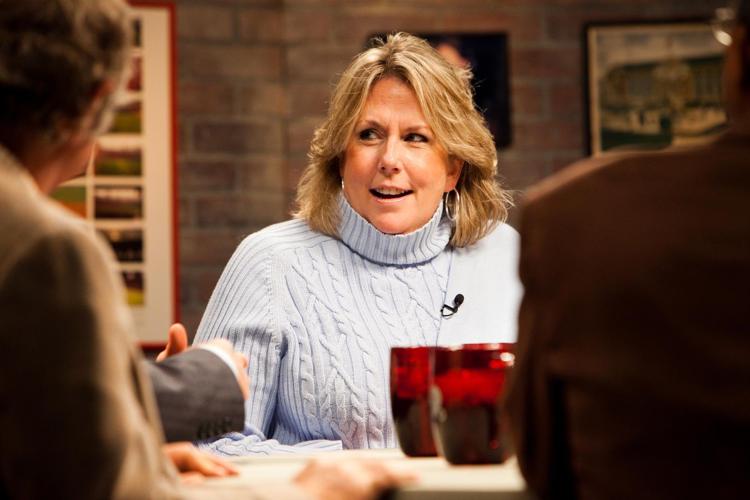 Wendy Wiese was terrified, but that wasn't going to stop her voice from being heard – or stop us from listening.
She remembers the day, almost 30 years ago, when she got a call from KMOX radio. "They said, 'Mr. Hyland wants to talk to you about a job.' My palms still sweat when I think about that moment," Wiese recalls.
She was a 24-year-old broadcaster whose only experience was working for a Springfield station. Soon after, though, she became one of the voices of St. Louis on KMOX.
I recently saw a photo posted on her Facebook page from that day. She wore a dress with big shoulder pads, feathered bangs and a bewildered but determined look on her face. She was accompanied by Mr. Hyland – anyone who ever worked at KMOX, including me, still refers to him as Mr. Hyland . In the photo, Hyland is making a point, while legendary newsman Bob Hardy and partner Bill Wilkerson try to look casual. The caption to the photo reads, "I'd never been more grateful or terrified in my young life. 30 [stet] years later, I'm still grateful and still terrified."
Not only was Wiese still green in the business, but also she was replacing KMOX icon Rex Davis in one of the anchor chairs. "It was like Malibu Barbie replacing Walter Cronkite," Wiese says with a look of astonishment.
However, when the mic came on, she made her debut on the legendary 50,000-watt, clear-channel blowtorch, and she would be heard all right. For the next decade, listeners woke to her now-familiar husky, no-nonsense voice starting at 5 a.m. every day. A few years after Hyland died, Wiese was part of a mass defection of KMOX staffers to newly formed rival station KTRS. It was an ill-fated ratings coup attempt. Looking back, she says it probably wasn't the best career move and admits she has some regrets. "I do believe everything happens for a reason," Wiese admits. "I wish I would have been a little bit smarter and not let my emotions dictate my actions, because it was a raw time. We had just lost Mr. Hyland, and things were changing very quickly."
Wiese is still on the air every day. She has a show on the Relevant Radio Network, the second-largest Catholic radio talk network in the United States, with affiliates in 16 states. She also is still very "relevant" in St. Louis media as one of the long-standing panelists on TV's Donnybrook, which airs each week on KETC. Wiese and I talked in the greenroom before the show, and soon, the other Donnybrook combatants walked in for the production meeting. Charlie Brennan was in the provocateur role even backstage, while Alvin Reid, Bill McClellan and Ray Hartmann lobbied for discussion topics. Wiese tried to get a word in edgewise and gave me an exasperated look, before shrugging and saying, "See what I have to deal with?" But even that crew can't stop her voice from being heard – or them from listening. I can't believe they produce a coherent show out of this meeting, but they do, and it goes off without a hitch. Off-camera Wendy tells me, "They are the greatest group of guys – the nicest, warmest and most welcoming people that you could have, and they are all brilliant." She adds in a whisper, "But don't tell them that I told you that."
Wiese grew up in St. Louis (Visitation class of '79), and she and her husband, Chris, have been married 27 years. They have two daughters: Kate, 25, and Maggie, 23. "The most remarkable thing is the people I've been so blessed to have encountered and to have worked with – incredible people like Jack Buck, Anne Keefe, Bob Hardy," Wiese says. "They made a monumental impression on me." It's hard to believe she still gets nervous before she goes on the air. "I'm the terrified old lady now," she says, "when you're in front of a microphone or camera, and you pray you make sense and don't start drooling!"
Thirty years is a long time. What are the most important things those years have taught her, I ask. "Happiness is a decision," she replies. "Don't sweat the small stuff, coming from a reformed major sweat-er of small, inconsequential stuff. If you love what you do, you'll never work a day in your life. Love and always remember those who love you; don't worry about the ones who don't." That husky, no-nonsense voice is still being heard and those words are definitely still worth listening to.
Paul Brown is a longtime journalist on radio, on television and in print as a reporter, an anchor, a talk show host and a columnist. He's also a media and public relations consultant with Paul Brown Media.
The business news you need
With a weekly newsletter looking back at local history.