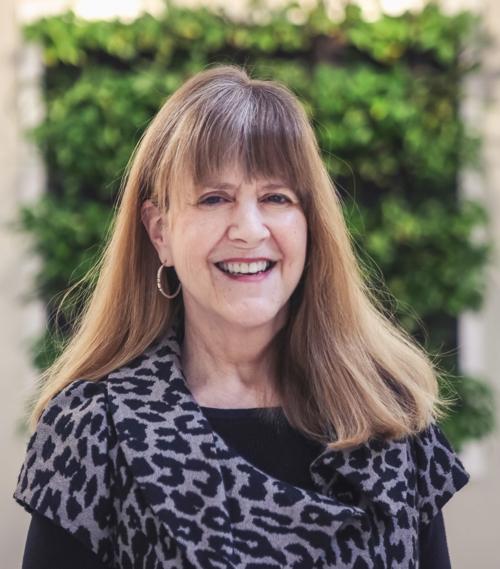 When Sandra Harris goes to work each day, she's in a place filled with sadness – but also with the promise of hope. In January, the Parkway West High School graduate took over as the new executive director of the Holocaust Museum & Learning Center in west St. Louis County. Harris says when she walks through its exhibits, she has the same feelings that she did when she first began learning about the Holocaust.
"I can't comprehend how anyone could not allow someone else to live based on religion or ethnicity," she says.
Harris' family moved to St. Louis in the 1950s, when her father went to work for McDonnell Aircraft (which, of course, merged with Douglas Aircraft Co. in 1967 to form McDonnell Douglas, before being merged into The Boeing Co. 30 years later). Harris says her dad was quite the history buff, so like a lot of residents here, her family took advantage of the metro area's museums.
Harris earned degrees from Washington University in St. Louis in sociology and psychology and postgraduate degrees in anthropology and museum studies at Arizona State University, and she's been in the museum and library business for the past 30 years. Most recently, she was the library director for Town and Country's Maryville University. Before that, she was an administrator at museums in Arizona, California and North Carolina.
In her new role, she'll take on one of the biggest and most important projects of her career. As the HM&LC marks its 25th anniversary, Harris will oversee an $18 million expansion that will triple the size of the exhibition space and change the layout of the museum. Groundbreaking is set for this spring, with an estimated completion date of 2022.
The local institution is one of only 22 Holocaust museums in the U.S., and the destination gets more than 30,000 visitors per year. The expansion and "rethought" exhibition space are expected to help lift attendance even higher. Harris says the "Change Begins With Me" exhibition will become a more central part of the renovated center. "It will help people to take the information they've just learned about the Holocaust and then think about what they can do with their own lives and communities to better live with, coexist with and celebrate other people and beliefs," she explains.
The HM&LC is intrinsically connected to the Jewish community and is operated by the Jewish Federation of St. Louis, so Harris says the fact that she identifies as a Protestant was openly discussed with the board when they were interviewing her for the job. In the end, she says her experience was the deciding factor.
"My background is in administration and strategy and gathering resources and experts, and right now, with the growth we're about to undergo, that was very important," Harris says. "My job is to take that passion and teach people how to interpret that pain and sadness [via] programing and conversations." She adds that these programs and conversations are important to engage with, whether or not visitors have familial experience with the Holocaust.
Harris notes that when you are in the museum, it's easy to become overwhelmed by the horrifying images and artifacts on display, and she works to find balance in her own feelings. "It wouldn't be right for me if I no longer felt emotion when I'm in this place," she says, "but I do have to use both my heart and mind because you have to think about how to take care of the business part of this."
It's hard for most of us to comprehend the true devastating insanity of the Holocaust. It's been documented that at least 11 million people were systematically tortured and exterminated over the course of this dark period. It's hard to imagine that the world could ever forget, let alone that Holocaust deniers could believe what they do.
After walking through the museum, I find Harris sitting in the back row of the lecture hall listening intently to 91-year-old Holocaust survivor Mendel Rosenberg speak to a group of high school students. She grimaces when Rosenberg tells them that 60 members of his family perished in Holocaust death camps; she then smiles, though, when he jokes with the kids in a way they can relate to, trying to help them understand why we, as citizens of the world, can never let such an atrocity happen again.
And in those moments, I see in her the elements that define this museum – almost unbearable sadness leavened with the promise of hope. 
Paul Brown is a longtime journalist on radio, on television and in print as a reporter, an anchor, a talk show host and a columnist. He's also a partner and senior marketing executive with Brought 2U Media, a marketing and advertising company that specializes in high-definition video vehicles and digital light-emitting diode signage.
The business news you need
With a weekly newsletter looking back at local history.