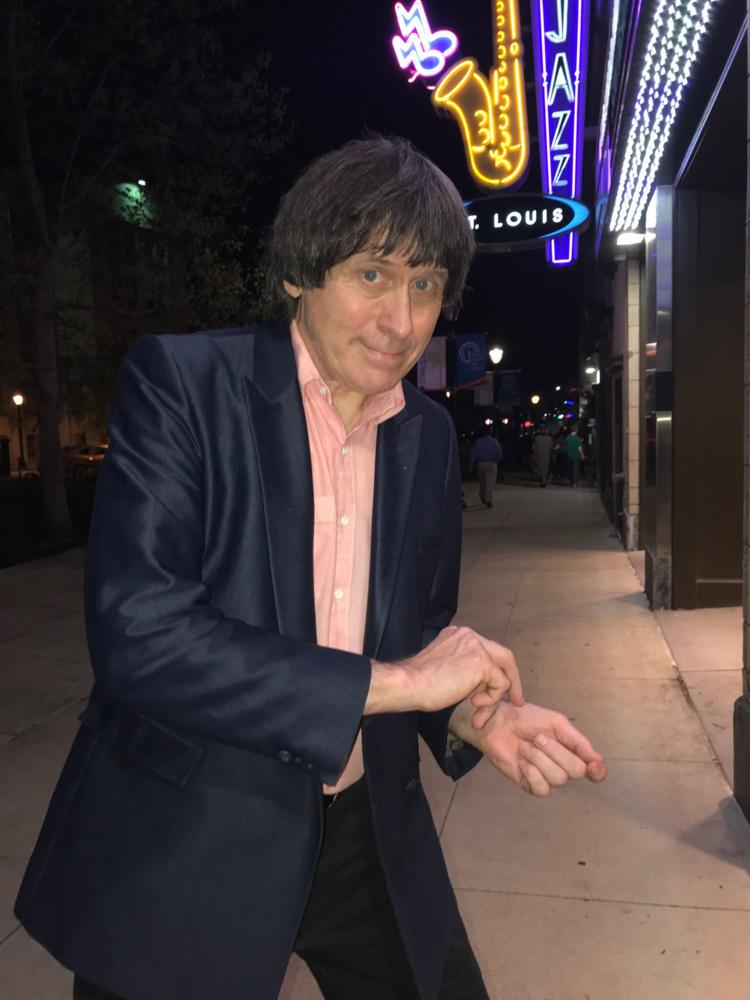 Robert "Beatle Bob" Matonis will tell you he's a happy person. If you don't believe him or think he's a bit strange, then he'll tell you that's your problem, not his.
Young Matonis, now d.b.a. Beatle Bob, was born in south St. Louis 65 years ago and has spent the better part of his life listening to and loving rock 'n' roll. It's hard to pin a label on him, though super fan, groupie, eccentric music enthusiast and obsessive concertgoer all seem to fit.
If you've ever been to a live music event in St. Louis, particularly for an obscure or up-and-coming act, there's a good chance you've seen Beatle Bob. He claims to have attended at least one live music performance every single day since Christmas Eve 1996; that's roughly 7,700 days in a row.
If you've never seen the man, you'd still recognize him right away. He can usually be found wearing an early-1960s-style jacket and pants, his hair cut into a Beatles mop top straight out of 1964, and he'll be near or maybe even on a stage, dancing in his unique way.
"Dance to the beat of your own drummer – don't worry how you look," Beatle Bob says. "If people are judging you, then I don't know what to say. … If people come up and talk with me [at a concert], which many do, they find out I'm just an everyday person who is obviously excited about rock 'n' roll and a person who feels the electricity from live bands and wants to plug in to it. It's just who I am."
Beatle Bob's dad was a mapmaker for the Army who liked Pat Boone music, and he remembers his mom listening to early rock 'n' roll on long-since-defunct local AM radio station KXOK. However, it was another relative entirely who introduced him to live music. An uncle of the young Matonis took him to a small club in Hermann in 1960 to see Jerry Lee Lewis; a year later, they saw Ike and Tina Turner play at Club Imperial in north St. Louis.
Young Matonis' first major concert was in 1964, when he saw Chuck Berry open for the Dave Clark Five at the long-since-razed St. Louis Arena (later known as the Checkerdome, of course). But the day that changed his life didn't come until August 21, 1966 – the day the Beatles played at Busch Stadium II. Beatle Bob remembers the day clearly. "It was a Sunday," he says. "It was drizzling rain. It was the first time they'd ever been to St. Louis. The people were just in glorious exclamation to go to that show."
The stage was on top of second base, and no fans were on the field. Young Matonis watched from the sixth row on the first base side. His older self remembers the audio being bad because stadium concerts were so rare, and the speakers weren't nearly powerful enough.
"If it had been any other group, I would have said it's a terrible show, but because of the power of Beatlemania, you didn't care," he recalls.
So young Matonis grew his hair and started dressing like the Fab Four, just as a lot of kids did during the '60s. According to Beatle Bob, he then graduated from Southwest High in 1971, went to college at the University of Missouri-St. Louis and Saint Louis University, and has been a social worker for the last 35 years. He's also contributed to several music publications, supposedly – perhaps most notably the storied local print zine Jet Lag and, most recently, the online OnStL.
Unlike many of the rockers he's idolized, Beatle Bob doesn't smoke, drink or do drugs. He never had kids and never married. He says he's just never found the right girl for him.
"With my lifestyle, you really have to be dedicated," he says. "And to be married, 'for better or worse,' it's a high-pressure job."
Every night, Beatle Bob's at a show and always dancing. "I don't have a secret," he confesses. "You just have to find out what you like in life, seek it out and don't be swayed by people who might not be right for you."
Philosophically, he continues: "Don't be categorized. You have to be yourself. You may seem strange to some people, but just find out what you want to do in life and enjoy it to the max."
And most important, Beatle Bob adds, "Be happy." If you think that's strange, well, that's your problem, not his.
Paul Brown is a longtime journalist on radio, on television and in print as a reporter, an anchor, a talk show host and a columnist. He's also a media and public relations consultant with Paul Brown Media.