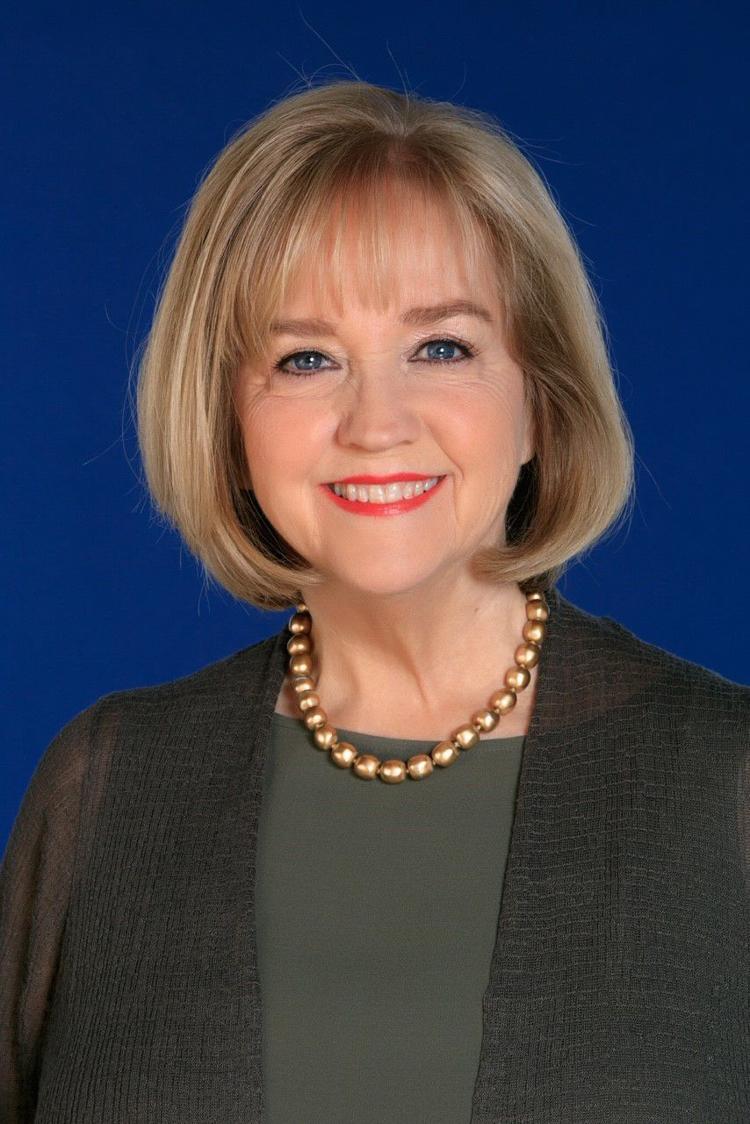 In both her life and career, St. Louis Mayor Lyda Krewson has seen incredible triumph, daunting challenges and unimaginable tragedy.
One of her triumphs came in 2017, when she became the first female mayor of St. Louis. Her latest challenge is the Better Together campaign, a plan that would dramatically change all governments in the area. If it succeeds, the plan would make Krewson the last mayor of the City of St. Louis as we know it.
Her corner office in city hall downtown is stately. Krewson, in her trademark pearls, stands from her massive desk to shake my hand before we sit at a marble table beneath walls covered with murals of St. Louis history. It's an impressive setting.
"This office is majestic, and every day when I walk in here, I think, 'Wow, this is something,'" she says. "It's an incredible honor to be the mayor of St. Louis."
Long before her life in government, Krewson's journey started with her birth in a small farming town near Davenport, Iowa, in 1953. Her family moved often for her father's job, so the girl started high school in Fairfield, Illinois, but graduated in Moberly, Missouri. The oldest of four children, she remembers how her father spent time with the family before heading back on the road for his job. "He would always help me with my math homework on Sunday nights," Krewson recalls. "I think that's why I became an accountant. He always thought I was good at math."
Krewson earned degrees from Truman State University in Kirksville (then known as Northeast Missouri State University) and the University of Missouri-St. Louis, and forged a career as a certified public accountant and corporate chief financial officer. She married architect Jeffrey Krewson, and they had two children.
Then, in March 1995, when their children were just 5 and 2, the unthinkable happened. As the Krewsons' car pulled up in front of their house in St. Louis' Central West End neighborhood, two gunmen attempted a carjacking. The carjackers fired a shotgun into the car and ran away. Krewson and the children survived – but her husband was fatally wounded.
A very public funeral followed as many area residents grieved for the family after the senseless violence. The killers were caught and sentenced to prison for life. Krewson, for her part, had little choice but to go on. "I just put one foot in front of the other every day," she reflects. "If you have a 2- and a 5-year-old, you have to change diapers and cook meals no matter what just happened."
Instead of withdrawing into sorrow, Krewson started on a new, challenging path and never backed down, a mission to turn tragedy into triumph. Two years later, she was elected to St. Louis' aldermanic board, and 10 years after that, she was sworn in as the city's 46th mayor. She's focused on public safety, education and the economy, and not surprisingly, she's also a strong advocate for better gun control.
I tell her I think it's incredible to have endured what she's gone through and be where she is today. "I don't think about it like that," Krewson responds. "The tragedy of my husband being murdered in front of our house was very public, but there are a lot of people who have had tragedies. People get ill and people die, so I'm not special in that regard."
Krewson says there have been lots of special moments for her as mayor, but by far, she says the best part of her life is her children, now grown and doing well: "There've been so many good days. People ask me how am I doing, and I say I'm doing great, we're doing great as a city and a region, and we're going to do even better."
The elephant in the room, of course, is the Better Together plan. If approved by voters statewide, it would merge the independent municipality of St. Louis with all 88 municipalities and other areas of St. Louis County into one single new city with a combined population of nearly 1.3 million. The merged municipality would instantly become one of the top 10 largest cities in the nation.
So far, the plan has inspired both great optimism and equal disdain. But whatever its challenges, Krewson is ready for them. She's faced enough in her life already that I can't imagine she'll back down from this challenge.
Paul Brown is a longtime journalist on radio, on television and in print as a reporter, an anchor, a talk show host and a columnist. He's also a media and public relations consultant with Paul Brown Media.