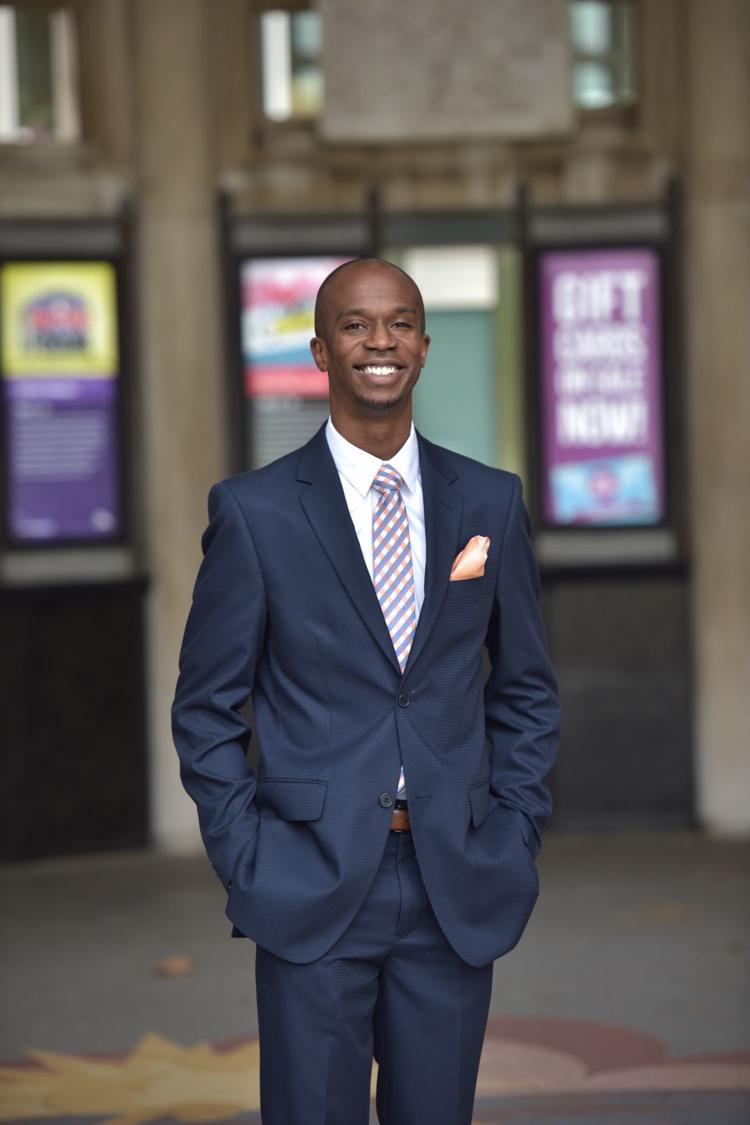 As The Muny prepares to raise the curtain on its second century, there's a new face emerging as one of the key players who will take it through its 101st season and beyond. His name is Kwofe Coleman.
Over the past few summers, Coleman has stood next to Muny chief Denny Reagan in his customary spot near stage left, greeting patrons before each show. It was pretty obvious he was becoming Reagan's right-hand man, but now it's official: This will be Coleman's first season as the theater's new managing director.
Just like Reagan, Coleman started at the bottom of the ranks and worked his way up. At 16, he got his first job as an usher and spent his summers handing out playbills and pushing wheelchairs. Even in the early days, Coleman showed potential. "He always understood the culture and the tradition and what The Muny meant to St. Louisans," Reagan says. "He has all the tools."
In speaking with Coleman, it's clear that he is someone special. His story began as that of a first-generation American, with parents who immigrated to the U.S. from the African nation of Ghana in the mid-1970s. In search of a new life in America, the couple settled in St. Louis and started a family in the north St. Louis County suburb of Bellefontaine Neighbors.
They had two girls and then a boy. Determined to provide their children with the best education possible, Coleman's father worked side jobs to supplement his salary (he had received a degree in architecture in Ghana), while his mother worked as a seamstress. The girls went to Cor Jesu Academy; their brother, to St. Louis University High.
"My feeling of gratitude for my parents is immeasurable," Coleman says. "I realize what a difficult choice it was to leave Africa and come here and then send all three of their kids to private schools."
Coleman says his parents made a deal with them – if the kids succeeded in school, their parents would do everything they could to give the kids opportunities. Both sides lived up to the bargain. Coleman's older sister enrolled at Harvard University when she was just 16, his other sister went to Duke University, and they both finished medical school and are doctors today. Coleman himself earned a degree in English from prestigious Emory University in Atlanta. It's an understatement to call the Coleman children brilliant.
Coleman intended to become a lawyer, but something happened on the way to law school: He found his calling back at The Muny. Reagan offered him an opportunity in theater management, and Coleman took it.
"He was Mr. Reagan, he was the boss," Coleman says. "When you're a kid, you think the person at the top is supposed to be unapproachable, but he made every single person feel like they were an equal part of the institution. Those are the same things I've tried to embody as a leader here."
Although Reagan tells me he has no immediate plans to retire, he says he wouldn't be surprised if someday Coleman is the person who succeeds him. Coleman, overwhelmed by even the thought of the possibility, is honored to be the son of African immigrants, now in a position to help mold the future of one of our area's most beloved traditions.
"The fact is not lost on me that I'm in a position of leadership as an African-American man, and that's somewhere between rare and never," Coleman says.
"I have a platform, so in that sense, I do feel a certain responsibility to move an entire community forward, regardless of race – and to say to others who look like me: 'You can achieve anything you want. There is no limitation to your success!'"
The Muny is in the middle of a $100 million fundraising campaign – half of which is being spent on a massive renovation project. Coleman takes me backstage for a quick peek at the construction. The site is filled with hard-hat workers, from almost every trade in town, while a giant crane is setting parts of the new stage in place. It seems impossible, but Coleman confidently says it will be ready in time for opening night, and he promises the changes over the next two seasons will be spectacular.
In June, when Guys and Dolls opens and the new stage comes to life, Coleman will be standing in the wings, bearing witness, along with thousands of other area residents, to another generation of "Muny magic" and the start of the next 100 years.
Paul Brown is a longtime journalist on radio, on television and in print as a reporter, an anchor, a talk show host and a columnist. He's also a media and public relations consultant with Paul Brown Media.