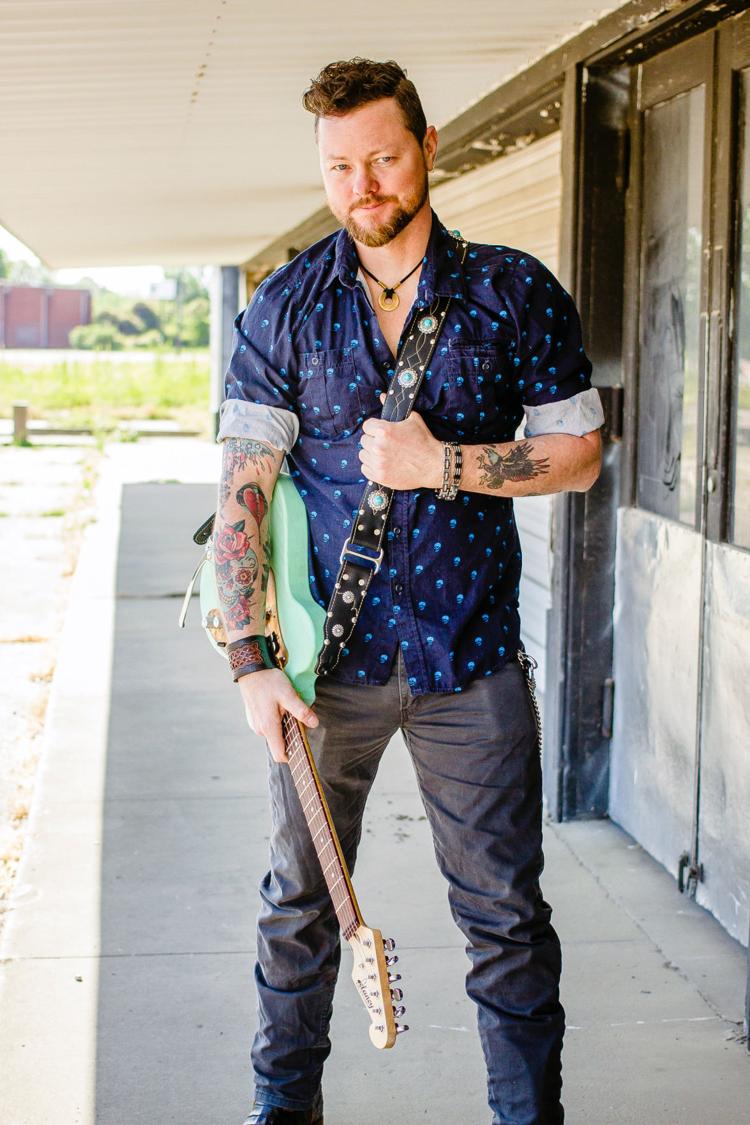 Jeremiah Johnson has finally quit his day job. Even though he is one of the most well-known and successful blues and rock musicians in St. Louis, he always felt as if he needed to hold on to a "real" job – until now.
When Johnson wasn't onstage, you could find him on a construction crew. "I built billboards on the side of the highway – I was an ironworker, workin' way up high," he says. Johnson rarely took a day off from either billboard construction or music, he notes, adding: "I hardly got any sleep. I pushed it and pushed it and pushed it until I finally quit the day job, but now I feel I'm in a good position to make things happen."
The 45-year-old guitar man and singer is now working his way up another kind of billboard, as in Billboard magazine's music charts. His recent albums have hit the Top 10 on the Billboard Blues Albums. His songs are played daily on satellite radio, and he recently landed a new record contract from a German-based studio. This spring, Johnson is headed to Europe for a six-week tour with performances scheduled in Germany, Austria, Switzerland and The Netherlands.
Johnson says American blues musicians are even more popular in Europe than they are here. However, St. Louis is one of the places that made the blues part of the musical fabric of America. It was life on the banks of the Mississippi that helped Johnson understand the philosophical meaning of the music. "The essence of the blues is composed of the essentials of human existence – birth, growth, emotion, conflict and morality," Johnson says. "Blues music is life itself, pure and simple."
But as he sips a Budweiser while getting ready for a gig at Hammerstone's in St. Louis' Soulard neighborhood, Johnson also recognizes how the blues is about hard work and setbacks. He's hit a lot of hard times in his music career, but says he never thought twice about quitting. "I'm somebody who never gives up – there were lots of times I could have," Johnson explains.
Taking another swig of his Bud, Johnson reflects on where he's been and the road ahead: "Nothing in life ever happens as fast as you want it to, but you just keep pushing forward and stay dedicated and motivated. As long as I'm taking steps forward and moving in the right direction, then I'm successful."
Johnson grew up near Tower Grove Park in south St. Louis. He's named after the 1972 movie Jeremiah Johnson that starred Robert Redford in the titular role. His dad was an assembly-line worker at an area Ford plant, and his mom fixed typewriters for IBM before later becoming a computer programmer. Johnson started playing the guitar when he was 6 years old, right about the same time his folks divorced. Eventually, he moved out to the county with his dad and finished high school in Pacific, roughly 35 miles southwest of Ladue.
Johnson tried going to college to study music, but he dropped out and started a rock band called Detarxe (that's ex-rated spelled backward). The band was close to taking off, but as most do, fizzled out. That's when Johnson started to study and play the blues seriously. He found open stages at bars in Soulard and soon found himself drawing crowds. He then picked up gigs all around the Midwest and recorded albums. When satellite radio stations started playing his music, he became known to blues music fans everywhere. Now he's taking the next big step.
"It's a gift from heaven for me – it's amazing," Johnson explains. "I'm doing something that I'm passionate about and truly love, so it's the ultimate job in that sense. But I'm also just in the beginning stages. A lot of people kind of see me as pretty successful in St. Louis, but now I'm in the major leagues, so I'm the new guy who has a lot to prove."
He says he'll always come back to play in St. Louis and Soulard, where he got his start and where he figured out what kind of a musician he is. "I'm a blue-collar guy," Johnson says. "I'm honest and truthful with my music and that kind of a guy in general, and I'm always gonna work hard and do my best to put on a show."
Even though many of his songs are upbeat, it's got to be hard to stay optimistic when you're always singing the blues. The blues is songs about hard drinkin', heartaches, hard times and hard luck. Johnson's just hoping that with a little bit of good luck, he'll never have to go back to that day job. 
Paul Brown is a longtime journalist on radio, on television and in print as a reporter, an anchor, a talk show host and a columnist. He's also a media and public relations consultant with Paul Brown Media.