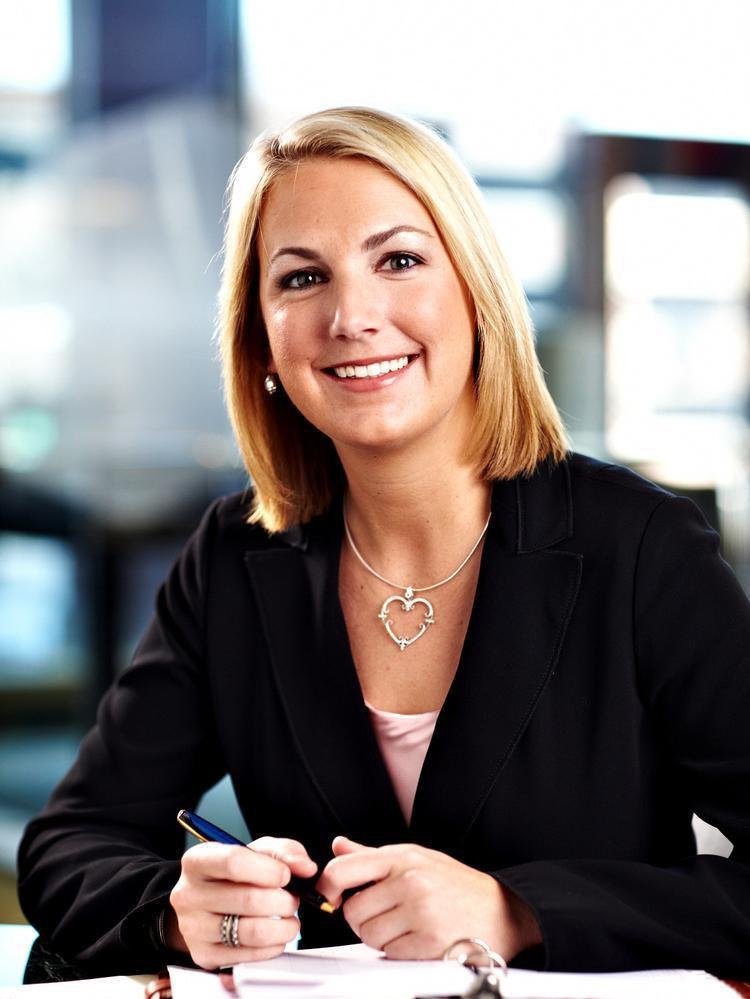 Carolyn Kindle Betz is just about as "St. Louis" as a person can be. She loves toasted ravioli, her favorite restaurants are on The Hill, and she bleeds blue for the Blues and red for the Redbirds. And because you'll ask, she went to Burroughs.
"I like the fact that you can have four seasons in 24 hours," Betz says with a straight face.
For most of her 41 years, she's flown under the radar in her hometown, but Betz has suddenly become the face of one of St. Louis' most prominent families and the leader of the effort to bring big league professional soccer to St. Louis and build a new downtown stadium. Betz is the president of Enterprise Holdings Foundation and the granddaughter of Enterprise Rent-A-Car founder Jack Taylor. She also would be the majority owner of the proposed MLS (Major League Soccer) expansion team that, if approved by the league, would start playing games in 2022 in a $250 million stadium that's set to be built right next to Union Station.
Nearly everybody in town knows about the Taylor family and Enterprise; it's the 16th largest privately owned company in the country and worth billions. But contrary to what you might expect of a family that's been so prosperous, Betz says her kin have purposefully stayed low-key and humble.
"No matter what has happened, that's been a mainstay in our family's values," she reflects. "It's very important to be humble and graceful and thankful when meeting people because they've given us the business and allowed us to become successful."
When she was growing up, Betz says she felt like all the other kids who watched their parents and grandparents work hard to succeed. Her grandfather started Enterprise in 1957 and built it just like any other small-business owner would.
"My grandfather Jack was proud to have just one more car in the fleet," she says. "I don't think he ever had the expectation it was going to be what it became. We were just normal people with a grandfather who was trying to get a car rental business going."
Jack Taylor passed away in 2016 at the age of 94, but his family has continued putting its wealth to good use. So far, the family foundation has given away more than $800 million to charities and local institutions – most of the time, without a lot of fanfare. "My grandfather just always wanted to do the right thing," Betz says. "It was never about putting his name on something."
But Betz says starting a professional sports franchise requires a lot more public attention. When an earlier effort failed to land a pro soccer franchise, Betz took the lead. Although World Wide Technology CEO, former pro soccer player and Rosary High grad Jim Kavanaugh is playing a significant role in the ownership group, it's now clearly Betz who's at the helm.
"While it may take us, as the ownership, being more front and center to get the team going," she says, "eventually we want the team to be out front and the players and the coaches, because we want the community to have ownership in the team as well." Another significant factor in the ownership group is that other than Betz's uncle, Andrew Taylor, and Kavanaugh, the remaining six owners are all women.
"The female ownership piece is important too," Betz says. "It's a good opportunity to show female leadership and ownership in professional sports. This would be the first female majority-owned franchise in the league's history , but it's also females taking leadership in all sorts of things, whether as an athlete, a team owner or in the boardroom or [as a] small-business owner ."
The deal to make the team a reality isn't done yet. The league is expected to make an announcement sometime in 2019, but from all indications, it appears St. Louis is a leading contender. Until that final decision, Betz will continue to stand out front and make herself a very public person. She's quickly established herself as a civic, charitable and business leader. She's also become one of the city's biggest promoters.
"I think we, as a city, are too hard on ourselves – we have so many wonderful treasures," Betz says. "There's more than $8 billion committed to renovation and development in the city. Those are very important things we need to be able to say. We are an international, world-class city, and having that MLS team is one more thing that proves we are."
Hopefully, Betz and Major League Soccer will succeed in boldly proclaiming our fair town as truly "international." That's something we've been trying to do since 1904; it doesn't get any more St. Louis than that.
Paul Brown is a longtime journalist on radio, on television and in print as a reporter, an anchor, a talk show host and a columnist. He's also a media and public relations consultant with Paul Brown Media.