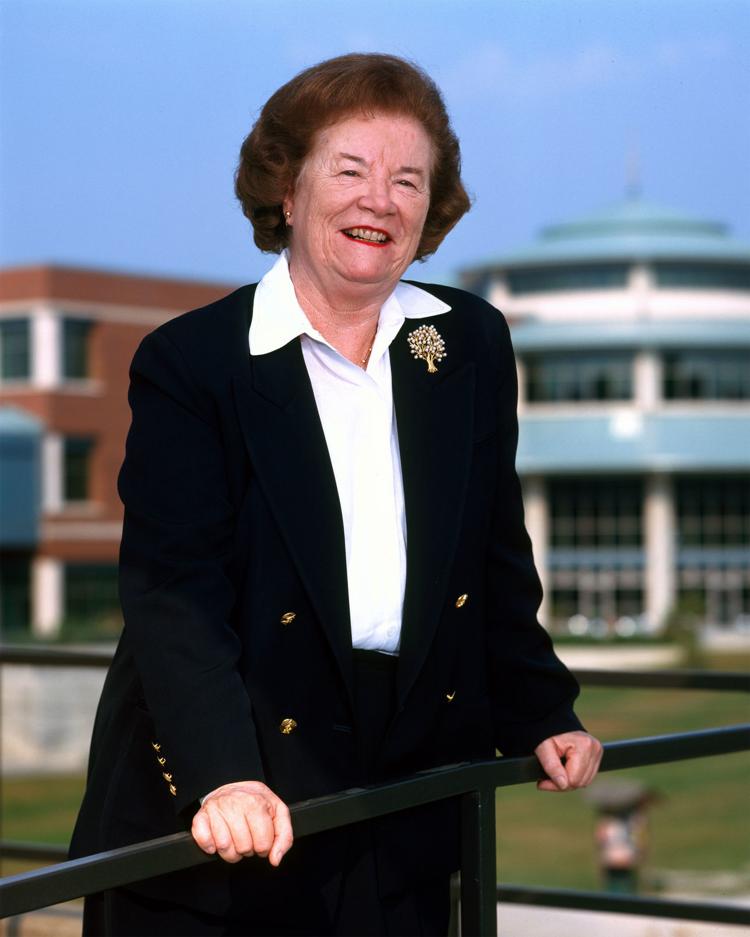 Not too many people living in St. Louis can say they have a world-class theater named after them. As a matter of fact, I can think of only one: Blanche Touhill, former chancellor at the University of Missouri-St. Louis.
In her previous position, Touhill led the charge to build the school's $40 million performing arts center. Just like The Muny, the Peabody and The Sheldon, we call it by one name: the Touhill.
To make the Touhill Performing Arts Center (as it's formally named) a reality, the state required the school to raise $7 million in private donations. The chancellor raised $13 million.
"I'm a historian," says Touhill, "but I have always been interested in the arts, and I knew what the campus needed was a theater."
The Touhill has already been host to some memorable performances, including when Broadway superstar Kristen Chenoweth performed last year for a sold-out house. It was most memorable, for me personally, because my 17-year-old daughter, Natalie, was picked to sing a duet with Chenoweth. They sang an unrehearsed version of the song "For Good." The namesake of the theater herself was in attendance, and her face lit up when she remembered the song.
"She stopped the show! She did, she was wonderful," Touhill says. Touhill says creating moments like that is one of the reasons she brought the theater to life.
Touhill retired in 2002 and was named chancellor emeritus. She is still active at the university and is currently heading a video project to tell the stories of change-making St. Louis women.
"I always wanted to make a collection of the stories of women's lives during these changing times," she says. "It's important for me to leave the record so that somebody else can come along 50 years from now and understand who made the times really change."
So far, she's interviewed 225 women. Touhill is among the change-makers and pioneers for women in the professional world. She was born in St. Louis in 1931, the daughter of Dutch and Irish parents, and grew up not far from Beaumont High School, where she graduated in the class of '49. She was one of the women who came of age after World War II who took giant steps in American society and the workforce.
"When I was growing up, there were only a few things a woman could do," she says. "You could be a housewife, a mother, a secretary, a nurse or a teacher, and those limits were very clearly delineated."
After the war, she says women started to move past traditional roles. "I had my master's, but went back to Saint Louis University and got my Ph.D. in history," Touhill says. "I got married and moved to the East Coast. I was the first woman hired at Queens College in New York City in the history department, so I knew I was in a land of men."
The couple moved back to the Midwest, and in 1965, Professor Touhill started her career at St. Louis' brand-new university. She wasn't sure she wanted to leave teaching and move into administration, but when she had the opportunity, she worked her way through the ranks all the way up to the chancellor's office.
"I never thought a woman could be an administrator in a public institution," Touhill says. "When I was in high school, the furthest you could rise was a counselor – all the administrators were men. I just happened to be at the right place at the right time."
During her time as chancellor, Touhill added more than 30 degree programs. "When I became chancellor, we had 63 programs, and when I left, we had 95," she says. "I brought the engineering program on and the Ph.D. in nursing on and communications and fine arts. I brought in five or six new doctoral programs." She says a lot of women flourished in those new programs.
When asked if having the school's new theater named for her was the biggest "wow" accomplishment of her career, Touhill provides an answer that perhaps should come as no surprise. "If you think about life, you have to have an opportunity, and if you're going to go into the professional world, there are gates, and my goal was to raise as many gates as I could, so as many people as possible could reach their potential and their dreams," she says.
Touhill then tells me having performing arts center named in her honor was "wonderful" but says the real "wow" accomplishment of her career was opening those gates for others to follow. Not too many people living in St. Louis can say that either.
Paul Brown is a longtime journalist on radio, on television and in print as a reporter, an anchor, a talk show host and a columnist. He's also a media and public relations consultant with Paul Brown Media.