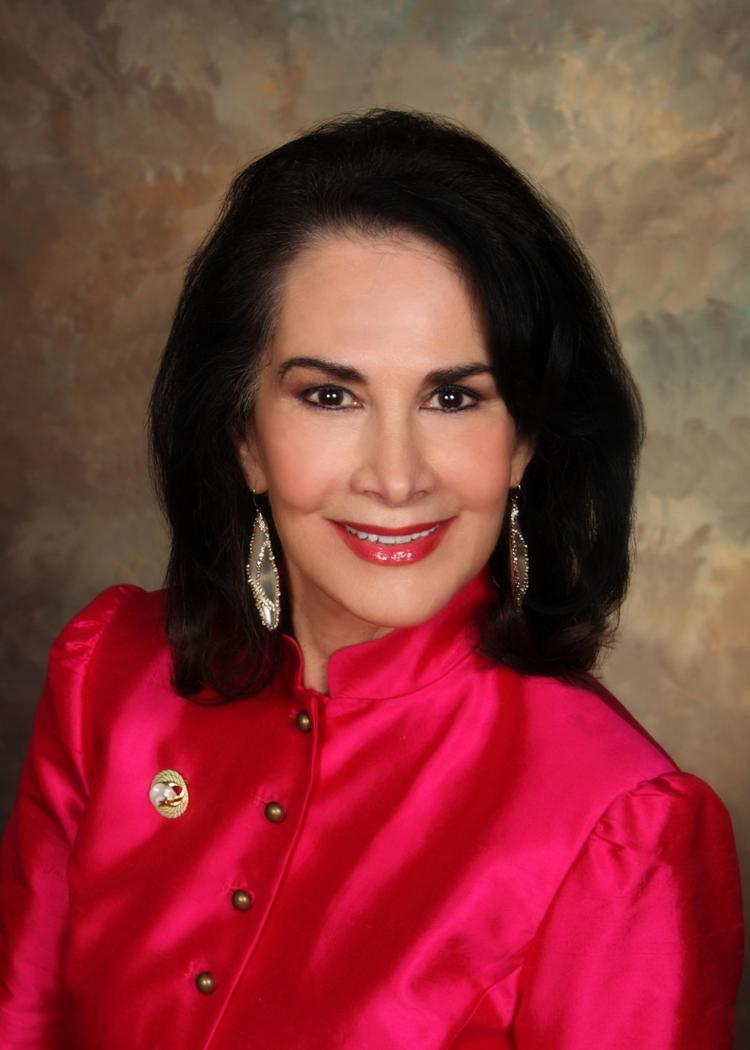 Sheri Sherman incorporates style, color, texture and beauty into every aspect of her life.
An interior design major in college, this chic art aficionado, community volunteer and fashionista has spent the last 40 years collecting historical treasures for her home in Richmond Heights. But it doesn't stop there. At 5-foot-7, the statuesque, dark-haired beauty with chiseled features says she never leaves home without being properly dressed. That means she is always dressed to the nines. Preferring to buy edgy classic clothing, she recently updated a 35-year-old black designer jacket by adorning it with a white dragon appliqué.
The home she shares with her husband of 46 years, Don, an attorney, is filled to the brim with the couples' collections. "Our collections are uplifting; everywhere you turn there is something fun to see," she says. 'What attracted us to collecting was the history of the periods we collect. Everything has a special provenance and memory for us. Our collections are all over our home on furniture, floors, shelves, closets, and drawers."
Sherman collects ceramic women's head vases, vintage hats, purses, gloves and Bakelite broaches, crafted from a plastic that's no longer manufactured. The man of the house collects toy soldiers. He also hunts for radios from the 1940s made of Bakelite. Together, they collect tin vintage toys with movable parts from the 1920s to the 1940s.
At 71, Sherman is forever active, whether collecting, gardening, attending classes or volunteering in the community. In October, she co-chaired two fundraising events at Neiman Marcus held just a few days apart: St. Louis Press Club's Beauty Buzz, to benefit media scholarships for local journalism students, and More Than a Fashion Show, to benefit the Midwest Children's Burn Camp, where she serves as board vice president.
"When I visited the burn camp, I saw children jumping into the watering hole who won't go to a public pool because of their scars from their burns," Sherman says. "We have found it is easier to heal the scars on the outside than on the inside. I find the strength and spirit of the campers inspirational. They are a gift to my life."
Sherman believes that volunteerism has enriched her life. "I wouldn't be who I am without my world of volunteerism," says the 2017 Woman of Achievement, who has also been honored as a Woman of Worth. "It has given me valuable skills, friendships and is a gift of life's lessons."
A former board member of the St. Louis Jewish Light, Sherman is the founder of the newspaper's Unsung Heroes recognition program, which will celebrate its 10th anniversary next year. Sherman was surprised last May when she was named an Honorary Unsung Hero. Sherman serves on the executive committee of Women and the Kemper, to benefit the Kemper Art Museum at Washington University. She has served as president of the boards of the Edison Theatre and the New Jewish Theatre, and has chaired the Jewish Film Festival and Jewish Book Festival.
Forever the student, she belongs to two book clubs and continues taking classes to enrich her mind. She calls herself "a student of the St. Louis World's Fair and ancient Egyptian history." She also writes poetry.
"My poetry is personal," Sherman says. "Mostly, I write for myself and our children."
The couple has two children: Samantha, an actress and activist in New York, and Adam, an entrepreneur and real estate developer in Hong Kong.
A graduate of University High School, Sherman is a 1969 interior design graduate of Washington University.
"Everything in my life is affected by color, style and shape," she says. "Not only do I see that in my environment but also on my body. To me, design is an expression of who I am; I find creativity in the way I dress. I am a fancy girl."
An innate storyteller and award-winning photographer and writer, Alice Handelman provides Ladue News readers with a glimpse into lives that enrich St. Louis.