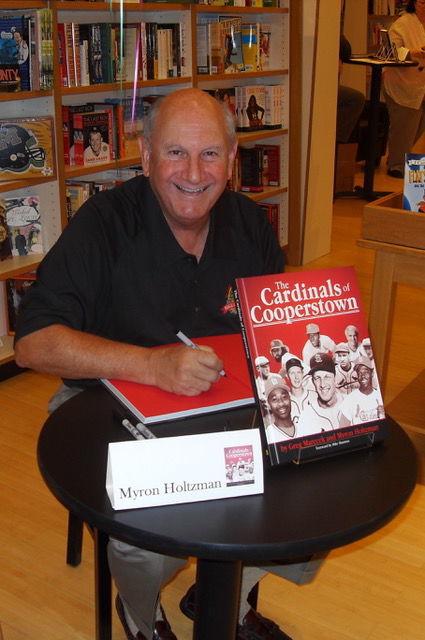 Myron Holtzman claims his career has been filled with luck.
"We didn't have much money when growing up, and I didn't even consider attending college," Holtzman says. "I was just going to graduate high school and get a job. Then I got lucky."
The University City High School graduate received a last-minute loan to enroll at the University of Missouri-Columbia in 1960. To help cover expenses, he waited tables at his fraternity house.
"I started out thinking I would major in business but quickly came to the realization that I'd better change my plans since I couldn't add two plus two," he says. The Missouri School of Journalism fulfilled the young student's aspirations, as he combined his love of sports and his writing skills to select sports journalism as his career. "I was, again, lucky to be attending the best journalism school in the country," he says.
After graduating from Mizzou, Holtzman took his first job in Rochester, Minnesota. There, he covered his first professional ice hockey game. "My editor took me to see it and asked me how I liked the sport," Holtzman recalls. "I said, 'I love it, but don't understand it completely.' He said, 'Learn quickly because you are covering the next game.' It was baptism by fire."
However, Holtzman couldn't stay away from St. Louis for long. After 1½ years in Rochester, he received a call from Bob Burnes, then-sports editor of the now-defunct daily St. Louis Globe-Democrat, offering him a job.
"I was so excited to return to St. Louis," Holtzman says. He went on to work at the Globe for 22 years as a writer and, later, as sports editor. He says Burnes was "like a second father to me."
Amid his work at the Globe, Holtzman had a brief stint as public relations director for the St. Louis Blues. "It only lasted a short while [because the Blues were in a financial crunch at the time]." That year, Bernie Federko and Brian Sutter were rookies.
"Federko was always a great interview – he would always tell it like it is," Holtzman remembers.
Holtzman's other sports writing jobs included part-time stints for The Sporting News (then headquartered in St. Louis) and the Associated Press. After the Globe closed in 1986, he became Anheuser-Busch's publications manager for the St. Louis Cardinals. He also edited several publications for A-B and handled public relations duties for the Real Men of Genius ad series and NASCAR's Dale Earnhardt Jr. Holtzman retired in 2008 from A-B but has remained active in the sports arena. He has been public relations director of the St. Louis Sports Hall of Fame and has served as chairman of the St. Louis Baseball Writers' dinner for 11 years. In 2010, Holtzman co-authored The Cardinals of Cooperstown, about anyone who has ever been associated with the St. Louis Cardinals who has been named to the Major League Baseball Hall of Fame.
At 76 years, Holtzman has spent most of his adult life as a sports writer. He has covered events ranging high school sports to Mizzou and University of Illinois football and basketball, to pro teams like the St. Louis Blues and both St. Louis Cardinals teams – baseball and football. His résumé dates back to the old American Basketball Association's Spirts of St. Louis.
And his career didn't go unnoticed.
Holtzman has been inducted into three halls of fame – the St. Louis Sports Hall of Fame, the Missouri Sports Hall of Fame and the St. Louis Jewish Sports Hall of Fame at the Jewish Community Center.
He has also received distinguished sports writer awards from the Missouri High School Association, as well as the Missouri Golf Writers Award and the Bob Broeg Media Award of the local chapter of the National Football Foundation. Holtzman is a lifetime member of the Major League Baseball Writers Association.
"I have been extremely lucky and am humbled by all these honors," he says.
Holtzman and his wife, Eleanor, have been married 41 years and live in a villa in Chesterfield. "Believe it or not, I miss cutting the grass," he says. The couple has three children and four grandchildren.
Asked to name his favorite sport, he says, "My favorite sport is whatever is in season!"
An innate storyteller and award-winning photographer and writer, Alice Handelman provides Ladue News readers with a glimpse into lives that enrich St. Louis.
The business news you need
With a weekly newsletter looking back at local history.