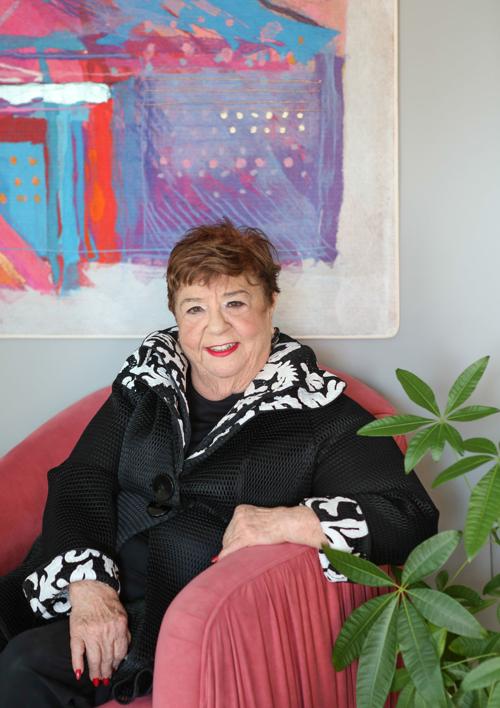 Helene Mirowitz is thankful that her late husband, Carl, was able to leave his birthplace, Germany, when he did. "He was 7 years old in 1937 when he fled Nazi Germany with his parents and two brothers," she says. "They made it just in time."
Carl Mirowitz, co-founder of Delmar Financial Company, was forever grateful for his life in the United States. In 2004, as he was dying, the philanthropist urged his wife to "continue giving back to our community."
"When I learned that Covenant Place [formerly Covenant House] was having a campaign to rebuild its affordable housing for the elderly, I decided that was for me and for Carl," Helene Mirowitz says. "That was how I came to fund the new Mirowitz Center at Covenant Place."
The Mirowitz Center, opening on Sept. 8 with a ribbon-cutting, is a 19,000-square-foot community center targeting active baby boomers and seniors. It is located in the Covenant II Cahn Family Building on the JCC's Millstone Campus in Creve Coeur. Covenant Place provides affordable, independent senior living in a caring and supportive environment. With 355 accessible apartments for those 62 and older, it is home to more than 400 seniors. Participants there can enjoy a variety of classes, special events and activities, including social, arts and culture, health, wellness and exercise, education and multigenerational opportunities.
Beautiful works of art, which once hung at the former Jewish Center for Aged in Chesterfield and which were donated by the JCA Charitable Foundation, enhance the experience of being in the Mirowitz Center. "The variety and quality of the art enliven the space – it's like visiting a boutique gallery," says Joan Denison, president and CEO of Covenant Place.
"From the first time we talked about the project, Helene embraced the opportunity to provide a very special place for seniors," she adds. "Her leadership gift has helped make it possible for senior adults throughout St. Louis County to have access to quality health care, resource providers, engaging programs, classes, events, and delicious food – all under one roof."
A native St. Louisan and 1955 graduate of University City High School, Mirowitz met her future husband "at a Washington University social." The couple dated six months and was married in 1958 at Le Château in Frontenac. They had two sons, Scott and Steven "Dever."
"The one thing I always wanted in life was a girl, and now I have six grandchildren and five great-grandchildren that include four precious girls," Mirowitz says. "I am a very happy woman."
She talks about her lifelong dedication to the center: "Our family spent a lot of time at the JCC." To honor Mirowitz's commitment to help others there, her husband established the Helene Mirowitz Department of Jewish Life at the JCC. The couple also funded an activity center and a room at the JCC's Marilyn Fox building in Chesterfield. Daughter-in-law Maxine Mirowitz teaches a weekly chair-yoga class at the JCC.
Lynn Wittels, president and CEO of the JCC, says: "Today, our Carl and Helene Mirowitz Performing Arts Center hosts programs and serves as an inside home for hundreds of day campers all summer long. The spirit and inspiration that fill that room are a constant reminder that each of us can make a difference, and we are forever grateful for Helene's support of the work that is done at the J. Helene has always been an advocate for a strong and vibrant community. She is truly a force."
At 81, Mirowitz remains active and says she has enjoyed travel her entire life: "Carl and I traveled everywhere, but my favorites are Israel and Italy." An accomplished bridge player, she lauds the St. Louis Bridge Center in Olivette, where she plays duplicate bridge competitively at least once a week. "It is a wonderful place for people to socialize," Mirowitz says.
Mirowitz recently moved from her stately home into a condominium in Creve Coeur, where she lives with Blanche, her Shih Tzu, "a rescue dog that I dearly love. I downsized because I am getting older and moving on." On cuisine, she says she could "eat Chinese food every day" and adds that she is an aficionado of costume jewelry and handbags.
Of most importance to Mirowitz, though, is her desire to make a difference. "There are many people who are able to assist others, and they don't," she says. "I find that difficult to understand. I get tremendous pleasure helping others. I was young when I started helping Covenant Place. But I am 'the elderly' now, and I am forever dedicated to the cause of helping older adults." 
An innate storyteller and award-winning photographer and writer, Alice Handelman provides Ladue News readers with a glimpse into lives that enrich St. Louis.
The business news you need
With a weekly newsletter looking back at local history.