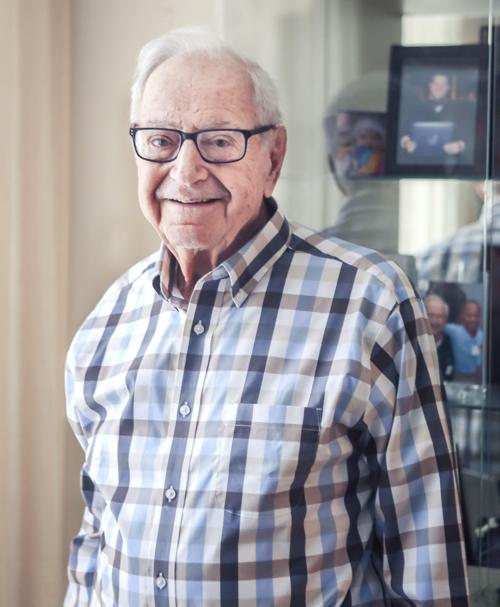 Harris Frank calls himself "the last man standing." A founder of the St. Louis Senior Olympics and the National Senior Olympics, he has outlived the community partners who helped him produce the first events. Personable, with a keen intellect even at the age of 94, Frank continues his generous volunteer efforts and philanthropy to make St. Louis a better place to live.
A man of great breadth with an infectious spirit, Frank was a past chair of the Jewish Community Centers Association (now the JCC) when tasked with creating a milestone anniversary celebration for that organization. The first-ever St. Louis Senior Olympics was a huge success and continues today.
Ten years later, Frank and friend Kenneth Marshall led an effort to create a national event, originally called the National Senior Olympics. They contacted leaders conducting games for seniors in other states and, in 1987, presented the first National Senior Olympic Games in St. Louis involving more than 2,400 competitors in 15 sports. Two years later, the second games hosted 3,400 senior athletes in St. Louis.
"After that, the games moved to a different city every two years to stimulate more awareness and participation around the country," Frank says. Now called the National Senior Games, the organization includes 53 member-qualifying games in every state, as well as Washington, D.C.
In June, Frank was introduced at the national games in Las Vegas as one of the original members of its steering committee. "The event this year drew 14,000 competitors," he says. "I am so proud that it is now the largest sporting event for seniors in the history of the world. I admit that I originally thought it was a terrible idea. I also thought building the Arch was an awful idea. It goes to show that you are human when you realize you were wrong."
Lynn Wittels, president and CEO of the JCC, says: "Harris Frank is a true visionary model. Today, the National Senior Games continue to bring seniors together and provide a great motivation to keep seniors active and engaged. More important, the St. Louis Senior Olympics and the National Senior Games help provide an opportunity for seniors to remain connected to one another. What a legacy!
"Most board chairs move on after their tenure as chair expires. Not Harris. He remains interested in our work and the impact his philanthropic support helps create. He remains a strong and committed supporter of the J, and we are so grateful for all he does to help serve important needs in the community."
Born and raised in St. Louis, Frank graduated from Country Day School (now MICDS). He vividly remembers his first exposure to philanthropy during a school visit to the South Side YMCA. "Each of us [at Country Day School] was asked to bring a softball or basketball for the kids there," Frank recalls. "Those kids had nothing. They had a place to play with no equipment. This made an indelible impression on me and got me started helping others. It is unbelievable how just one thing can trigger how you live your life."
In 1945, all at the same time, Frank received his Bachelor of Science degree in naval science, Navy commission and degree from the University of California. He and his late wife, Judy, wed shortly after. Married for 62 years, the couple had two children, four grandchildren and five great-grandchildren. Frank worked as an agent at Solon Gershman Inc./Gershman Commercial Real Estate for more than 50 years, calling his former employer "a company with superb ethical standards."
Believing that "busy people get things done," he helped establish a "friends" committee at the Donald Danforth Plant Science Center and served on the board of Jewish Hospital of St. Louis for 14 years. "I believe the merger of Barnes and Jewish hospitals was one of the greatest things that ever happened to St. Louis," he says.
A sage advisor, Frank calls himself a "superconsultant" to Memory Care Home Solutions, and he has also begun assisting Covenant Place with its fundraising strategy. His creative benevolence also includes helping City Academy, where he gave seed money for books and served on the board. For his contributions there, he was honored with its Oliver M. Langenberg Award. Among his many other recognitions are the St. Louis Award and recognition as a St. Andrews' Ageless Remarkable St. Louisan.
As a past chair of the JCCA and a past president of Jewish Federation of St. Louis, Congregation Shaare Emeth and Westwood Country Club, Frank relishes socializing and a good round of golf. Customarily, he tees off with longtime buddy Jay Straus, who has won 11 championships at Westwood. "It's a great game," Frank says. "When Jay hits the ball into the sand trap, I go in and get it for him. After all, he's 105."
An innate storyteller and award-winning photographer and writer, Alice Handelman provides Ladue News readers with a glimpse into lives that enrich St. Louis.
The business news you need
With a weekly newsletter looking back at local history.