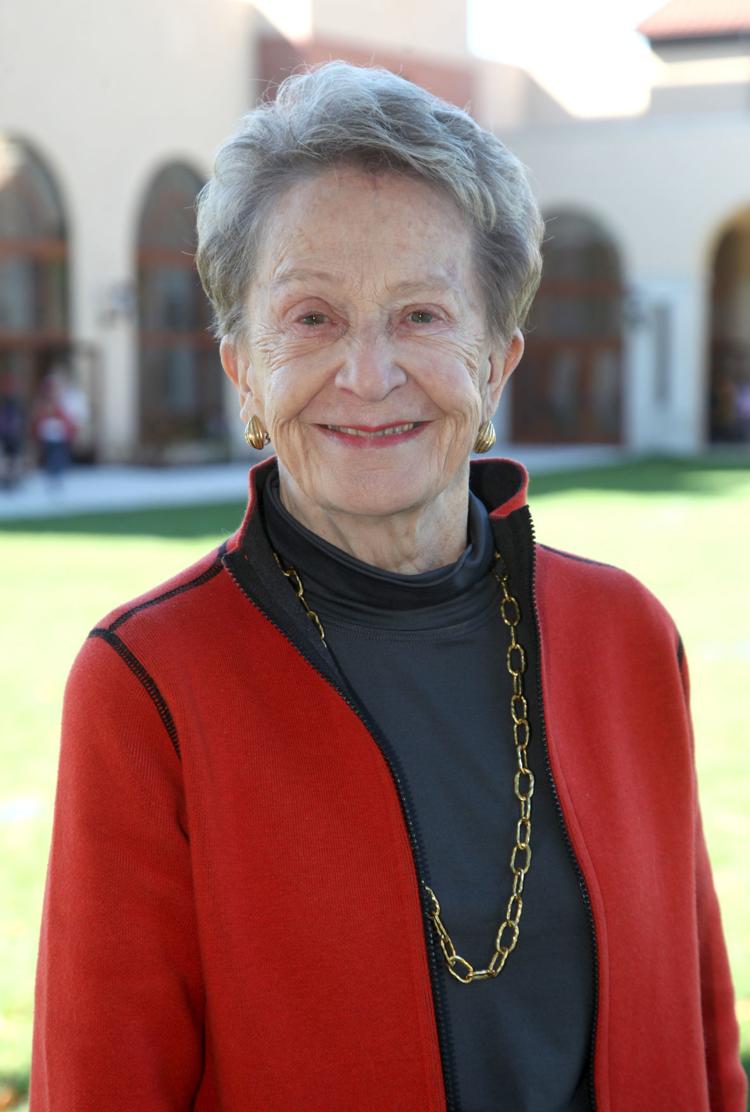 A positive force and role model in the St. Louis community, Glenn Johnson Sheffield has spent years giving back to help dozens of diverse civic and charitable organizations ranging from the opera to the sewer district. A career volunteer, she has been called "Your Honor," "Madame President," "The First Lady of Webster Groves" and "Sewer Queen."
A Veiled Prophet Lady of Honor, Sheffield also served as mayor of Webster Groves and has supported the Edgewood Children's Center (now Great Circle) and John Burroughs School (class of '54). Sheffield was the first non-eastern president of the advisory board of Northampton, Massachusetts' Smith College. "I still hold Smith close to my heart," she says. "I learned there that women can do anything that men can do."
Sheffield is an honorary lifetime member of Opera Theatre of Saint Louis and has served on the national council of the Brown School of Social Work at Washington University in St. Louis. She was the board chair of the Arts and Education Council and a board member of the Saint Louis Science Center Associates.
A past president of Women of Achievement, Sheffield chaired the St. Louis Community Foundation of Greater St. Louis and was a member of the Girl Scouts, as well as Citizens For Modern Transit and Saint Louis Ballet. She was also honored in 2012 as an Ageless Remarkable St. Louisan.
Sheffield shares that volunteer work became her full-time occupation when her youngest child entered first grade: "I began to accept offers of volunteer jobs, which were compatible with my family and household responsibilities."
Sheffield joined the board of The Repertory Theatre of St. Louis in 1972 and later became its chair, leading to 20 years of service for her hometown of Webster Groves, stating: "I have always loved the neighborliness of Webster Groves, its sense of history, its trees and architecture, the high quality of its schools and institutions, and the diversity, vitality and independence of the people who live there."
She served as a member of the Webster Groves City Planning Commission and later the Webster Groves City Council, serving as mayor from 1986 to l994. Sheffield was named Citizen of the Year there in 1997. She prides herself on "not being a pushover." As mayor, she spent endless hours tackling critical infrastructure deficiencies and leading the effort toward a state-of-the-art recreation complex.
"I got things done but wasn't always loved," Sheffield recalls. "I was concerned about every area of the city and the well-being of every citizen. I was a mayor for all of Webster. We fixed the city's streets and lights and kept finances in line. I believe that creating strong communities has an impact on people's lives."
Daughter Ellen Sheffield says her mother "makes tough decisions and is incredibly principled. She has always done what she thinks is right. She has never become involved to be loved but to do the job well."
"While Glenn took on high-profile and public roles, she was always willing and eager to roll up her sleeves and do the unglamorous, tedious tasks involved in the work of all organizations," says Susan Stepleton, former executive director of Edgewood. "Her positive, upbeat temperament helped move groups forward."
After her eight-year stint as mayor, Sheffield, from 1994 to 2000, served on the board of trustees of the Metropolitan St. Louis Sewer District, where she was praised for exhibiting a common-sense approach toward policymaking, leadership and governance of the district.
Sheffield and her late husband, Dr. William Hart Sheffield, were married in 1958, shortly after she graduated from college. The couple had three children (John, Ellen and Jamie Sheffield) and five grandchildren. A surgical pathologist, the doctor died in 2010.
Several years later, Sheffield left her home and hydrangea-filled garden and moved to an independent living facility in Clayton. Fond of beautiful clothing, at 82, she remains an immaculate dresser, always looking fashionable. She says her hobbies have included traveling extensively and playing duplicate bridge.
These days, she admits to slowing down and enjoying her apartment filled with botanical prints by American ornithologist, naturalist and painter John James Audubon. Forever the avid reader, she still enjoys good books while snuggling with her cat, Sugar. And although she no longer leads organizations, Sheffield continues to support them by donating to their needs.
"It gives me great pleasure to financially support worthy causes," she says. "I have always loved being involved and helping those less fortunate. It feels so good."
An innate storyteller and award-winning photographer and writer, Alice Handelman provides Ladue News readers with a glimpse into lives that enrich St. Louis.