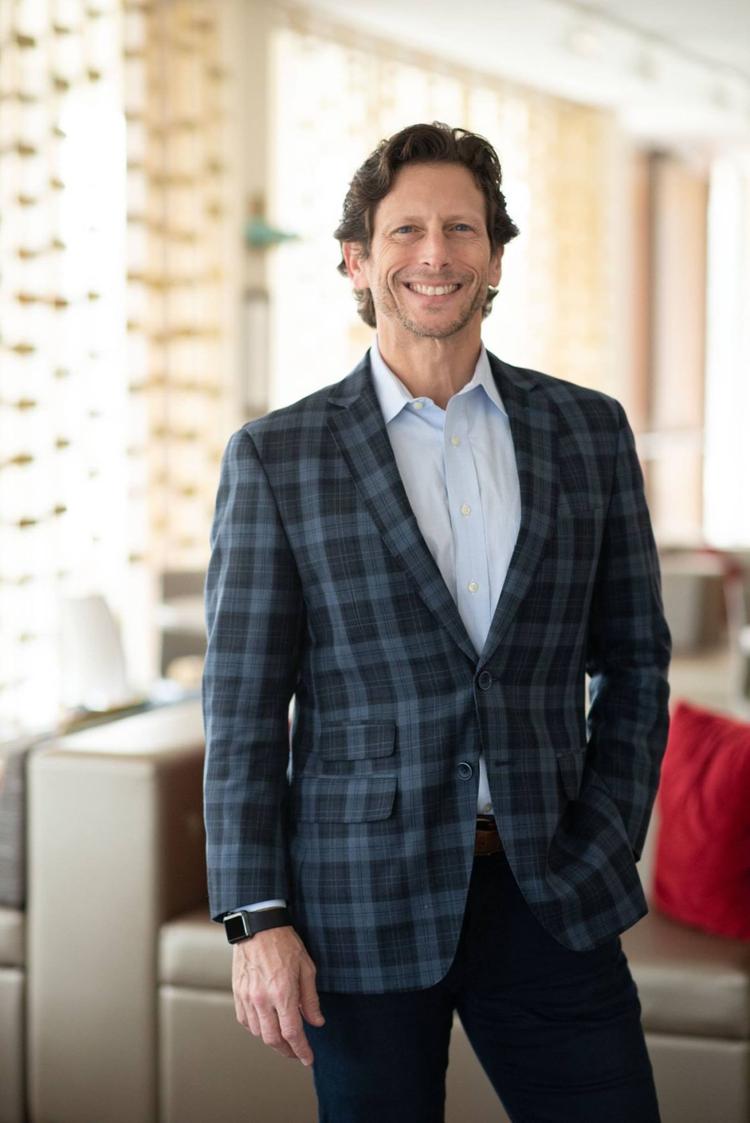 A jack-of-all-trades, Eric Spirtas brings more than 30 years of industrial contracting experience to bid, demolish and redevelop some of the best-known landmarks throughout the metro area, including the iconic Coral Court Motel and the St. Louis Arena, former home of the St. Louis Blues. A fitness enthusiast, Spirtas also teaches spin and interval training classes at Clayton's Wellbridge Athletic Club & Spa.
A marketing major from Arizona State University, Spirtas graduated in 1988 and immediately joined his family's business, Spirtas Wrecking Co. in St. Louis. Diligently, he worked through the ranks to become president and CEO before leaving in 2004 to pursue industrial property development.
"I formed Spirtas Worldwide using all the skills my father [Arnold Spirtas of Spirtas Wrecking] taught me over the years and purchased a defunct aluminum smelter plant in Ohio," he explains. Three years later, he sold the plant "stripped clean and prepared for redevelopment." Spirtas has since created a successful niche and become a prominent player in the industry with Spirtas Worldwide, buying, selling and repurposing old industrial assets.
However, it wasn't until after a recent holiday in Europe that the Creve Coeur resident realized his new calling. After visiting numerous art museums throughout Madrid, Figueres and Barcelona, Spain, Spirtas developed a strong desire to "put a brush to canvas."
Although he had never taken an art class or painted until last October, that two-week trip he and his wife took piqued his interest in the new hobby. "Jane [a preschool teacher] set up tours for us at all the prominent museums," he explains. "I came along respectfully but didn't expect to engage."
In Madrid, at the Museo Nacional del Prado, "we were introduced to the kings, and our guide told us how all of the kings worked with a bishop, documenting history through an artist." This sparked Spirtas' curiosity: "I kept wondering who was the most powerful? Who really makes history?"
What he calls "his second piece of magic" occurred at the Dalí Theatre-Museum in Figueres. "We visited the treasure room of Surrealist artist Salvador Dalí, where he kept 13 treasures that he would never sell," Spirtas says. "It was such an incredible and moving experience that I found myself filled with emotion."
As soon as Spirtas returned home, he called Daniel Raedeke, an art teacher at Ladue Horton Watkins High School, to relate his experience. "Daniel is my muse," says Spirtas. "He knew me through teaching our three children, Conner, Madeline and Anna, and encouraged me to start painting with him."
Shortly after, the duo began doing just that in the basement of Raedeke's home. "With his clear life commitment to art education, he's guided me through every twist and turn as ideas were considered, projects created and works completed," says Spirtas on his relationship with Raedeke. "At first, I really didn't know how to formally paint. But with his encouragement, I did it."
Spirtas used his talent as a unique way to document his family's 64-year-old wrecking business with vibrant and colorful contemporary art. "It shows how Spirtas Wrecking affected the St. Louis skyline," he says. "I truly believe that the lessons I have learned through the process will continue to guide me forever.
"Then, Daniel asked me if I'd like to tell a story and create an exhibit." Spirtas has now moved on to "more significant abstract paintings" and says he finds pleasure in layering paint and using unique colors.
Spirtas' art was the impetus for the recent renaming as Spirtas Gallery of the art showcase at Ladue Horton Watkins High, from which he graduated in 1984. The gallery also has featured his colorful works in its "Top Down" exhibition, which has attracted hundreds of visitors from near and far and which closes this month.
A generous donation by the Spirtas family this summer established a perpetual fund to support both the annual Daniel Raedeke Art Scholarship for an exemplary senior art student and the operations of the Spirtas Gallery. "We want the gallery to encourage the attainment of top art and also support school exhibits year-round," Spirtas says.
Spirtas believes in dreaming big, thinking big and reaching high. "It's always important to challenge yourself," he says. "Don't be so restrictive that you hold yourself back. Accept the support and critique of others, but know that when you have to forge through the opposition, it's time to collaborate, confront, inspire and grow."
An innate storyteller and award-winning photographer and writer, Alice Handelman provides Ladue News readers with a glimpse into lives that enrich St. Louis.