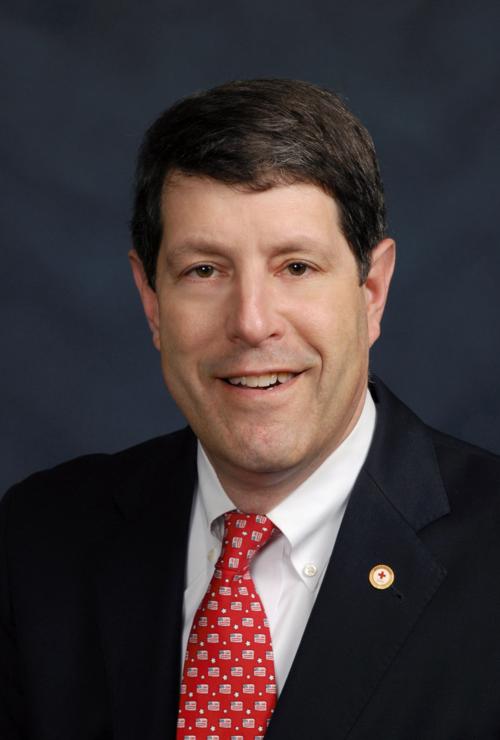 Joe Pereles gives his time, talent and blood to make St. Louis a better place to live. The new chair of the Jewish Community Relations Council served as chairman of the St. Louis Chapter of the American Red Cross from 1998 to 2000 and has donated 162 units of blood throughout his life.
A native of Milwaukee, Pereles graduated from the University of Utah in Salt Lake City and received his J.D. MBA from the Washington University School of Law in 1978. It was at Wash U that a classmate introduced him to Brenda Ukman. "I asked her out on a date for that Saturday and never went out with anyone else again," he says. Married for 42 years, the couple reside in Chesterfield and have two grown children, two granddaughters and a yellow Lab.
Pereles credits a client of his at the St. Louis law firm of Greensfelder, Hemker & Gale for opening his eyes to volunteerism. "Pete Duffy asked me what I was doing to give back to my community," he says. "When I told him I gave blood, had a Red Cross merit badge from the Boy Scouts, that my wife and I were trying to raise two kids and I was working to build up my law practice, he told me that was not enough. His dedication and commitment excited me and connected me to my first volunteer assignment at the Red Cross." Pereles began by making calls to local schools and churches to line up shelters for natural disasters and emergencies.
In 2005, he was elected to the Red Cross National Board of Governors. When Hurricane Katrina hit later that year, Pereles jokes, "we had more volunteers on the ground than the Armed Forces had in Iran and Afghanistan."
Pereles served on the board till 2014, when he was asked to join the National Philanthropic Board and was later elected to serve on the Compliance and Mediation Committee of the International Red Cross, a prestigious position he still holds with only 12 others worldwide. He is also back serving on the local chapter's board.
Pereles has also served on the boards of the Jewish Federation of St. Louis and belongs to the Board of Overseers of the Cincinnati campus of the Hebrew Union College. From 2011 to 2014, he was president of Creve Coeur's Congregation Shaare Emeth, where he and his wife were honored with the Harris Frank Community Service Award in 2015. Also in 2015, Pereles received the Harriman Award as the Red Cross National Volunteer of the Year.
And beginning in May, Pereles added chair of the Jewish Community Relations Council to his impressive list of philanthropic roles, working on behalf of and for the metro area Jewish community.
"JCRC helps to build bridges with other religious, ethnic, civic and political groups to promote religious tolerance, support Israel and create a just society," he says. "I'm passionate about working together across differences to make St. Louis stronger than ever."
Pereles calls himself an "Irish Jew" because his grandfather was born on the Emerald Isle and hopes to one day have dual citizenship. "I love to travel, but Ireland is my favorite country," he says.
It's been nearly 30 years since Pereles left Greensfelder to become vice president and general counsel for Drury Hotels Co., a family-owned business headquartered in St. Louis. He praises his boss there, Chuck Drury, for encouraging his executives to give back to the community through volunteering. "This is how I've been able to do so much," Pereles says.
Although he will be retiring from his executive position at the end of the year, Pereles will remain involved with one of the company's affiliates. He is looking forward to his semiretirement, which will afford him even more time to give back.
"I want to get deployed on Red Cross disasters, which are typically 10-day assignments," Pereles says. "I have been in on planning and response, but haven't been able to go out on disasters in all my years of volunteering." He also encourages people to donate blood if they can: "One unit of blood can save up to three lives. It is truly the 'Gift of Life.'" 
An innate storyteller and award-winning photographer and writer, Alice Handelman provides Ladue News readers with a glimpse into lives that enrich St. Louis.
The business news you need
With a weekly newsletter looking back at local history.