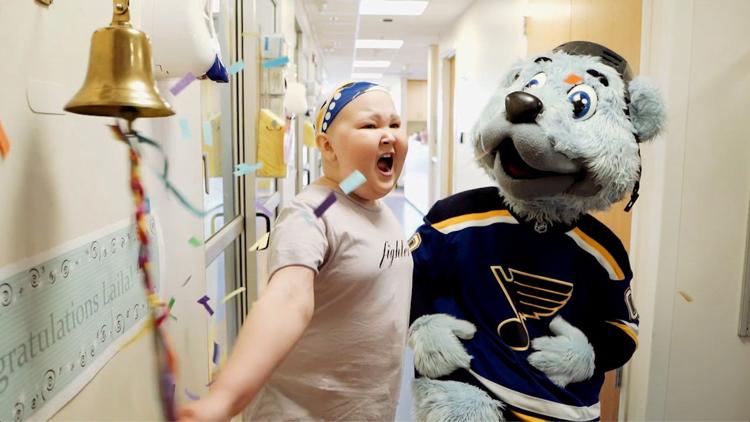 Almost everyone in the metro area knows by her first name alone: Laila.
The amazing story of this 11-year-old girl is a very big deal. Until two years ago, Laila Anderson was a regular kid. She had sleepovers with friends, went to carnivals and loved school and sports; her favorite team was the St. Louis Blues. But suddenly Laila got sick.
"One day she got out of the car and she collapsed," says Heather Anderson, her mother, who rushed Laila to the emergency room. "She threw up and couldn't answer simple questions," Heather Anderson says. "At the ER, they thought she was just dehydrated."
It turned out to be much more than that. After weeks of testing, Laila was finally diagnosed with an extremely rare genetic disease called hemophagocytic lymphohistiocytosis. "Hee-mo-fa-go, blah," says Laila as she tries to pronounce it. "It's called HLH," she continues with a sigh and a smile, as we sit down to talk. Without treatment, the disease is almost always fatal.
Her treatment at St. Louis Children's Hospital and the team she loved are the reasons Laila became a household name here. Former Blues tough guy Kelly Chase and current player Alexander Steen heard about Laila in the hospital. They came to see her not long after she'd had a brain biopsy.
"So they cut open my head, cut out a chunk of my brain and tested it," Laila says matter-of-factly. "I had a Frankenstein scar, and I looked terrible."
Her mother remembers the first day "the boys, as she calls them, came to visit: "She was very down, but they told her she was part of the tough-guy club. They said, 'Look at us, we're missing teeth, we've been beat up, so you're one of us.' That completely changed her outlook." Other players including Colton Parayko came to visit and encourage her. It wasn't long before they became best friends.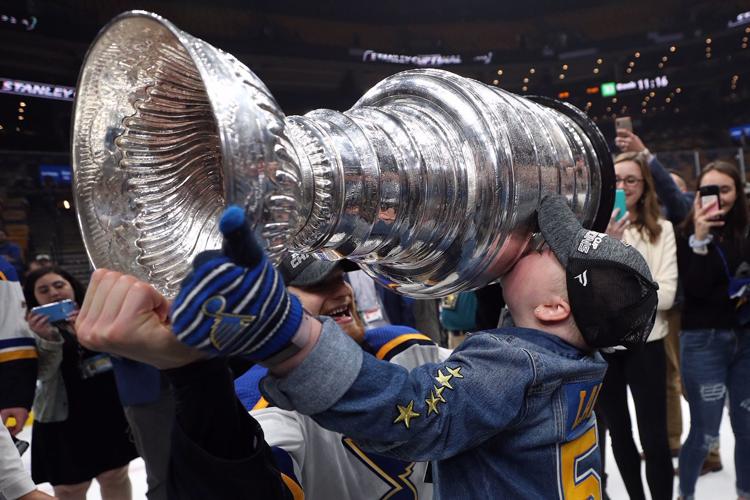 Laila and the players became inspirations to each other. She promised them she wouldn't give up, and even though the team was in last place, the players said they wouldn't give up either. We all know the rest of the story. The Blues pulled off a dramatic comeback to win the Stanley Cup for the first time in team history. Also, after months of isolation and hospitalization, doctors gave Laila clearance to be with them every step of the way. She got to raise the cup after the final game; she also was part of the victory parade, got a championship team ring and even went with the Blues to the White House to meet the president of the United States.
"I've heard a lot about you," the president said when he greeted her in the Oval Office.
Laila's toughness and positive attitude became an inspiration for many others. "It's very inspiring to know that I'm encouraging people – not only other kids who are sick, but adults," Laila says. "Like one woman said to me, 'My husband is going through cancer treatment right now, and he really looks up to you." She's become a celebrity, and people come up to meet her all the time. Laila says she doesn't mind at all because she knows they're all pulling for her: "People gathered around me when I needed it most, so the least I can do is listen to somebody's story or take a picture with them."
Neither Laila's story nor her fight will end with the Stanley Cup. So far, the chemotherapy and bone marrow transplants are working, but Heather Anderson says it will take a couple of years before her doctors can say if she's cured. "They put the donor bone marrow in her body and now hope that the donor cells take over," Laila's mother says. "There's always going to be a lingering of her own cells, but if her own cells take over, then the transplant didn't work. Some of her cells have started to creep back in, so we're hoping they'll just die back off, but we don't know – it's a waiting game."
In the meantime, hopefully, there will be a lot more growing up for Laila to do and more chances to retell the story that inspired an entire city. "When I talk to people about all the great things that have happened, I say just cut me off if I'm being too braggy because I'm not better than you and you're no better than me," Laila says. "I just have a rare disease. I'm a normal human being."
She adds humbly, although you might be surprised by her ultimate goal: "I'm going to be a pediatric brain surgeon. I'm going to be a big deal one day."
Believe us, Laila, your courage and resolve have already made you a very big deal.
Paul Brown is a longtime journalist on radio, on television and in print as a reporter, an anchor, a talk show host and a columnist. He's also a media and public relations consultant with Paul Brown Media.
The business news you need
With a weekly newsletter looking back at local history.