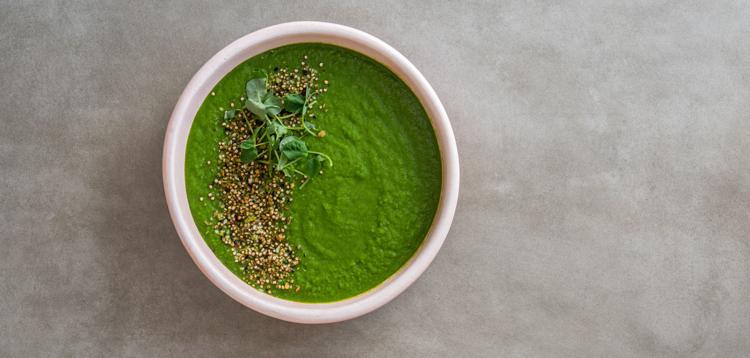 Highlighting one of my favorite spring vegetables, chilled pea soup is a refreshing introduction to the changing climate. In this creamy soup, the crunch and spice from the dukkah – an Egyptian blend of herbs, nuts and spices –add needed texture and an extra flavor kick. It takes a bit of effort to make dukkah yourself, but it's absolutely worth it.
SPRING PEA SOUP WITH DUKKAH AND PEA SHOOTS
Serves 4
Dukkah (Yields 1 cup)
2 cups canola oil
½ cup quinoa
¼ cup pistachios, toasted
2 Tbsp toasted white sesame seeds
1 Tbsp nigella seeds
1 Tbsp fennel seeds
1 tsp ground coriander
½ tsp dried mint
½ tsp red pepper flakes
1 tsp kosher salt
1 tsp freshly ground black pepper
Pea Soup
1 Tbsp olive oil
½ yellow onion, roughly chopped
2 garlic cloves, roughly chopped
kosher salt and freshly ground black pepper, to taste
½ medium sweet potato, peeled and roughly chopped
1 cup dry white wine
3 cups chicken stock
4 cups fresh spinach
2 cups peas, hulled from fresh or frozen
1 Tbsp fresh lemon juice
1 Tbsp heavy cream
4 Tbsp dukkah, divided (recipe below)
½ cup fresh pea shoots (for garnish)
Preparation – Dukkah | Line a small baking sheet with paper towels, and set aside. In a medium sauce pot over medium-high heat, heat oil until it reaches 420 degrees on a candy thermometer. Add quinoa; allow to puff, 30 seconds to 1 minute. Strain quinoa, reserving oil. Transfer quinoa to prepared baking sheet to dry. In the bowl of a food processor, add all remaining ingredients, and pulse until coarsely ground. Place in a bowl, add puffed quinoa and stir. Use immediately or keep stored in airtight container in the refrigerator for up to 2 weeks.
Preparation – Pea Soup | In a medium saucepan over medium heat, heat oil. Add onion and garlic, and season with salt and pepper. Sauté until onion is translucent, 5 minutes. Add sweet potato and season with salt and pepper; cook for another 2 to 3 minutes, and add wine. Cook for 3 minutes more. Add chicken stock and simmer till potatoes are tender, 10 minutes. Add spinach and peas to pan, and remove from heat. In the bowl of a blender, transfer potato mixture and process on low for 2 minutes. Add lemon juice and heavy cream; blend on high until mixture is puréed. Adjust seasoning as needed, and refrigerate until cool, about 3 hours. Divide soup between 4 serving bowls. Top each with 1 tablespoon dukkah, garnish with fresh pea shoots and serve.
A Note on Nigella: Nigella seeds, the lesser-known ingredient for this recipe, are sometimes called black cumin, black caraway or fennel flower. You can find this herbaceous member of the buttercup family at specialty spice shops or order it online.
Amanda Elliott is the chef at Peachtree Catering (peachtreebanquet.com) in Columbia, Missouri, and authors the website Rustic Supper (rusticsupper.com), where she shares recipes centering on the idea of the communal table and embracing the heritage of food through travel. She also hosts a series of pop-up dinners in Columbia called Sunday Suppers.