Except for the hardiest golfers, who play no matter the weather or calendar month, the 2018 links season has ended on these notes: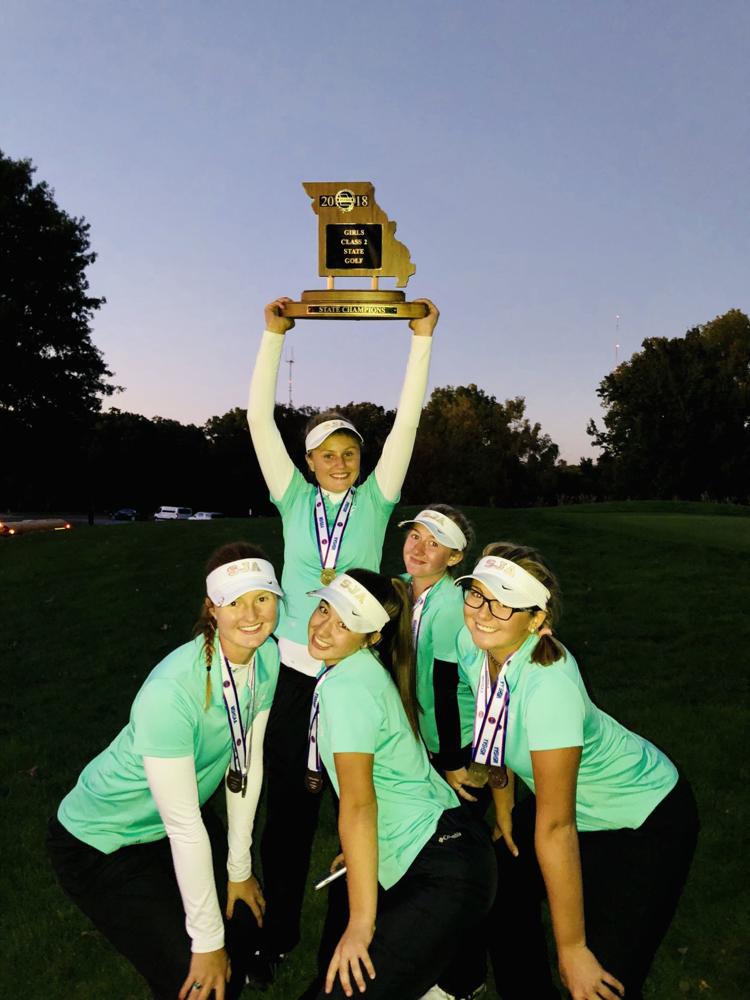 St. Joseph's Takes State Title
St. Joseph's Academy's Angels won their third consecutive Class 2 state championship. The victory ended an undefeated season for them in dual matches, regular season tourneys and three postseason tourneys.
St. Joseph's posted a 36-hole team score of 627 in the two-day event at Swope Memorial Golf Course in Kansas City, Missouri – the eighth state championship overall for the team.
"They were all very determined," says coach Carol Fromuth. "That's all they thought about, was to be ready for state and win it. I knew they could do it."
Girls finishing in the top 15 individually earned all-state medals, and all five St. Joseph's players finished in the top 12.
Because a state team comprises five players but only the top four scores count, the remarkable finish marked the first time in girls' or boys' state play that the score of an all-state medalist went unused in the team score.
Guerra Goes to Drive, Chip & Putt
Town and Country native John Guerra, 13, qualified to compete for his age group next April 7 in the national Drive, Chip & Putt, conducted in partnership among the Masters Tournament, the PGA of America and the USGA.
Guerra, who attends Chaminade College Preparatory, won the regional qualifier in September at Town and Country's Bellerive Country Club, which earned him the trip next spring to Augusta, Georgia.
"I am very excited, the most excited I have been about anything," says Guerra, who works with Bryan McMurray, the PGA pro at Augusta's Boone Valley Golf Club.
Drive, Chip & Putt – a free, nationwide youth golf development program open to boys and girls from 7 to 15 in four age categories – tests the three skills essential to the game, showcased in its name.
Meet the Metropolitan Players of the Year
The Metropolitan Amateur Golf Association honored the 2018 Player of the Year Award recipients Nov. 1 at St. Louis' Old Warson Country Club.
Men's Player of the Year Drew Pranger's magnificent year included capturing two MAGA major titles, the Old Warson Cup and his second Amateur Championship. He qualified for the 2018 U.S. Mid-Amateur and advanced to Sectional Qualifying of the U.S. Open.
Senior Men's Player of the Year Buddy Allen had a remarkable 2018, winning virtually every senior event in the area. He came from behind to win the MAGA Senior Championship at Weldon Spring's Persimmon Woods Golf Club, having just a week earlier captured the St. Louis District Golf Association Senior title. Allen earned Low Senior honors in the Normandie and East Side amateurs as well, qualifying for the U.S. Mid-Amateur, his first USGA championship.
After stepping down as Washington University's women's golf coach, Women's Player of the Year Ellen Port enjoyed all summer to concentrate on her game. Port won her 16th MAGA Women's title and competed in four USGA championships; in those championships, she qualified for the U.S. Senior Women's Open and advanced to match play in the U.S. Women's Amateur, U.S. Women's Mid-Amateur and U.S. Senior Women's Amateur.
Mid-America Junior Cup Goes to K.C.
The Kansas City Golf Association bested the St. Louis junior golf squad in the 20th annual Mid-America Junior Cup two-day competition in October at St. Charles' Bogey Hills Country Club.
KCGA held a 4.5-to-3.5 lead after the first day's sessions of four-ball match play and foursomes. This marked the first time in the competition's history that both sessions took place in one day, adding singles matches to its outcome.
"I think this is a wonderful event for junior golf – it gives these kids an opportunity to compete in match play formats that the majority of junior golfers do not get to compete in," says Curt Rohe, executive director of the Metropolitan Amateur Golf Association.
Team MAGA scored the first two points of the singles matches, with Seckman High School's Claire Solovic and St. Joseph's Academy's Nicole Rallo winning their matches out of the gate, 7 and 6 and 1-up, respectively.
Timberland High School's Hunter Niles earned the day's third MAGA point with a 4-and-3 victory, and Lafayette High School's Brooke Biermann capped MAGA's 3.5 points on the day in her match.
The St. Louis team also included Max Kreikemeier of Lafayette, Zach Walsh of Chaminade, Kal Kolar of Maplewood and Momo Kikuch of Pattonville.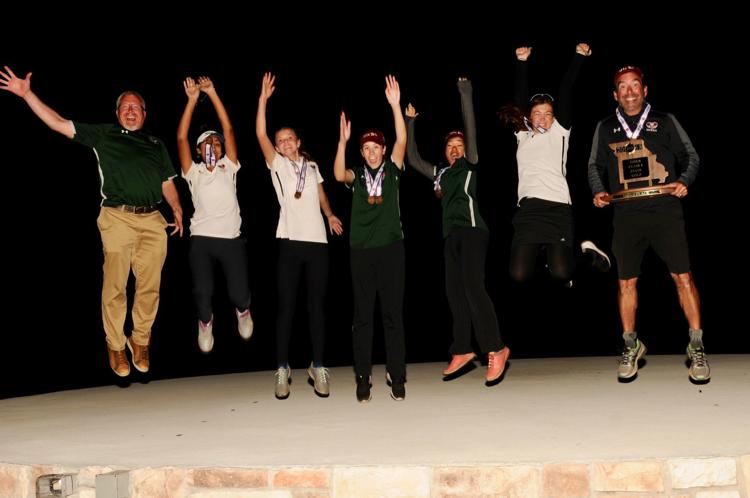 MICDS Comes in Third in State Golf
The Mary Institute and Saint Louis Country Day School Rams finished third in the Class 1 state golf tourney, with junior Parker Perry scoring third overall.
"This season marked the sixth year in a row taking a team to state," says coach Steve Johnston, who speculates that that streak constitutes a school record.
This fall, the Missouri State High School Activities Association returned the Rams to Class 1 after a two-year stint in Class 2.
Perry placed third with a 164, on rounds of 84 and 80. The state tourney capped a good season for Perry, who medaled in three of the four dual matches MICDS played and won the districts and sectional. 
The business news you need
With a weekly newsletter looking back at local history.