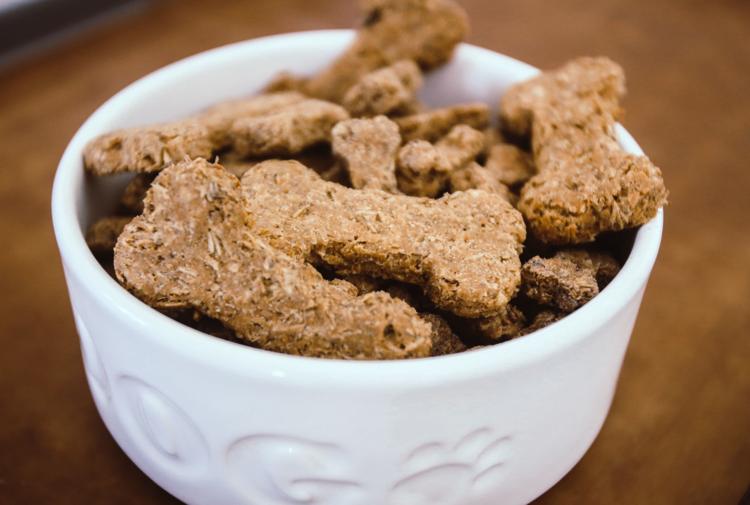 Diego the Chihuahua hordes Crafted Bone dog treats like they're the last he'll ever eat. When his owner, Kim Meyer, gives him one, he sprints away with it and buries the treat in the couch.
"The longest he ever held onto one was 48 hours," Meyer says. "After 36 hours, he bit off the edge, just a teeny, tiny bite, like he was savoring it."
Meyer and her partner, Charles Saso, have heard similar reactions from other dog owners since they started their business, The Crafted Bone, in 2017. The couple sells handmade gourmet dog treats crafted from spent grains, the various grains left over from local breweries.
Meyer and Saso got the idea while homebrewing because they felt bad about throwing away such excess grains. They looked for ways to repurpose the grains and came across a recipe for dog treats, which they decided to make for Diego. The grains are mainly barley, but also can include oats, wheat and rye, depending on the type of beer brewed. Meyer and Saso read that the grains make a good source of protein and fiber for dogs, and their tiny taster seemed to agree.
After receiving positive reactions from dogs of their friends, the couple decided to look into making a business out of selling the treats. They approached the St. Charles County Economic Development Center for ideas on how to get started, and shortly after that meeting, the center connected Meyer and Saso with Dan Tripp from Good News Brewing of O'Fallon and Defiance, Missouri, who was looking for a use for his own spent grains.
Meyer and Saso baked a test batch of treats and dropped it off at Tripp's microbrewery on a Thursday afternoon in December 2017. By that Saturday, not even two days later, the treats were all gone.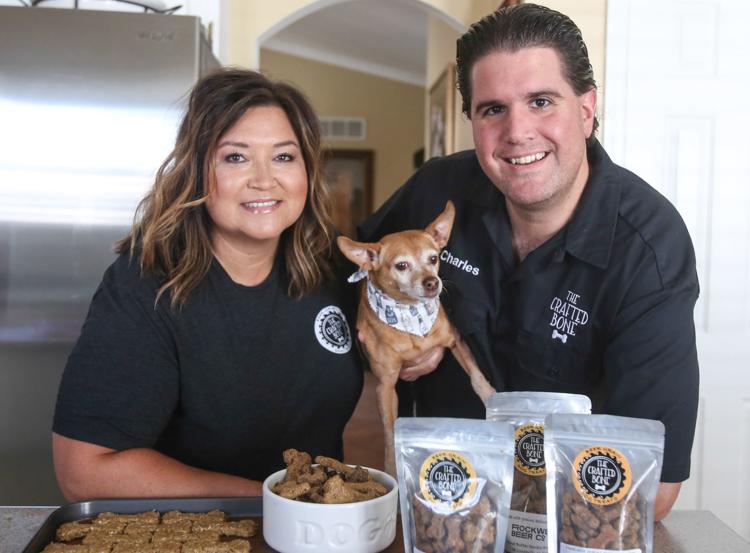 "That was a big boost to our confidence," Saso says.
Then, a customer who had taken home some of the treats called the couple. Her dog normally didn't like homemade treats, she said, but the pet had gobbled up The Crafted Bone offerings. Could Meyer and Saso make some more and deliver them to her on Christmas Eve so she could have them for her dog?
"That's when we really thought we were on to something," Meyer says.
Meyer and Saso subsequently spread news of their business through word of mouth and also approached local breweries to gauge those breweries' interest. The couple now partners with about 20 breweries in both Missouri and Illinois, where they're licensed with each state's agriculture department.
But because The Crafted Bone isn't their full-time venture, Meyer and Saso are deliberate about creating their treats, which contain no preservatives, alcohol or hops and can last more than six months. They themselves pick up the grains from breweries, and because such grains spoil fast, the couple bakes from one to five batches each time they craft their treats.
"We don't ever make a generic batch," Meyer says. "We keep all the grains separated, so you know you're actually getting a treat from that brewery, and [we] put the logos on each bag."
Each treat also has a distinct look. For instance, grains used to make stouts (which usually range in color from a mild brown to near visual impenetrability) are darker. In the beginning, the couple broke open a good number of their treats to make sure the treats were dehydrated and dry on the inside. Moreover, as noted, they often checked and still check with their quality assurance specialist – Diego.
"We also test them ourselves, which surprises some people," Saso says. "But they're just grains, flour, eggs and peanut butter. It tastes like an unsweetened peanut butter granola bar."
In addition to breweries, the couple's treats also sell at select retail locations in the greater metro area. Further, customers predictably can order treats off The Crafted Bone's website.
Meyer and Saso otherwise attend festivals, farmers markets and other special events in the area, and donate 10 percent of their sales to rescue groups and animal charities.
"St. Louis is a proud city, where people like to support local companies," Saso says. "We appreciate the support from the community and the chance to give back."
The Crafted Bone, 636-345-4473, thecraftedbone.com
The business news you need
With a weekly newsletter looking back at local history.