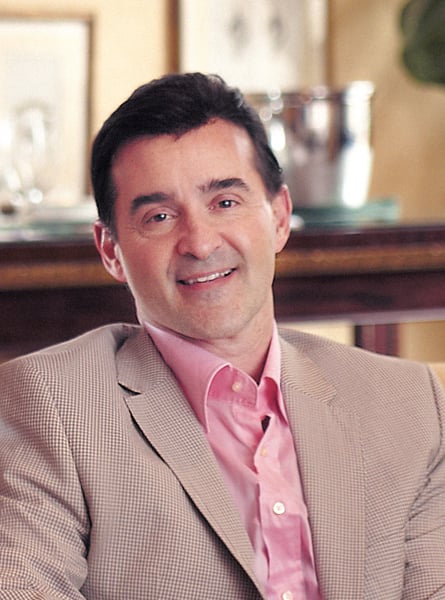 We have had some pure shooters from St. Louis County over the years. However, nobody has ever shot the ball better than Parkway West alum Scott Highmark, who became one of the all-time great Billikens. If shooting were a virtue, Highmark would have been a saint. Technique, range, concentration—he had it all.
After winning the state title in high school, Highmark scored 1,703 points at Saint Louis University. That's a great deal of points for a 6'4" forward who could barely jump over a Sunday newspaper. Highmark made 230 three pointers in his career, which is second in school history. He helped to lead SLU to back-to-back NCAA tournaments—that hasn't happened since Moby Dick was a guppy. Highmark and Erwin Claggett were the major stars in the fabulously popular Spoonball era. Crowds often packed the Scottrade Center: It wasn't just a game— Spoonball was a happening.
After SLU, Highmark played with Athletes in Action and in New Zealand and Australia. He has spent the last 16 years in finance, and is a senior VP at Morgan Stanley Smith Barney. He has been married to Linsey for 15 years and has three children: Taylor, Brooke and Lane.
MOST MEMORABLE GAME YOU EVER PLAYED IN? U-Mass my senior year. They were No. 1 or No. 2. Dick Vitale, who never came to our town, did the game on ESPN. I couldn't even park in the garage at first. I had to pull my uniform out of the bag and show it to the guy so I could get in the garage. It was like the Super Bowl!
HIGHEST SCORING GAME? 38 points in high school vs. Lafayette, and 30 each against USC and East Carolina in college.
MOST FREE THROWS EVER MADE IN A ROW? 100, and then I quit.
BEST PLAYER YOU EVER PLAYED AGAINST? Penny Hardaway from Memphis. He would have been the next Magic Johnson if he hadn't been hurt.
FAVORITE SPOONHOUR STORY? When he got the job, I was going to Columbia that day for a visit with Norm Stewart. Spoon called me and said, I tried to get you when I was in Springfield. If you go to Mizzou, I will have to go down there and take Norm's job—so you should just stay here and save the gas money. I never made the visit.
BEST PLAYER YOU PLAYED WITH? Claggett and H. Waldman.
BASKETBALL HERO GROWING UP? Larry Bird
WIFE'S KNOWLEDGE OF BASKETBALL ON A SCALE OF ONE TO 10: Know ledge about a 5; and interest level, a 3.
HOW DOES BASKETBALL IMITATE BUSINESS? The same things that make you successful in basketball make you successful in business: discipline, work ethic, integrity, teamwork and knowledge.
FIVE RANDOM THOUGHTS:
 Keep an eye on Jacob Turner. The Tigers have told him he has a legitimate chance to win a spot as a starter. The Westminster grad is just 20 years old but he throws gas and has as much poise as any young pitcher in the league.
Before there was Dorial Green- Beckham, there was Alvin Miller. Don't ever forget the Kirkwood kid who was the Parade Player of the Year in football, the school's all-time leading scorer in basketball and won the state track meet all by himself in 1983.
The next NHL player I meet who is not a nice guy will be the first. Hockey players appreciate their careers more than any other professional athletes.
If you haven't had the Crab-Cake Eggs Benedict at the Olivette Diner, you are missing something special.
Chaminade grad David Lee is having another brilliant season in Golden State, averaging 18 points and 10 rebounds. After Jo Jo White and Ed Macauley, he may end up as the third-greatest NBA player from the area.
Frank Cusumano is a 14-time Emmy Award winner on KSDK-TV, and he also can be heard on 590 KFNS Radio.
The business news you need
With a weekly newsletter looking back at local history.