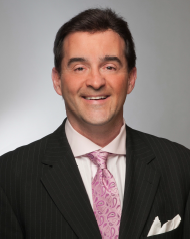 Here are half a dozen things I believe as the leaves start to change color and fall:
1. I believe August was one of the greatest sports months I can remember in our town's history. The Cardinals played at a level we haven't seen in years. The 100th PGA Championship was one of the 10 best sporting events I've covered here. The Bommarito 500 was the icing on the cake – it was a packed house in a great venue with a pulsating finish. Here's the best story about the owner, Curtis Francois: Because of all the rain the day before the event, Curtis was concerned the grass parking lot would be a mud bath – so he hired Helicopters Inc. to have its helicopters hover over the wet grass for about 2½ hours to dry the grass out. That's attention to detail – and that's why this event will continue to get bigger and better!
2. In September, the St. Louis Sports Hall of Fame is going to honor Tony VanZant. Many of you reading this may not have heard that name. Simply put, he was the greatest high school football player our town has ever produced. He was the 1985 Parade magazine National Player of the Year. In his career, he rushed for 6,138 yards and 91 touchdowns. However, in July 1986, he tore up his knee in an all-star game in Jefferson City. He went to Mizzou and injured the other knee. He could have and should have been a star in the NFL. He battled depression. However, his life is better now. That night in September is going to be special. Tony VanZant deserves a chance to take a bow.
3. Another reason to love Jayson Tatum: Tatum said on a Bill Simmons podcast, "If St. Louis had a team, I would go play for St. Louis." Now, we're not getting an NBA team. It's not happening, but it's still very nice of Tatum to not forget his roots. The cynics suggest, well, if he liked our town so much, he should have gone to SLU and not Duke. At the time, though, SLU wasn't trending well. I don't blame him. I love his future. He had an incredible rookie year. He broke the Celtics record for most 3-pointers made by a rookie. In the playoffs, he took it to a whole new level. He may end up as one of the great players in the league.
4. I believe this is one of the best Blues rosters they've had in years. The fans know it, too. That display of passion at the team's Ice Breaker event at Ballpark Village was incredible. We're talking 4,000 to 5,000 people in that area chanting, "Let's go, Blues!" It was 95 degrees outside in August, and the fans still couldn't get enough. Doug Armstrong had a wonderful summer shopping for talents like Bozak, Maroon, Perron and O'Reilly. I honestly believe the Blues winning their first Stanley Cup will be the best single event I will ever cover.
5. I was excited to see that Stan Kroenke lost again in St. Louis. He didn't want that suit our city filed against him for negotiating in bad faith to go to a trial. I think it will be exposed that he had no intention of keeping the Rams in St. Louis. He had every intention of moving the team to LA. In the meantime, our city spent millions of dollars to try to come up with a new stadium. Stan is going to lose this trial. But then, he's used to losing in our town. In his six years as the majority owner, Stan never had a winning season – and he'll lose again!
6. Things I absolutely love: a treadmill with a television in front of it, a podcast with Bill Simmons hosting, the television series Absentia, a Saturday night with The Lovely Monique, discovering a new restaurant for "Frank's Food Picks" on KSDK, a fantasy football Sunday with a stacked roster and a great, meaningful conversation with one of my kids. 
Frank Cusumano is a 17-time Emmy Award-winner on KSDK-TV; he also hosts The Pressbox on The All New 590 the Fan from 10 a.m. to noon each weekday and contributes to The Dave Glover Show on FM NewsTalk 97.1. Follow him on Twitter @frank_cusumano.
The business news you need
With a weekly newsletter looking back at local history.