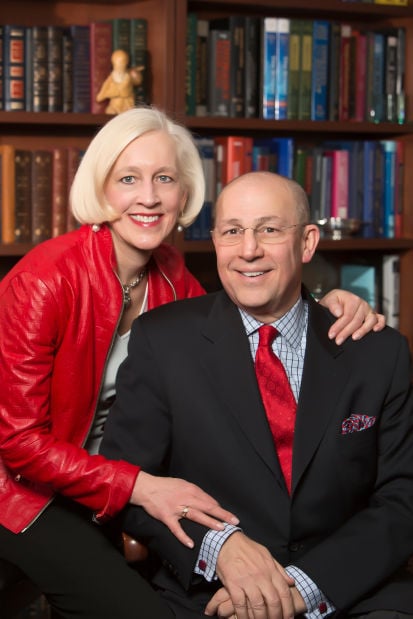 From the first to the final note, St. Louis Symphony's Carnegie Hall performance moved Dr. Tim and Kim Eberlein to tears. "They received a standing ovation," Tim recalls fondly. "We were so proud." The annual trip to support the local orchestra in New York City is just one of the ways the pair tirelessly champions the city's arts community.
Since moving to St. Louis in 1999, the Eberleins have equally divided their time when it comes to supporting their passions: health care and the arts. "Fifty percent of the time, we are at his events; and 50 percent of the time, we are at my events," Kim says. Lucky for the community—many of those labors of love overlap. From co-chairing events for Opera Theatre of Saint Louis and the Symphony to Siteman Cancer Center, the couple stays busy giving back to the city they say has given so much to them.
The Pennsylvania natives, who met in biology lab at the University of Pittsburgh, were sold on St. Louis from the start. After Tim graduated from the University of Pittsburgh School of Medicine and completed his residency in surgery at Brigham & Women's Hospital in Boston, the couple moved to St. Louis for his role of chairman of the department of surgery at Washington University School of Medicine, surgeon-in-chief at Barnes-Jewish Hospital and acting head of the then-planned Siteman Cancer Center, where he now serves as director.
Kim, who has a masters degree in public health services administration, worked in multiple health care field positions, including a pivotal role at Harvard Medical School as it launched a new department of ambulatory care and prevention. Once here, she immediately dove into championing those St. Louis arts and health organizations that were close to her heart.
Kim's first philanthropic effort involved volunteering and later serving on the board for Safe Connections, which works to prevent and end domestic and sexual violence—a mission that hit home for her. "I have friends who had been victims of abuse." She liked the idea of being able to help other victims in similar situations through the nonprofit's crisis helpline. "Everything is anonymous. You are just a voice at the other end of the line. In that setting, I am able to stay calm and help."
A Women of Achievement honoree in 2013, Kim also co-founded The St. Louis Women's Group on Race Relations, which focuses on bringing together people of different backgrounds. And her passion for music—she has played piano throughout her life—led to serving on the boards of Opera Theatre and St. Louis Symphony. "We are so lucky to have Opera Theatre. It features the rising stars of the opera world, it's accessible and it's sung in English," she explains. 
Kim's support for Opera Theatre intersects with her husband's directorial position at Siteman Cancer Center during the annual Sing for Siteman show. The concert features solo performances from Opera Theatre singers to raise funds for the cancer center. "The artists are so grateful to be here, so they love doing it because they feel it is something they are doing for St. Louis," Kim notes.
St. Louis Symphony is another shared passion for the Eberleins. Kim serves on the board, and both have co-chaired galas for the orchestra. "Our symphony is as good as any symphony in the country," Kim says, noting that many of the talented musicians have become personal friends.
While Tim's days at the hospital are hectic, the chief surgeon—who has been named to the Best Doctors in America list from 2002 to 2013—believes a full life includes experiencing the arts. For that reason, the Eberleins take the surgical residents to Opera Theatre and St. Louis Symphony performances each year. It's that livability factor of St. Louis that draws many residents and other staff to the hospital, Tim notes. "It brings people of different backgrounds together. And you get to talk to the performers afterwards. Where else in the world would you be able to do that?"
The pair encourages others to step outside themselves and volunteer for local arts and health organizations. St. Louis has countless ways to be involved, the Eberleins say, from arts and music groups to museums and young professionals' boards. "It gives you an opportunity to develop other parts of yourself," Kim says. "People always are surprised at how much they have to offer."
The business news you need
With a weekly newsletter looking back at local history.