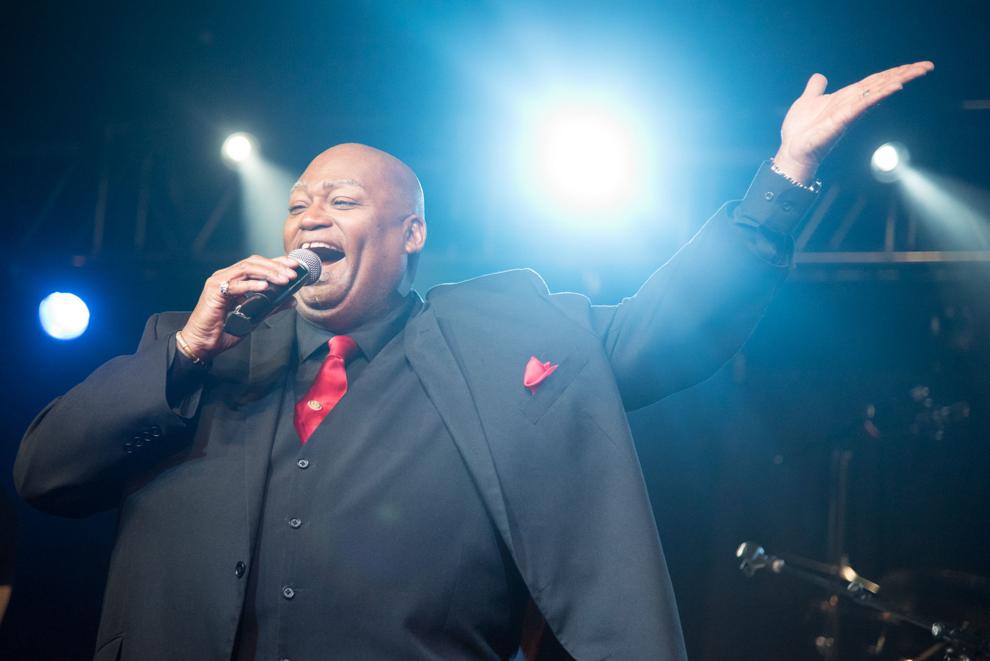 Now that the Blues have finally gone marching in, Charles Glenn is ready for his encore.
Glenn became a local icon as the Blues' national anthem singer for the past 20 years – his career coming to a dramatic climax with the team's historic 2019 Stanley Cup victory.
"I couldn't have written this script any better myself," Glenn says. "To be a part of this story and a pretty big part of the story is unbelievable."
It's been a magical ride for Glenn, who grew up in Florissant but admits he wasn't a hockey fan as a kid. His mom was an accomplished singer, and he took after her. Glenn was in the choir and musicals there at McCluer High, and he beams a big smile when I tell him we had the same alma mater. "I love McCluer guys – we're Comets, baby!" he says.
After Glenn graduated in 1973, he started performing with local and regional bands. They were usually just warmups for bigger bands, but he was making a decent living as a musician.
Glenn then moved to California and worked in the music business there for 10 years. He also got some formal voice training at Cypress College near Los Angeles. When Glenn returned home, though, he got his best break. In 1999, a Blues staff member heard him sing at a wedding reception and asked Glenn to audition to be the team's national anthem singer.
"I sang 'The Star-Spangled Banner,' and after the first few words, the mic went out – the battery died – but I kept singing, and I finished the song, and they said, 'Thank you – you can go home,'" Glenn recalls. He thought he'd blown it.
"They called a few days later and asked me to sing for the opening game," Glenn continues. Everyone who has ever heard him sing the anthem knows why the team called him back and kept bringing him back for all these years. His rendition of the song, vocal range and ability to dramatically hold a note made him one of the best anthem singers in the nation.
Last January, Glenn announced this would be his final season. At the time of his announcement, the Blues were in last place – the worst team in the National Hockey League. Glenn himself was at a pretty low point; he'd been diagnosed with multiple sclerosis, and the disease was taking its toll.
"Some days I'm good, some days I'm not," Glenn explains to me as we have iced tea at a café near his home in Maryland Heights. "We were playing Chicago, and I was trying to walk off the ice, and my right leg just wouldn't work. The next day, I was fine, but things started happening more and more, so I gave them my notice. I didn't want to be a detriment to the team. I didn't want people to feel sorry for me."
Instead of fading away, though, Glenn decided he was going to go all out for the rest of the year and leave everything on the ice, so to speak. The team must have picked up on his vibe because they started winning – and they kept winning. They won a record 11 straight and barreled in to the playoffs.
"When they went from last place to first, it made me stronger," Glenn says. "I thought if they can do it, then I'll show by example, and I'll sing a little stronger and harder every game. I wanted to leave with a bang."
He just didn't have any idea how big that "bang" would be.
Glenn says his next challenge will be living with MS. His prognosis is good. With the proper medications and a healthy lifestyle, he says it's possible to keep living a full life for many years, and Glenn says he's going to continue singing. He has signed with Clayton's Contemporary Productions, in fact, and will perform mostly at private events.
Glenn's also going to continue teaching a gospel-and-R&B singing class at Creve Coeur's Missouri Baptist University, but his biggest goal is a project he's starting called Voices for a Cure. It will give promising singers a chance to perform at The Sheldon Concert Hall & Art Galleries, with proceeds going to MS research. He hopes it will eventually turn into a national event. "I'm not going to show defeat – I'm going to keep on winning," Glenn says with bravado.
And I can't imagine that we'll soon forget that when the Blues did go marching in with the Stanley Cup held high, Charles Glenn not only was in that number but also was leading it. Encore, encore!
Paul Brown is a longtime journalist on radio, on television and in print as a reporter, an anchor, a talk show host and a columnist. He's also a media and public relations consultant with Paul Brown Media.