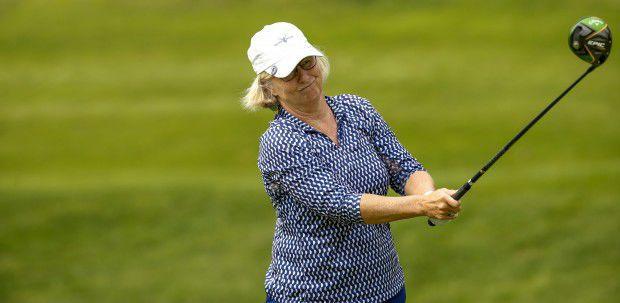 Port Keeps Playing Well in Big Tourneys
Seven-time United States Golf Association champion Ellen Port reached Round 32 in the 58th U.S. Senior Women's Amateur Championship in Cedar Rapids, Iowa.
Port, the No. 2 seed from St. Louis, earned a solid 6-and-5 victory over fellow Missourian Kathy Glennon of Wildwood, at the 5,732-yard par-72 at Cedar Rapids Country Club.
"I was steady – I think I missed maybe one fairway and two greens," says Port, who has won this championship three times, most recently in 2016. "Kathy's a really good player, and we've played a lot of golf together. She's not the person you want to draw because she's a great putter, steady, a fierce competitor. But by her admission, she was a little bit out of sync."
Glennon was making her third appearance in the tourney. She qualified for it by shooting an impressive 74 on July 29 at Aberdeen Golf Club.
Port, who shot a 145 in stroke play, lost her round-of-32 match to Sue Wooster of Australia. Wooster, who shot a 156 in stroke play, defeated Kim Eaton of Mesa, Arizona, 4 and 3 in her round-of-64 match. Wooster ended Port's tourney play with a 1-up victory.
Berkmeyer Misses Cut
Although Town and Country's Skip Berkmeyer earned another berth in a United States Golf Association tournament, he failed to capitalize on doing so.
Berkmeyer missed the 145 cut in the 2019 U.S. Amateur Championship played at Pinehurst Resort & Country Club in the Village of Pinehurst, North Carolina, finishing 19-over with a 159 on rounds of 83 and 76.
Berkmeyer has played in the U.S. Amateur 10 times – this being his 31st USGA championship.
Nienhaus Wins at WingHaven
Drew Nienhaus, a junior at St. Joseph's Academy, completed her summer season of golf in the Gateway PGA Junior Tour Championship by capturing the two-day tourney played at WingHaven Country Club.
Nienhaus claimed the girls' tour division and overall titles by shooting rounds of 73 and 79 for an 8-over 152 win.
Coming in second was her Angels sophomore teammate Mia Rallo, who finished with a 153 on rounds of 76 and 77.
"Summer competition is now over, and I'm focused on a strong high school season," Nienhaus says. "We have a great time together and Coach [Carol] Fromuth is a legend to play for. We want to win state again."
Guyot Does Likewise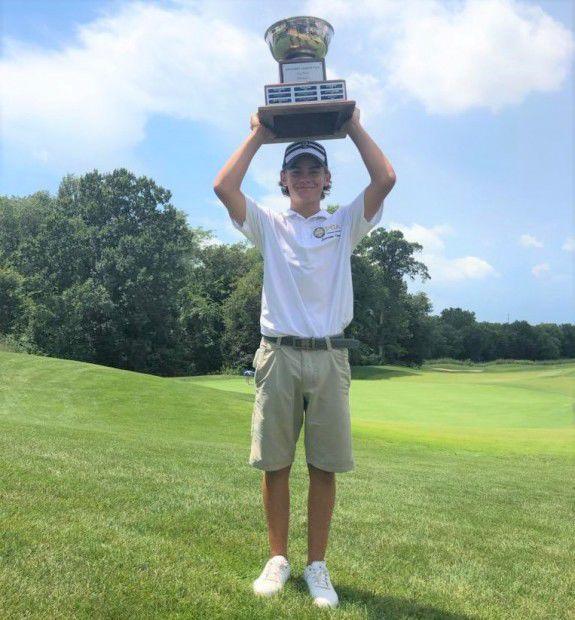 In the summer season-ending tournament for local junior golfers, Chaminade junior Jack Guyot captured the two-tournament at Gateway PGA Junior Tour Championship at WingHaven Country Club.
He finished with an even 144 on rounds of 66 and 78 to claim the boys' tour division and overall titles.
"It was a good confidence-booster and a good reminder that even if I have a bad start, I can always come back," Guyot says.
Young Golfers Excel in Optimist Championship
Several local young golfers did well at the recent Optimist International Junior Golf Championship.
The event took place on the Blue Monster Course (6,698 yards) and the Golden Palm (6,741) at Doral Resort and Spa.
All three boys in the 14 to 15 age group made the cut to be among the top 70 players. Maxwell Sigman of Dardenne Prarie, a sophomore at Fort Zumwalt West, finished 40th overall at 22 over par; he shot rounds of 80-79-78 for a 237. Trip Sanfelippo of Wildwood, a sophomore at Lafayette, came in 58th at 25 over par; he shot rounds of 82-80-78 for a 240. Ryan Walsh of Chesterfield, a sophomore at Chaminade, was 63rd and finished 29 over par; he shot rounds of 83-79-82 for a 244.
Boys 16 to 18 played two rounds on the Blue Monster and one on Golden Palm. Curt Hastie, a junior at Chaminade, failed to make the 54-hole cut; he shot rounds of 82, 83 and 81 for a 246, which was 31 over par.
Neither of the two local girls in the 15 to 18 age group made the 54-hole cut. The girls played two rounds on the Red Tiger Course and one round on the Golden Palm Course. Drew Neinhaus, a junior at St. Joseph's Academy, shot rounds of 79-81-87 for a 32-over par 247. Momo Kikuchi, a senior at Pattonville, had rounds of 78-87-84 for a 35-over 250.
Metropolitan Open Changes Venue
Because of an opportunity for the Country Club of St. Albans' Lewis & Clark Course to host the 2020 NCAA Division II Men's and Women's Championships mostly concurrent with the Metropolitan Open Championship, the latter competition is changing venues for next year, its 15th.
Lake Forest Golf & Country Club in Lake St. Louis will host what has become the premier state and regional open in the Midwest, which will take place next June 16 to 20.
The Lewis & Clark Course hosted the first 14 such championships.
Mel Rector, Lake Forest member, led the charge for the club to host the event.
The business news you need
With a weekly newsletter looking back at local history.