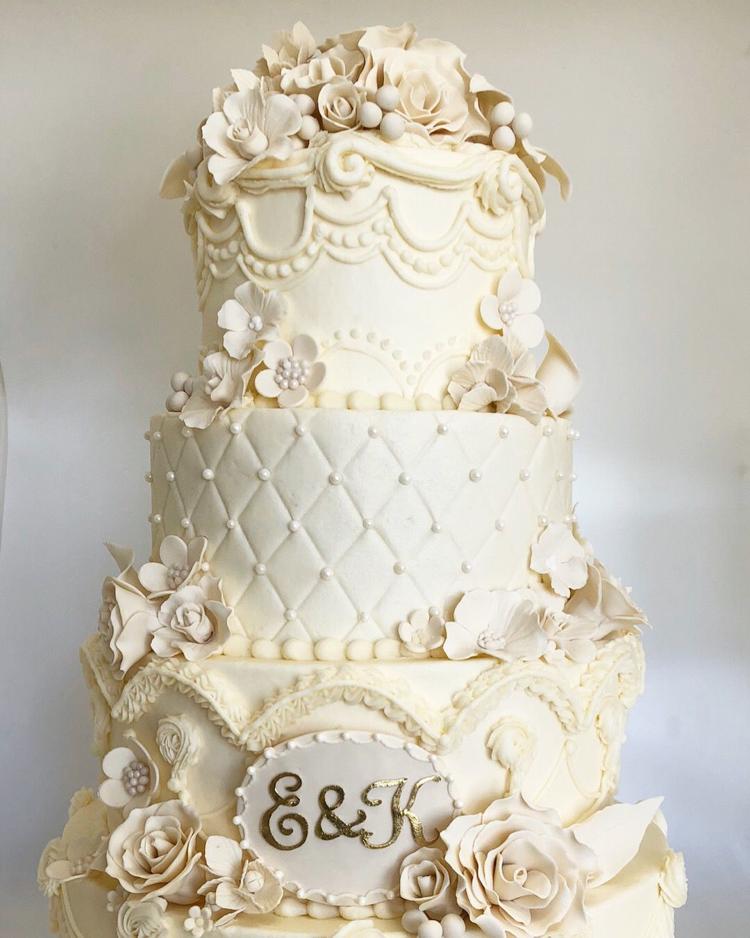 BAKERY
The Cakery Bakery & Cake Studio
It's another sweet year for The Cakery Bakery & Cake Studio, landing once more in our top tier of matrimonial must-haves.
Since 2005, owner Ericka Frank and her team have upheld a reputation for amazing customer service and exquisite attention to detail. From delicately piped ruffles and textured gold monograms to tiers adorned with ombre henna icing, if a customer dreams it – and provides a paint swatch so the team there can perfectly coordinate the color scheme — The Cakery can do it. And with 15 different cake flavors, 10 melt-in-your-mouth buttercream options and decadent filling choices such as lemon, cheesecake and chocolate ganache, the shop's creations taste just as good as they look.
For couples looking for additional dessert support, The Cakery can create everything from fanciful groom's cakes (think: an argyle-wrapped golf-themed confection) to delightful cookie favors and cupcakes – Frank also owns The Cup in St. Louis' Central West End neighborhood and Edwardsville – ensuring that guests leave the reception sweet tooth-satisfied.
The Cakery Bakery & Cake Studio, 1420 Tamm Ave., St. Louis, 314-647-6000, thecakerybakery.net
Runner-Up: Sugaree Baking Co.
Runner-Up: Nathaniel Reid Bakery
---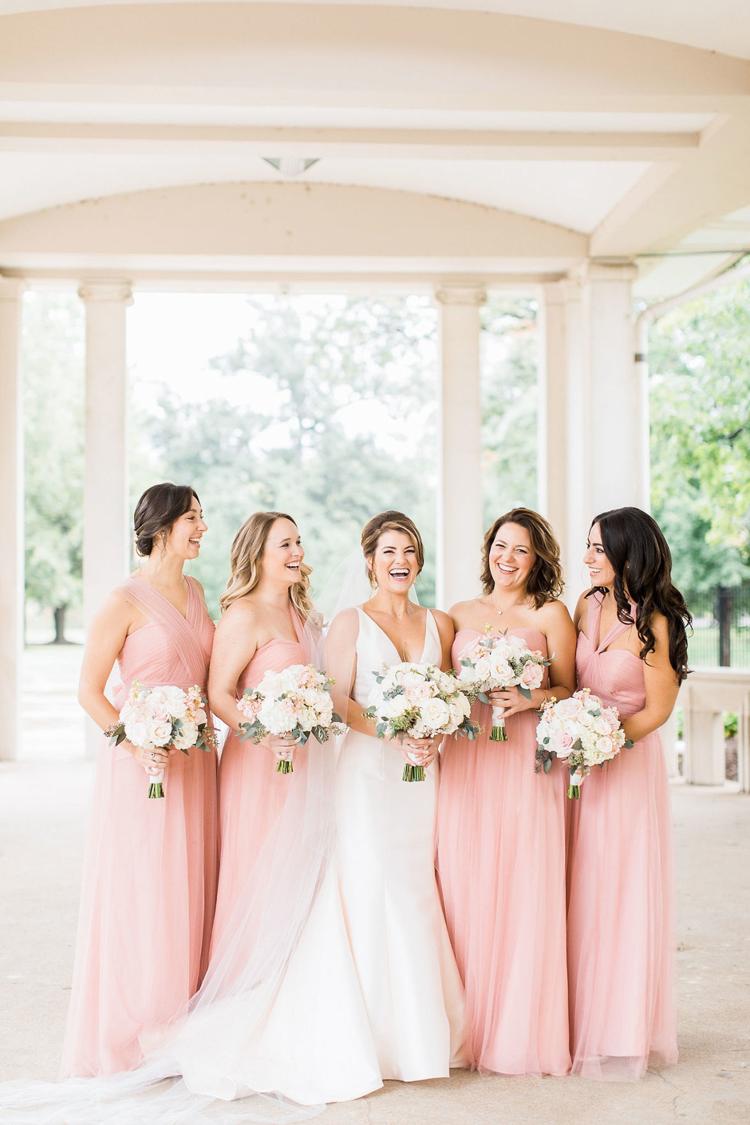 DRESSES
Town & Country Bridal and Formalwear
New year, new location – but for area brides, it's the same love for Town & Country Bridal and Formalwear, wedding dress Platinum List winner for the second year in a row.
After moving to a completely renovated space in a historic building on Ballas Road, owner Debbie Rudawsky (also co-owner of our Platinum List wedding transportation winner, BEST Transportation) now has a larger showroom – complete with stylish bridal suites – to guide even more brides through the daunting task of choosing the perfect gown. But she's not alone; Town & Country Bridal is well-known for its helpful and knowledgeable staff, who carefully cater to brides and their tribes in juggling style preferences, sizing, budget, appropriate accessories and any other concerns that might arise. The bridal boutique also earns praise for carrying exclusive lines and designers, from the newly added Lotus Thread to its own Traditions by Town & Country line, making it the perfect dress destination.
Town & Country Bridal and Formalwear, 2730 N. Ballas Road, St. Louis, 314-863-7200, townandcountrybride.com
Runner-Up: Mia Grace Bridal
Runner-Up: Berrybridge Bridal
---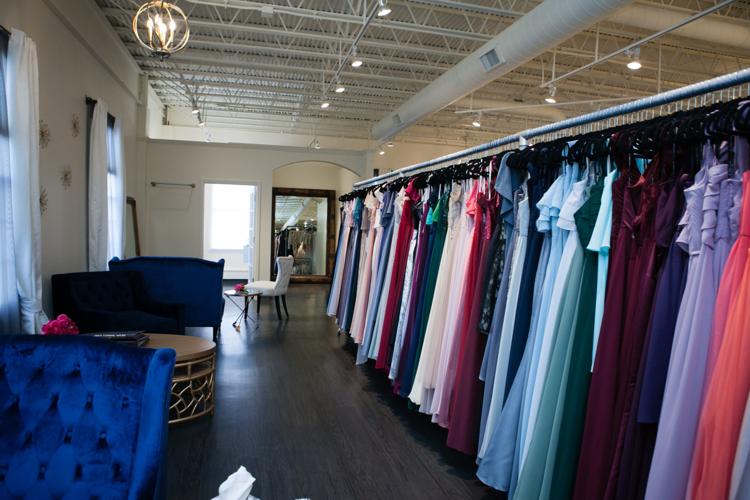 FORMALWEAR
Town & Country Bridal and Formalwear
When it comes to formalwear, whether customers are hunting a mother-of-the-bride dress that's tasteful, flattering and age-appropriate, a tuxedo for an upcoming charity event or the perfect prom dress, the team at Town & Country Bridal and Formalwear can help them look and feel their best,. Not only that, the team there takes the job seriously. Before female high school seniors even stop to shop for their traditional white graduation gowns, owner Debbie Rudawsky and her team of stylists will pull any dresses off the floor that have already been claimed by classmates so no "who wore it best" faux pas occur.
And those seeking the perfect occasion outfit can take advantage of the boutique's gorgeous bridal suites – complete with those all-important perfectly lit mirrors – as they try on such outfits, as well as the accessory shop at the front of the store for eye-catching accent pieces.
Town & Country Bridal and Formalwear, 2730 N. Ballas Road, St. Louis, 314-863-7200, townandcountrybride.com
Runner-Up: The Vault Luxury Resale
Runner-Up: Special Occasions
---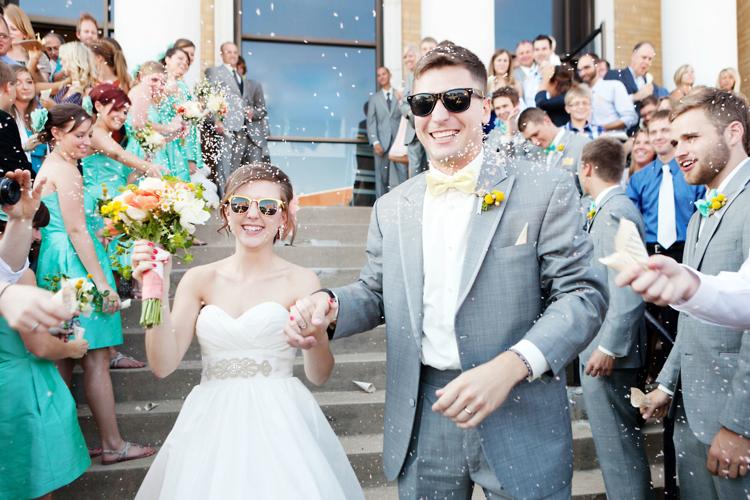 PHOTOGRAPHER
L Photographie
New to the Platinum List this year is fine art boutique studio L Photographie. For more than 10 years, the four ladies behind the company (based in St. Louis' Central West End neighborhood) have documented big life moments for couples and families throughout the area with a relaxed, natural and fun style.
The photographers there work with couples to capture all things big and small, making sure that their presence is never intrusive and that the photos never feel contrived. The real moments, the ones that showcase love, are what they're after (driving home that point, the "L" in the company name stands for "love"). Reviews from brides are numerous and glowing, from the studio's professional nature through the quartet's excellent communication to the "day of" ease that couples felt in front of the camera – something that might not come naturally to everyone, especially on momentous occasions.
L Photographie, 449 N. Euclid Ave #200, St. Louis , 314-449-8124, lphotographie.com
Runner-Up: Joel Marion Photography
Runner-Up: Josephine Havlak
---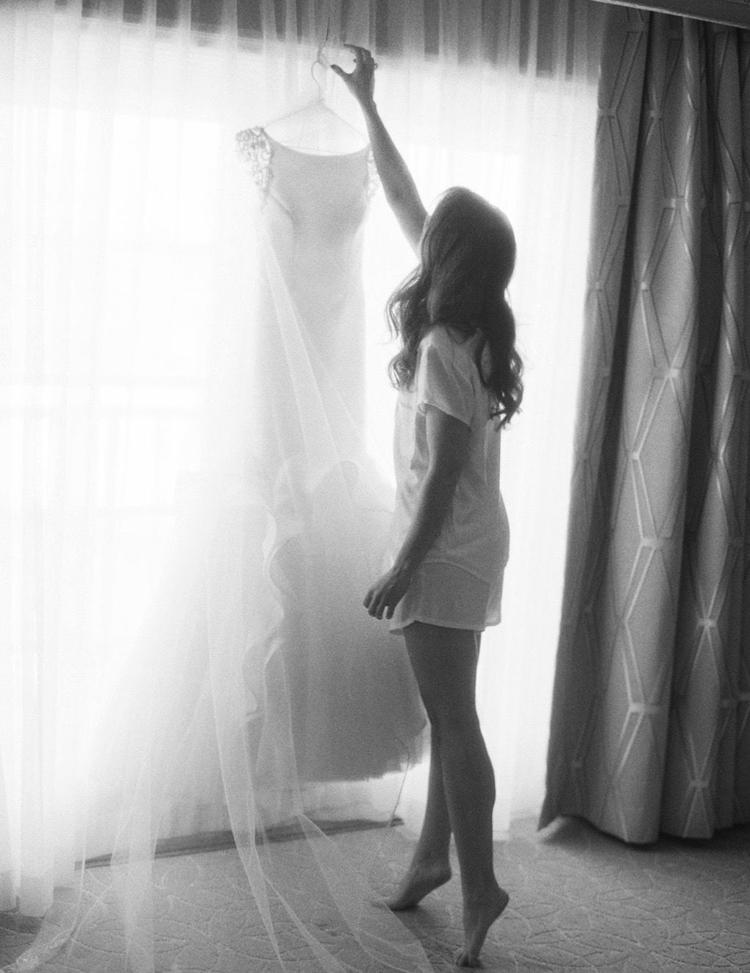 PLANNER
Kate & Company LLC
Recognized nationally for its thoughtful detail and design, Kate & Company LLC is no stranger to our Platinum List or any number of "wedding best-of" lists for that matter – including multiple shoutouts from Vogue – and once again, LN readers decree its reputation to be well-earned.
Whether customers envision their big day as a romantic and traditional fête in a ballroom in the metro area or a more eclectic event featuring floral crowns and hookah bars somewhere off in the mountains, the team at Kate & Company focuses on the bride and groom and their loved ones from conception to execution so that big day proceeds stress-free.
And it's not just the big day the Kate & Company team can bless with their impeccable style. They also can elevate the important events leading to nuptials, including themed-out bachelorette trips and engagement parties, ensuring that from the moment the bride and groom don their rings, their experience remains picture-perfect. Don't believe us? Scroll through Kate & Company's Instagram feed for proof!
Kate & Company LLC, 9753 Clayton Road, Suite A, St. Louis, 314-909-9996, kateandcollc.com
Runner-Up: Cosmopolitan Events
Runner-Up: Divine Events
---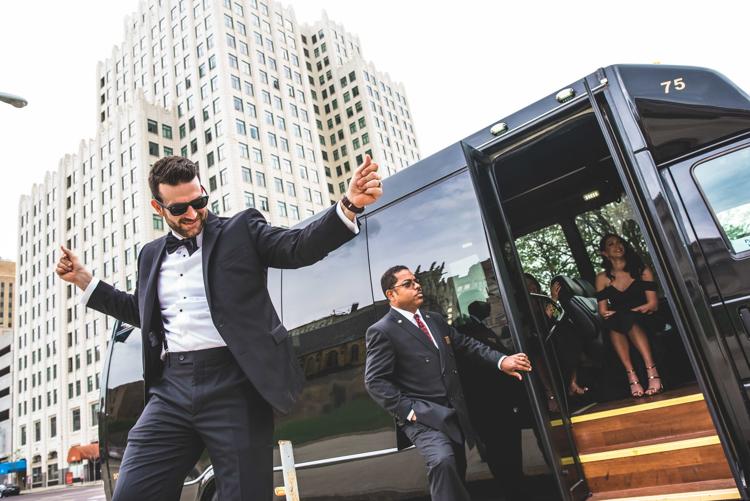 TRANSPORTATION
BEST Transportation
Putting the word "best" in its name automatically pressures a company to live up to the hype. Fortunately for owners (and sisters) Kim J. Garner and Debbie Rudawsky, that adjective is earned here, as BEST Transportation takes the title of the area's favorite transportation company for the second year in a row.
A third-generation family business, BEST, when it comes to wedding wheels, has customers covered from party buses, guest and airport shuttles, a luxurious fleet of limousines and a collection of getaway cars for the just-married couple, including an eye-catching classic 1960 Bentley Rolls-Royce. Need more than one mode of transport for the big day? Talk to the BEST team about their group packages – or customize wheels to fit wedding needs. With 24/7, 365-day-a-year operations, BEST boasts that it's more than Point "A" to Point "B." – it's about the experience, with satisfied customers along for the ride.
BEST Transportation, 8531 Page Ave., Suite 160, St. Louis, 314-989-1500, besttransportation.com
---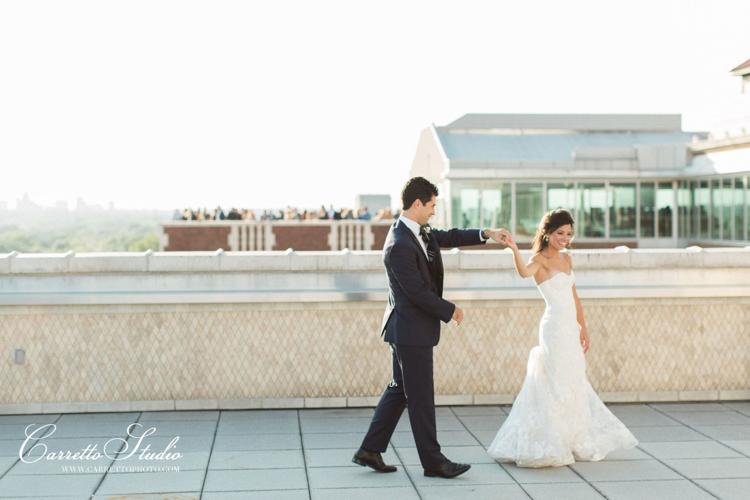 VENUE
The Chase Park Plaza
For St. Louis couples who want to show off their city to out-of-town guests, there are few places better than the centrally located, Forest Park-adjacent Chase Park Plaza. A stalwart of St. Louis' Central West End neighborhood, The Chase boasts classic and elegant style – complete with historic art deco touches – and offers a picture-perfect backdrop for weddings large and small, ornate or minimalist, as well as the events leading to the day, with private rooms for bridal showers, brunches and teas, and a Mediterranean-style pool area for the relaxing staycation bachelorette/bachelor fête.
Chase couples have access to the hotel's experienced event planners and amazing catering options. Also, now that the storied property belongs to the Sonesta International Hotels Corp., newlyweds who eat and imbibe with The Chase qualify for Travel Pass Points that can be redeemed toward complimentary nights for the honeymoon, choosing from such locations as South Carolina's Hilton Head Island, Egypt, San Francisco and more.
The Chase Park Plaza Sonesta Royal Sonesta St. Louis, 212 N. Kingshighway Blvd., St. Louis, 314-633-3000, sonesta.com/us/missouri/st-louis/chase-park-plaza-royal-sonesta-st-louis/weddings