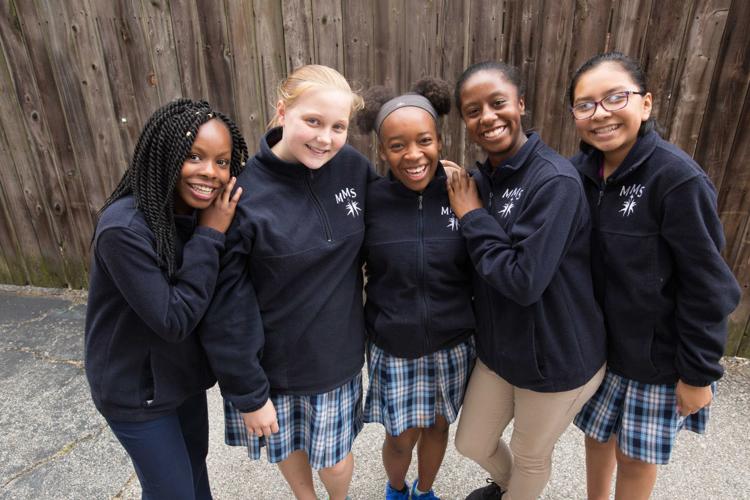 Mary Elizabeth Grimes, president of Marian Middle School, describes the school as "a beacon of hope." The school welcomes adolescent girls from all backgrounds and seeks to create pathways to end the cycle of poverty.
"Marian's culture is unparalleled," Grimes says. "Faculty and staff are deeply committed to students and their families, dedicated to equity and unwavering in providing quality education. Marian develops leaders, instilling community, compassion and resilience in students. Marian alumnae are leaders full of hope, courage, confidence and integrity."
Marian began in 2000 with 14 students in fifth and sixth grades. Eighteen years later, 233 students have graduated from Marian, which now extends through eighth grade and serves 75 students per year.
"We are small by design in order to focus on the development and needs of the whole child," Grimes says. "In addition, we are more than a middle school. We continue to support our students from fifth grade through career success. Marian girls begin their journey to a successful career the moment they enter their first class."
The school focuses on providing a solid middle school education, student enrichment and graduate support. The school's Innovation Center creates an environment for STEM exploration, allowing students to study real-world science, technology, engineering and math problems. Enrichment programs offer opportunities to participate in performing arts, and graduates can seek internship opportunities through partnerships with organizations like the Saint Louis Science Center and the St. Louis Internship Program.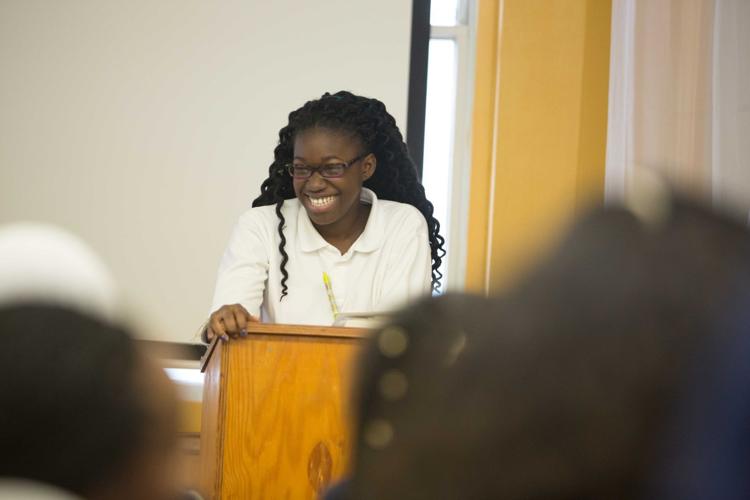 Grimes expects Marian alumnae to be among St. Louis' next generation of leaders, "not just because they are smart, not just because they are prepared, but rather because they possess the grit to overcome their many challenges in life," she says. "Their grit fuels their passion and perseverance for very long-term goals. It also gives them stamina to get back up and try again."
She recalls asking a previous class of fifth-graders what they wanted to be when they grew up. "One student said she wanted to be a princess," she says. "There's nothing wrong with being a princess. Meghan Markle did it, but I wanted this student to have a plan B."
Consequently, Grimes established a Professional Women's Business Mentoring Lunch, where women from a variety of professions visit Marian to share their advice and experience with students.
"Some volunteers also teach classes to share their expertise," Grimes says. "Now when you ask Marian girls what they want to be when they grow up, you get a very different answer." She notes that today's students have expressed their hopes to become veterinarians, architects, biologists, computer engineers, paramedics, physicians, film editors and more.
Marian graduates also serve as young role models for others in their family. "The life transformation of Marian girls changes the lives of their parents and other family members," Grimes says. "Now mothers and fathers who did not get their college degree are graduating from college, and some are continuing to stay in school and get their master's degree.
"We are grateful to those who support us because they believe in our mission," she continues. "We are not funded by the state or the Catholic church." The Marian website states that it costs more than $12,000 to educate one Marian student each school year. Family contributions toward tuition are based on income, with the average family paying just $400 per year. The other 96 percent of the costs come from community contributions through individuals, foundations and corporations.
"We are transforming lives and building the future through Marian's educational model," Grimes says, "and this is an investment that yields returns for generations to come." 
Marian Middle School, 4130 Wyoming St., St. Louis, 314-771-7674, marianmiddleschool.org
---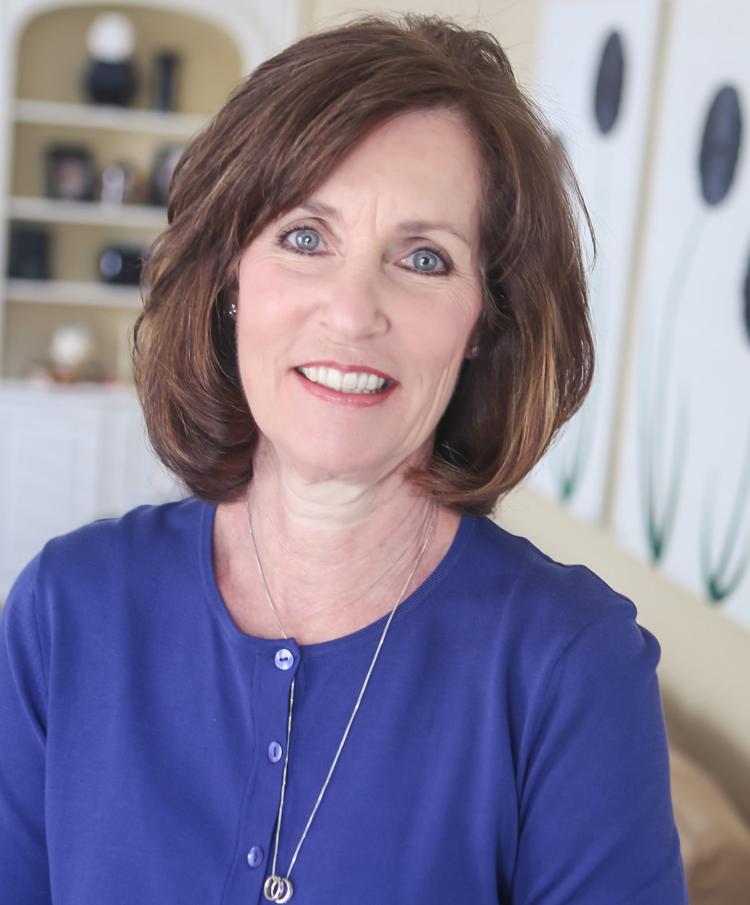 Volunteer Spotlight: Lisa Gladson
Lisa Gladson credits her volunteer work at Marian Middle School with keeping her young. "Nothing like chaperoning a field trip to the zoo to keep you on your toes," she says with a laugh. Besides her delight in spending time with the young students, Gladson enjoys knowing that her efforts and those of the other Marian volunteers, faculty and administrators are making a positive difference in girls' lives.
"Because of Marian, these girls and their parents know what a great education should look like," Gladson says. "We have high expectations of our girls, and they know that requires hard work. This is something that will influence these girls the rest of their lives and, consequently, their children's lives. What I do now at Marian will have an impact long after I'm gone and long after these girls have moved on to high school and college. It's a pretty awesome feeling to know that your small contribution has such a large, multigenerational impact."
Gladson tutors fifth- through eighth-grade Marian students in math and serves on the school's graduate support committee, which assists the director in her effort to help Marian alumnae find success during their high school and college years. This is accomplished in many ways, including, but not limited to, providing high school scholarships, networking to secure internships, and multilayered assistance in college preparation, matriculation and completion. "In other words, we don't just provide a great middle school education, we stay with you and your family until you are launched," Gladson says.
In addition to helping the students, Gladson notes that she helps fellow parents. "I know how much work it is to raise a child who will go on to be a productive human being," she says. "I had a lot of support in my life, and I try to imagine how difficult it is to be a good parent without that kind of support. I honestly don't know how it's possible. For me, part of tutoring is giving time to parents who can enjoy dinner and family time after a really long day at work and not [have] to worry about helping with homework or quizzing for a test. Giving this time back to a family is something I think about."