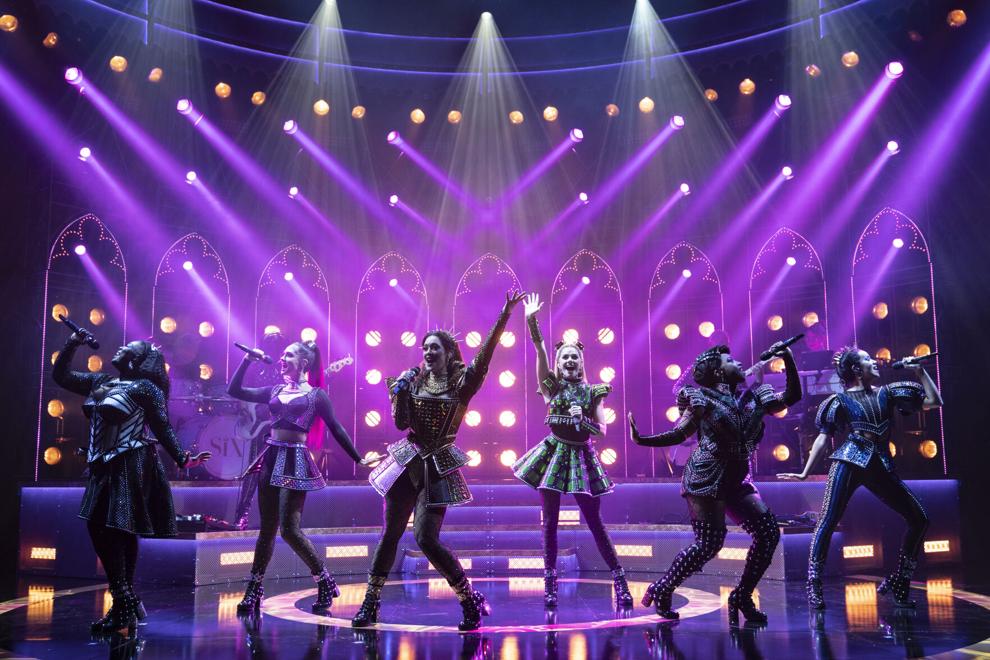 Venue: The Fabulous Fox Theatre, 539 N. Grand Blvd.
Dates: Through February 5
Highlights: The touring production of "SIX," which won the 2022 Tony Award for Best Musical Score, rocks the house in a fast-paced, raucous and energetic performance.
Story: It's good to be king, especially if you're Henry VIII, who ruled England his way for nearly 38 years in the 16th century. Henry wasn't one to abide by the rules, and so he bullied his way through six marriages, with two of his wives literally losing their heads over him.
Those wives – Catherine of Aragon, Anne Boleyn, Jane Seymour, Anna of Cleves, Katherine Howard and Catherine Parr – have had enough of Henry and his selfish ways. They've formed a rock group, and have decided to hold a contest to see which of them will be lead singer. That will be determined as each tells her tale about life with Henry. The one deemed to have suffered the worst experience will be proclaimed the winner.
Other info: "SIX" opened originally at the Edinburgh Festival Fringe in 2017, where it was presented by the Cambridge University Musical Theatre Society. It's written by Toby Marlow and Lucy Moss, who collaborated on the book, music and lyrics for the one-act, 90-minute show.
The concert made its West End debut in London in 2019, and began previews on Broadway in early 2020, closing on the day of its intended opening due to COVID-19. It finally began its Broadway run in late 2021, with the touring production opening in 2022.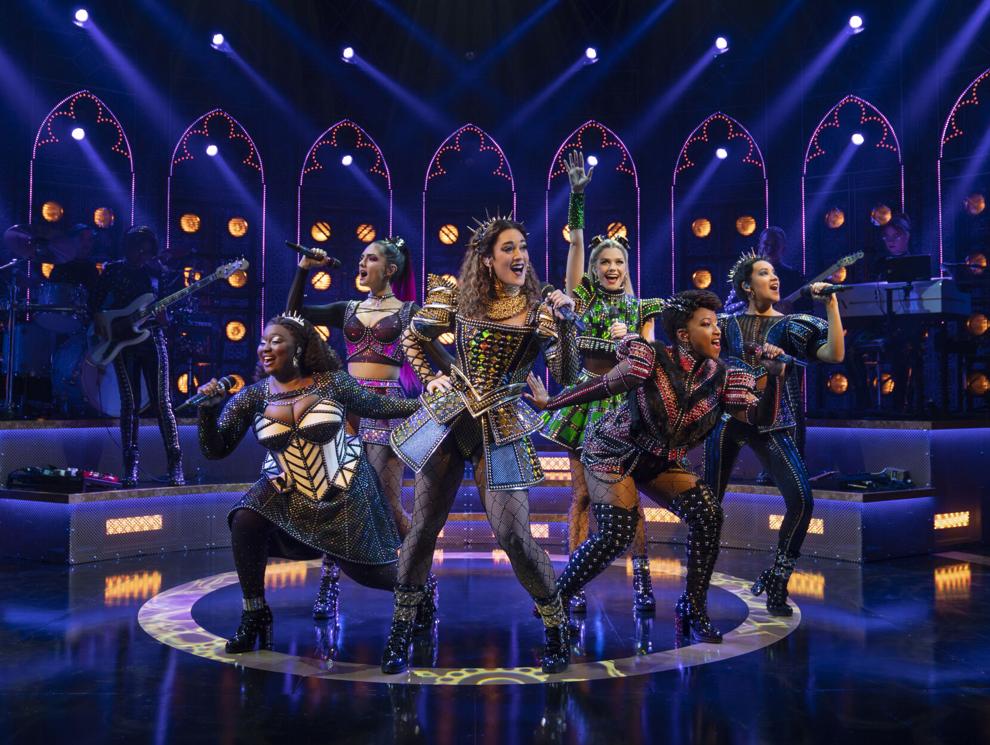 The other Tony Award won by "SIX" was for Best Costume Design in a Musical, by Gabriella Slade, something quite evident in the splashy, sparkly outfits worn by the sextet of performers. Their attire is visually stunning and, accentuated by the spectacularly bright and demonstrative lighting designed by Tim Deiling, makes quite the appearance.
Emma Bailey's spare scenic design allows plenty of room for the singers to mix and mingle while telling their tales of woe and abuse for most of them back in the good old days of the 16th century. The on-stage band, which is situated on either side of the stage, opens with a reference to the traditional English ballad, "Greensleeves," which Henry VIII attempted to usurp as his own composition.
That lively band of "The Ladies in Waiting" is comprised of conductor and keyboardist Katie Coleman, Sterlyn Termine on bass, guitarist Liz Faure and drummer Carolyn Moore. Tom Curran contributes orchestrations, while Carrie-Anne Ingrouille's frenetic choreography matches dance moves with the high-energy music.
Each of the six wives (you can read their mini-biographies in the her-story program) is modeled on modern, famous female musical performers who provide "queenspiration, including Beyonce and Shakira for Catherine of Aragon, Lily Allen and Avril Lavigne for Anne Boleyn, Adele and Sia for Jane Seymour, Nicki Minaj and Rihanna for Anna of Cleves, Ariana Grande and Britney Spears for Katherine Howard, and Alicia Keys and Emeli Sande for Catherine Parr.
The title six are portrayed by Gerianne Perez (Cecelia Snow on opening night) as Catherine of Aragon, Zan Berube as Anne Boleyn, Amina Faye as Jane Seymour, Terica Marie as Anna of Cleves, Aline Mayagoitia as Katherine Howard, and Sydney Parra as Catherine Parr.
Under the humorous, free-wheeling co-direction of Lucy Moss and Janie Armitage, the show rock 'n' rolls its way through a handful of numbers, each tailored to the style which best fits its particular woman. The lilting ballad, "Heart of Stone," e.g., is reserved for Faye as Jane Seymour, who died shortly after giving birth to Henry's son, Edward, the long-sought-after son he wanted to inherit his throne.
"Don't Lose Ur Head" is the frenzied tune belted out by the ditzy Anne Boleyn, she of six-fingered hand fame, who makes numerous cynical references to her unfortunate fate, all deliciously delivered by Berube. Snow captured the self-assured confidence of Catherine of Aragon, and Marie wryly portrays Anna of Cleves, who was divorced by Henry when he decided that she didn't look the portrait of her he had first seen.
Mayagoitia succeeds at showing the manipulations endured by the head-turning Katherine Parr, especially in her stylish turn on "All You Wanna Do," and Sydney Parra confidently croons "I Don't Need Your Love" as Catherine Parr, who outlived Henry.
The audience on opening night went wild as the players performed their numbers, indicating how many of them were familiar with the score already. "SIX" may be a serious number, but in this production it's also a rollicking, frenzied equation.