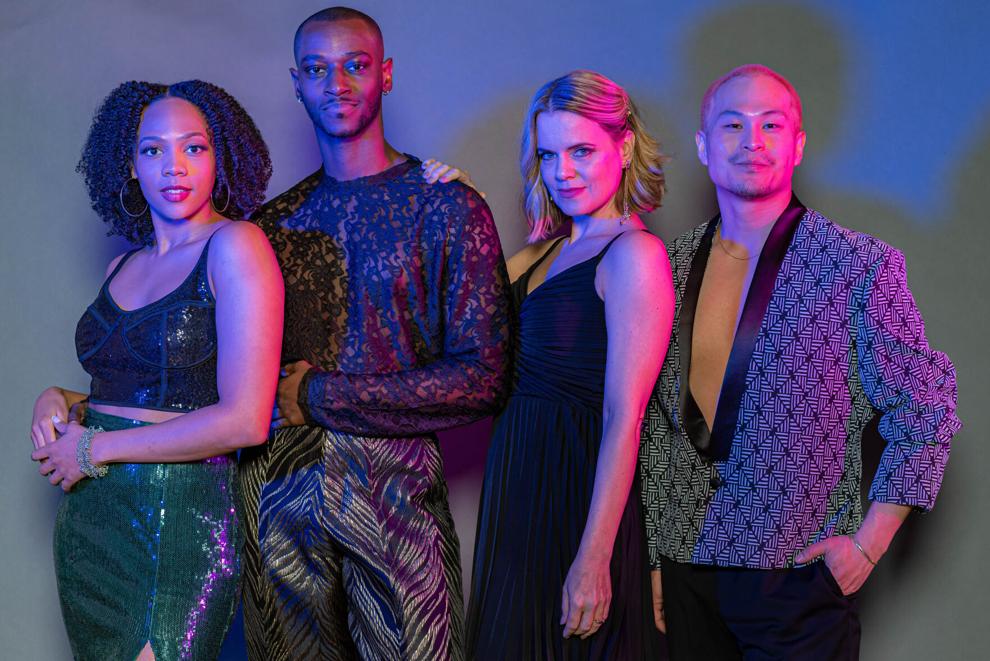 Musical: "Side by Side by Sondheim"
Company: Repertory Theatre of St. Louis
Venue: Berges Theatre, COCA, 524 Trinity Ave.
Dates: Through February 19
Tickets: $23 to $92; contact repstl.org or 314-968-4925
Highlights: The Rep's production provides a number of familiar Sondheim songs in addition to several lesser known of his works, greatly aided by the accompaniment of pianists Kris Pineda and Stephen A. Eros.
Story: A quartet of singers and a narrator present more than two dozen songs in a cabaret-style revue spanning the earlier years in the career of the late Stephen Sondheim, one of the greatest American composers in Broadway musical history.
Other info: Originally, The Rep had scheduled a later Sondheim revue, "Putting It Together," for its tribute to the master of smart, poetic lyrics and dazzling, intriguing music. That would have been so much better, potentially anyway, because "Putting It Together," from 1992, draws from all but the last two of Sondheim's 19 Broadway shows, whereas "Side by Side by Sondheim," from 1974, is based on just the first dozen.
This is problematic. While "Side by Side by Sondheim" was fine for 1976, it's before such recognized Sondheim masterpieces as "Sweeney Todd," "Assassins," "Into the Woods," and "Sunday in the Park with George," among others. There is no good, apparent reason for switching from the later revue to an earlier, less complete one. Even if there is, the result is unfortunate.
The difficulties with this production, directed unevenly and in start-and-stop fashion by Rep associate artistic director Reggie D. White, are myriad. While the program lists Paul HeeSang Miller as the narrator, the opening-night presentation featured Alan Knoll in the part, frequently reading from the book, a sign that he had less than ideal time to prepare for the role.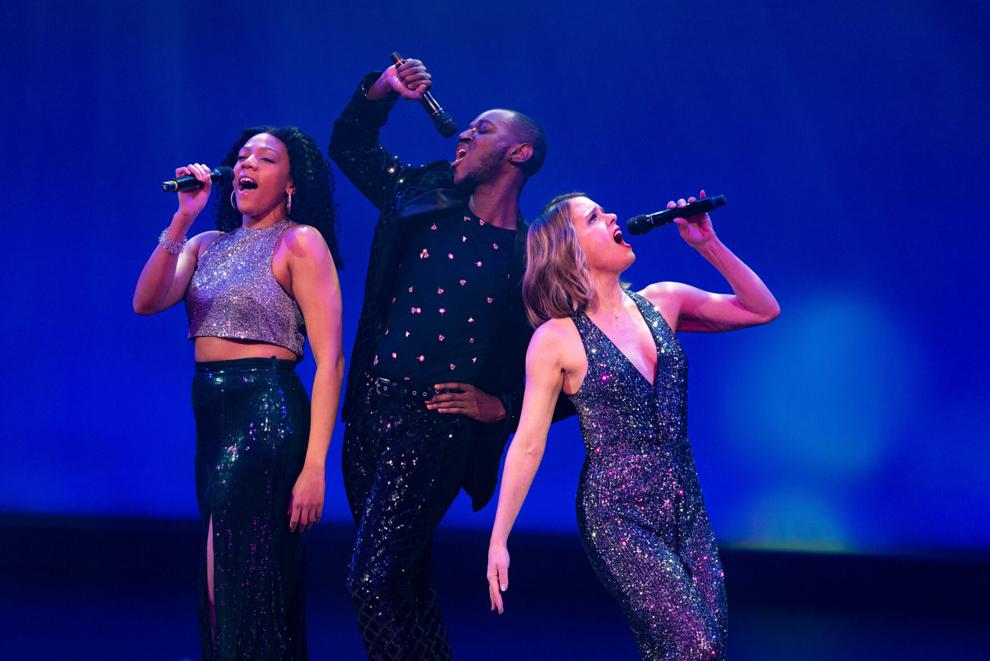 "Side by Side by Sondheim" is a succession of skits, essentially, presenting the unrivaled genius of the composer/lyricist with tunes both familiar and less so. Its quartet of players in The Rep's presentation includes Phoenix Best as Woman 1, Amy Spanger as Woman 2, and Saidu Sinlah alternating with Miller in various appearances as Man.
The show often is awkward, uninspired and pedestrian, which serves neither The Rep nor Sondheim well. Best is well-named, since she is by far the pinnacle of the two-act, two-and-a-half-hour presentation. She has an accomplished voice which serves her well on a tune such as "Can That Boy Foxtrot," a song left out of the final version of "Follies." She fares less successfully with an out-of-sync version of "Send in the Clowns," from "A Little Night Music," which seems too quickly paced as well as stilted in delivery.
Spanger generally acquits herself nicely, pairing well with Best on "Can That Boy Foxtrot" and "If Momma Was Married," from "Gypsy," as well as shining on solo numbers such as "Barcelona" and "Another Hundred People," both from "Company."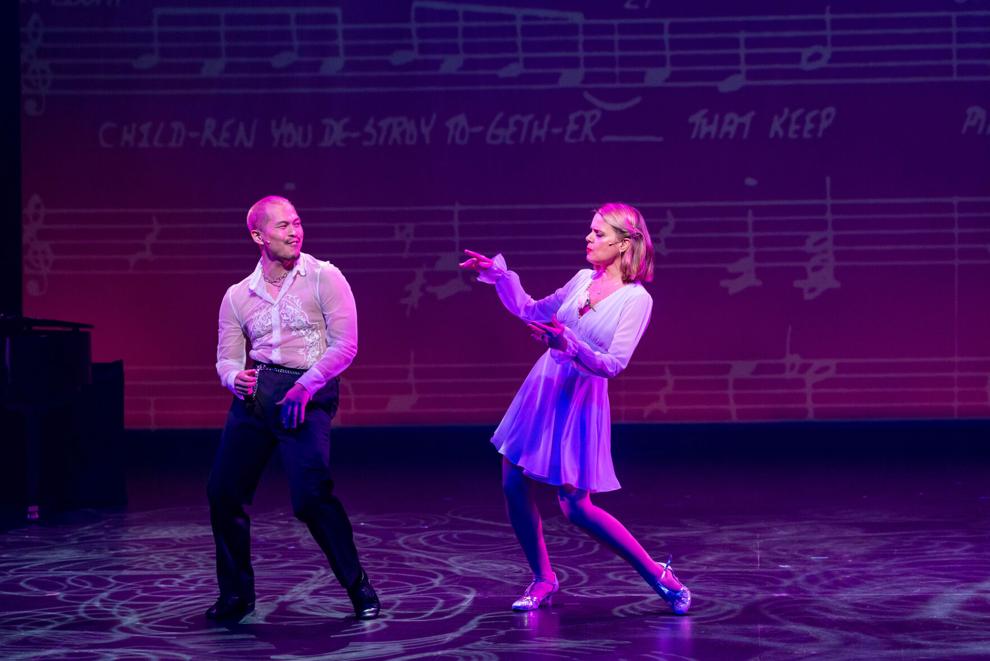 Sinlah and Miller work best backing up the two women performers, and also exemplify the more athletic and refined movements in Heather Beal's choreography.  A couple of skits in which Miller plays a ukelele while Knoll engages in vaudeville-style banter just come across as forced and flat.
Knoll describes interesting elements behind various Sondheim tunes, including the double entrendre humor song, "I Never Do Anything Twice," sexily performed by Best. It's a tune from the clever, 1977 movie, "The Seven-Percent Solution," which featured Nicol Williamson as Sherlock Holmes, and Alan Arkin as Sigmund Freud in Nicholas Meyer's offbeat tale.
Knoll's dry, deadpan wit is put to the test during interludes between songs, and the accomplished professional serves well in that capacity as far as it goes.
There is no set design per se, but the projection design created by Camilla Tassi fills the background with splendid scenes of the New York City skyline, as well as occasional photos of Sondheim sprinkled about. Costume designer Oona Natesan keeps the dressers behind the stage working at breakneck speed to accommodate the many outfits adorning the players, generally rather gaudy and ostentatious.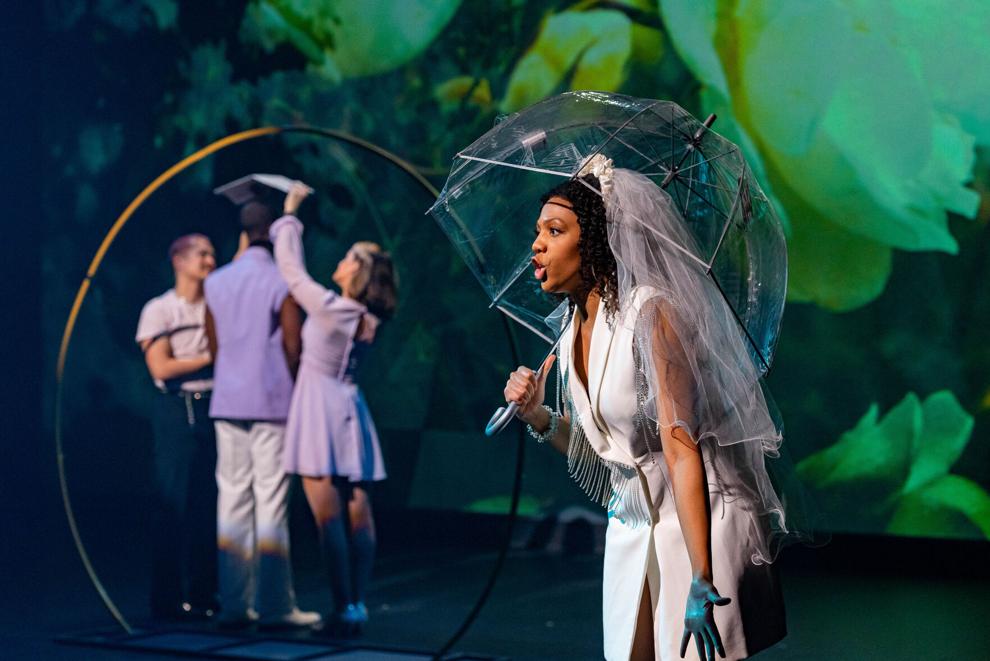 Xavier Pierce adds a most effective lighting design, keeping the focus on the players across the spartan stage, and the two pianists are situated at either side. Tre'von Griffith provides musical direction, and Sharath Patel adds sound design.
In The Rep's news release, White says that "Musical theatre is how I began my career and I have loved Sondheim's work for decades. 'Side by Side' is an especially wonderful piece because it introduces new listeners to his music, gives the most ardent lovers of his work a taste of his greatest hits."
Unfortunately, it's not as complete a "taste of his greatest hits" than "Putting It Together" is, to the audience's detriment. It's like listening to the "Greatest Hits of The Beatles" after their Rubber Soul album, not bothering with anything from "Sgt. Pepper" or "Abbey Road," or, well, you get the picture.