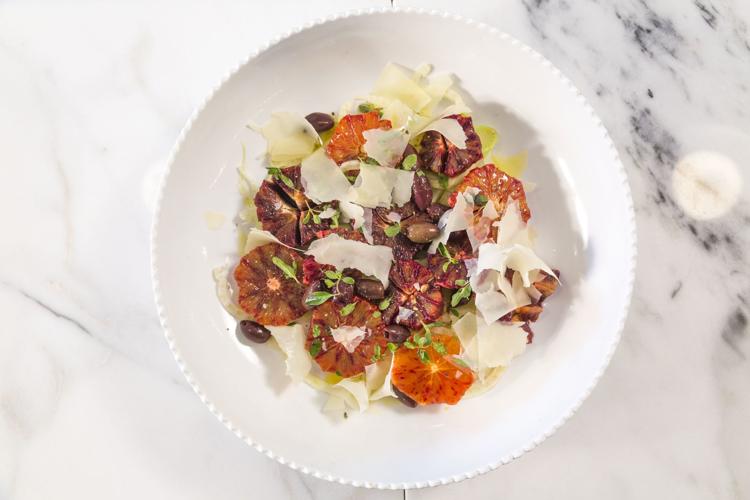 Envision a new way to celebrate the holidays this year. Have all of your loved ones don aprons and dig into a delicious Vero Meal Kit. Owner and chef Katie Collier created the gourmet meal kit company with the goal of fostering the joy she finds in one of her own family traditions.
Collier learned how to prepare fine Italian cuisine from her mother, Belinda Lee, while living in the Mediterranean country where cuisine is treated like a religion. Now, she brings fresh ingredients, locally harvested at Double Star Farms in Benton, Illinois, and custom recipes to doorsteps across the Midwest and beyond.
The Holiday Lasagna Kit will make mouths water with its béchamel and meaty ragu on arugula-dyed lasagna sheets, sprinkled with fresh basil and arugula. Paired with a juicy blood orange salad, your guests will marvel at the sweetness of the main ingredient and the contrasting taste of salty Kalamata olives with fennel. Polish off this decadent dinner with tiramisu, featuring ladyfingers dipped in coffee and layered with mascarpone cheese custard and cocoa.
The pleasure of dining on succulent fare made by your own hands only caps the cooking experience. Delight in working through the easy-to-follow instructions and recipe cards alongside your siblings, parents or even extended family, while the children color in pages highlighting original artwork by Lee.
And if preparing a meal isn't your thing, Collier's got a solution for that, too. At her restaurant, Katie's Pizza & Pasta Osteria, the fall and winter menus are bursting with flavorful dishes.
Whet your appetite with the prawn and citrus salad, tossed in a lemon vinaigrette. The pecorino toscano fonduta showcases Ozark mushrooms, hazelnuts and balsamic on crostini, while the brussels sprouts agrodolce features pancetta with currants, shallots and pine nuts.
Dine on black garlic bucatini with swiss chard and pancetta, plus a farm egg, or black garlic butter pizza, with goat cheese, honey and lemon zest. Finally, the Bolyard's baked lamb Bolognese offers a feast of lamb merguez and gnocchi shell pasta, topped with parmigiana, calabrese, mint and orange.
Discover a festive spirit at both restaurant locations. The original in Rock Hill recently hosted a holiday "pizzaar," where local craftspeople and creators set up vendor booths for diners to peruse. The Town and Country eatery will play host to this month's "Giveback Tuesday," with 100 percent of profits going to the St. Louis chapter of Toys for Tots. Look no further than Katie's Pizza & Pasta Osteria or Vero Meal Kits for your holiday central this year.
Katie's Pizza & Pasta Osteria, 9568 Manchester Road, Rock Hill, 314-942-6555; 14171 Clayton Road, Town and Country, 636-220-3238; katiespizzaandpasta.com
Vero Meal Kits, St. Louis, veromealkits.com