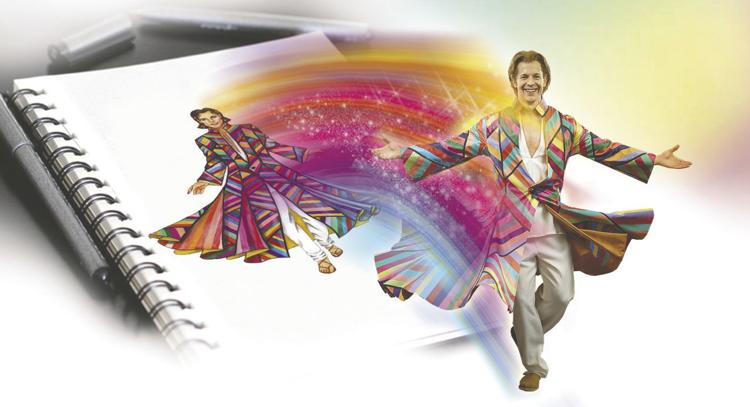 "St. Louis has such a huge, wonderful theatrical community – and that is very rare, even in big cities," enthuses Brad Musgrove, newly appointed resident costume designer for STAGES St. Louis, a not-for-profit theater company located in Kirkwood. Musgrove knows a thing or two about the theater world. A Kansas City native, he found acclaim as a dancer on Broadway, performing in the original casts of the Tony Award-winning musicals Fosse (1999) and The Producers (2001).
While on a European tour of 42nd Street in 1999, Musgrove befriended Dana Lewis, STAGES St. Louis' resident choreographer at the time. Lewis encouraged Musgrove to audition for the company's upcoming production of A Chorus Line. Musgrove was cast in the show and spent a good part of his summer performing in St. Louis.
When STAGES St. Louis produced A Chorus Line again in 2010, Musgrove returned to the company – this time, as costume designer. In the intervening decade, Musgrove had parlayed his nimble understanding of the body's movement, and his equally nimble fingers, into a side business as a dancewear designer.
"I know how to make the clothes dance," Musgrove declares. "Michael [Hamilton, STAGES St. Louis' artistic director] and Jack [Lane, executive producer] knew that I had this dancewear line, and they asked me if I wanted to design the show," explains Musgrove. "That's how my costume design career began."
Since then, Musgrove has outfitted one to two shows each season. Now, however, he will take on a more permanent role with the company as its resident costume designer. Musgrove will design costumes for all four of the forthcoming season's productions, a varied slate that includes I Do! I Do!, Madagascar, Mamma Mia!, and Oklahoma!.
Musgrove's appointment marks yet another step in STAGES St. Louis' ongoing effort to build, support and enrich the St. Louis theater community. For years, Hamilton has been working to create more full-time employment opportunities for theater artists. To that end, Musgrove will join set designer James Wolk and lighting designer Sean M. Savoie to round out the company's St. Louis-based artisans.
"With Brad coming to St. Louis, I've been able to put together a local design team of artists who know one another, know me, know my company and know my shops," says Hamilton. "One of the things that I love about theater, specifically musical theater, is the collaborative nature of the work. There are many different hands that come together and the more familiar you are with those hands, the better the product is likely to be."
Bringing Broadway-quality musical theater to St. Louis audiences has been the key mission of STAGES St. Louis since its founding in 1987. "Over the years, one of the things that I am most aware of is the immense amount of loyalty that we've enjoyed," remarks Hamilton.
Hamilton feels especially indebted to Kirkwood, the community where he was raised, and where he and Lane set up shop nearly 32 years ago. After years of searching for a larger theater space in the area, STAGES St. Louis has collaborated with the City of Kirkwood and the Kirkwood Theatre Guild to build a brand-new performing arts center. Scheduled for completion in 2020, this spacious venue will transform downtown Kirkwood into a bona fide arts-and-culture destination.
STAGES St. Louis also engages young audiences and budding performers at its Performing Arts Academy in Chesterfield. Opened in 2013, the academy offers year-round educational programming in the musical theater arts. STAGES St. Louis was recently selected by the Educational Theatre Association as one of two companies in the nation to expand the JumpStart Theatre program into their local markets. Through this initiative, STAGES St. Louis will work with three local middle schools, equipping teachers with the training and skills to produce musicals with their students.
"Our intention is to be there for our audience's children, and for us to take theater to a whole new generation," says Hamilton.
STAGES St. Louis, 1023 Chesterfield Parkway East, Chesterfield, 636-530-5959; Robert G. Reim Theatre, Kirkwood Civic Center, 111 S. Geyer Road, Kirkwood, 314-821-2407, stagesstlouis.org