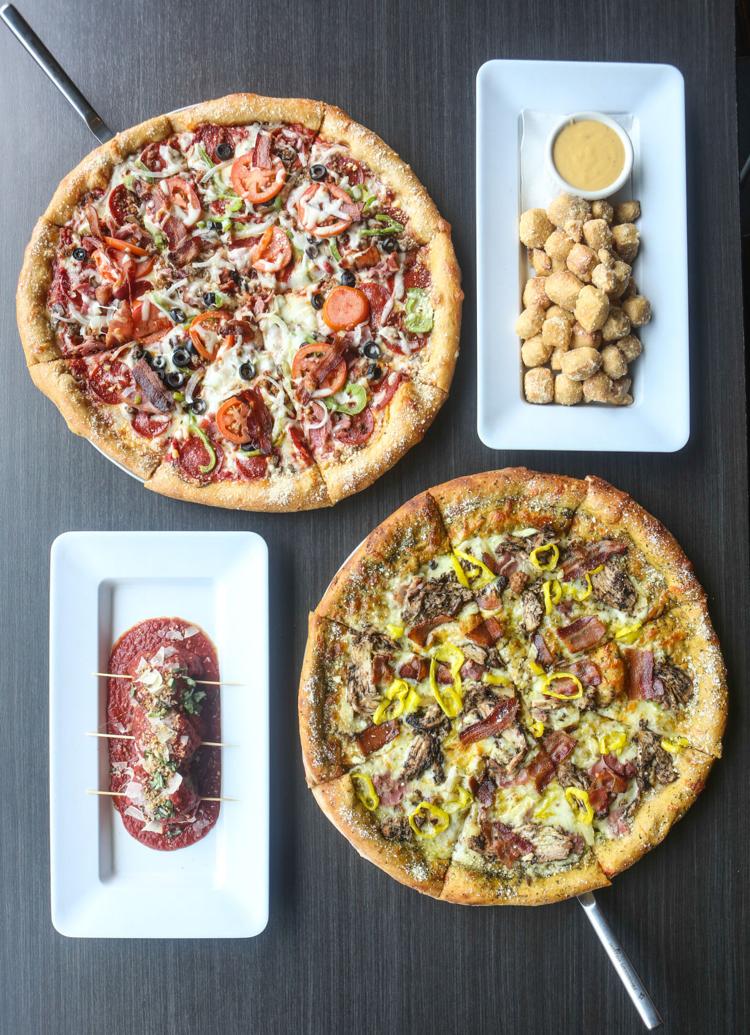 The 70s staged a comeback in the past couple of years – but Mellow Mushroom knew this decade's influence would never end. When it launched back in the day, the brainchildren behind the classic Southern pizza embraced the hippy culture and turned it into a restaurant chain to perpetuate that mellow state of mind.
"We opened July 25 of last year and the whole restaurant is like an artistic piece, from the exterior design to the interior," co-owner John Burke says. "We have statues of different themed characters, like 'The Wizard' who is carved from wood and sits in the center of our restaurant. Around each corner, there's something unique and interesting."
Those original characters represent the founders. Each comes with their own name and personality attached, from Mel O. Mushroom, who searches for "the ultimate groove," to Wizard, who boasts musical talent on a bass guitar. "A large metal sculpture of Mel, holding a mug of beer and a slice of pizza, welcomes everyone into the courtyard," Burke describes. These larger-than-life artworks create an ambiance that is both eclectic and laidback.
Of course, the main draw is the delectable stone-baked pizza pie. "We have specialty pizzas in a hand-tossed style – our most popular – with gluten and allergen-free items available," Burke says. "The House is our deluxe and has everything on it. The Maui Wowie is pesto-based, with pineapple, chicken, bacon and banana peppers. One of our top-selling items is our pretzel bites, made from the signature pizza dough and cut into bite-sized pieces; then, served with a handmade beer cheese sauce."
Using a flavorful spring water crust, the pie creations at Mellow Mushroom include all high-quality and fresh ingredients. "It's a fun restaurant with great, quality food," Burke shares. "The restaurant itself, while upscale, is certainly approachable. The outdoor beer garden, with bocce courts, is a great setting for a date or night out with the family. We have a lot of local breweries showcase their beer, and generally try to pair the weekly samplings with live music in our courtyard, with an outdoor bar."
The Atlanta-based founders succeeded at marrying two great passions for excellent food and enjoyable art. "Their passion was truly creating the best pizza they possibly could," Burke explains. "As they became successful at making great pizza, their love of art became possible to pursue. Each location is unique – no two stores have anything similar in structure or design. Here, we used local artists to decorate and provide our décor. We've created a funky, artistic vibe." The founders grew a decade of inspiration into a lifetime of success.
Mellow Mushroom, 3811 S. Lindbergh Blvd., Sunset Hills, 314-473-1135, mellowmushroom.com