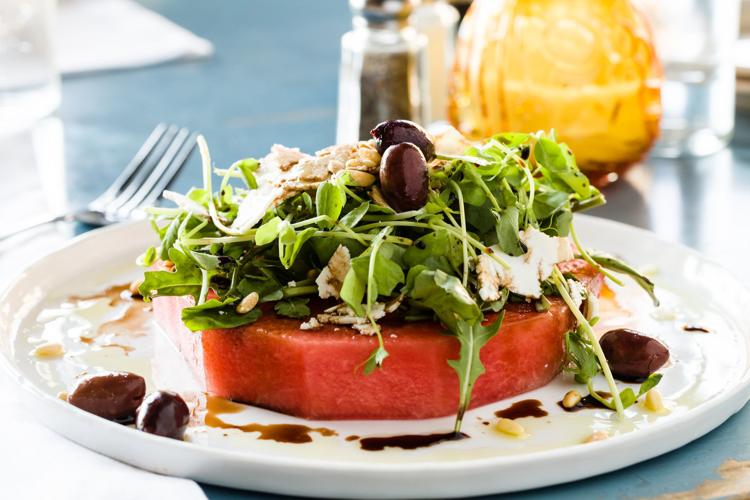 St. Louisans can now swing open their shutters, sit out on patios and watch the world bloom. Spring may have taken its sweet time this year, but it's finally sprung – and Katie's Pizza & Pasta Osteria is making the most out of every minute.
"The bounty of spring and summer is exciting for a chef-driven menu," owner Katie Collier gushes. "We'll have something [new] every few weeks. Right now, we've got morel mushrooms and green almonds. Next week, we'll do asparagus. We get so much energy from [the season]. Spring is where you can get really creative – and it is fun."
The Italian eatery is known for its farm-to-table style serving, with pasta noodles made from scratch, and fresh vegetables and herbs often grown on-site in the patio area.
"The new seasonal menu started [this month]," Collier tells. "We brought back favorites, like our famous watermelon salad and our ricotta-stuffed fried squash blossoms – and even something from the original Katie's Pizza on Clayton Road: prosciutto wrapped spring rolls. It's filled with amazing vegetables, like pea shoots, Ozark mushrooms, fresh mozzarella and basil, and topped with balsamic. It's just so bright and refreshing."
The newest items making an appearance include a crab and corn risotto, topped with Osetra caviar, and an artichoke carbonara, garnished with pea shoots. Even the cocktail menu received an update, with fresh-pressed juices and lots of herbs. Sip on a pineapple Mai Tai, with tarragon, or fresh-pressed watermelon juice. The lavender lemonade also promises heavenly refreshment.
"I'm obsessed with food and ingredients, and menu development," Collier confesses. "I get inspiration from my guests, as well as places all over the country and the world. I love putting incredible ingredients together and creating a magical dish. And I love seeing how creative chefs [build] their menus, design their restaurants and serve their guests."
Collier takes all that inspiration and infuses it into her own restaurants. "Most of my kitchen staff has been with us since we opened," she shares. My chef de cuisine, Jake, has been with me for almost five years. We all care about hospitality. Everyone understands the food and is approachable. We share our personalities and create memories."
That warmth extends to the patios at both locations, which currently boast tropical plants and flowers, alongside the herb and vegetable gardens. With live music every night, the temptation to linger outside this spring proves irresistible.
"We go all out for patio season," Collier says. "We want you to feel transported to a magical place by creating a great experience for you to enjoy inspired food." Bon appétit.
Katie's Pizza & Pasta Osteria; 9568 Manchester Road, Rock Hill, 314-942-6555; 14171 Clayton Road, Town and Country, 636-220-3238; katiespizzaandpasta.com