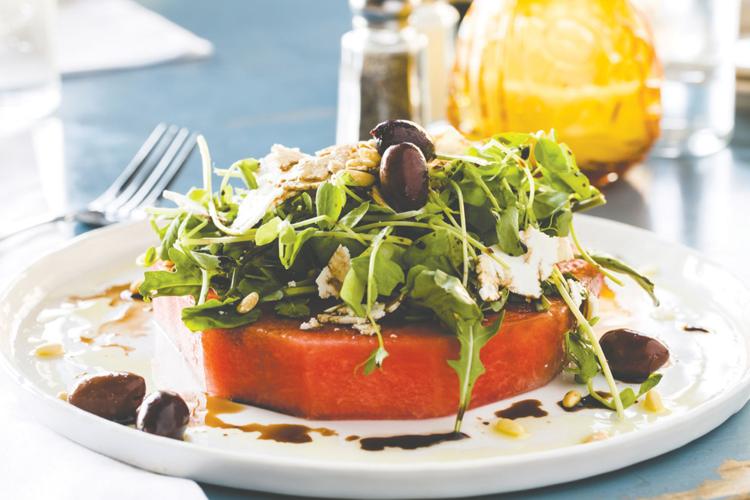 There's no better place to get a taste of spring than at Katie's Pizza & Pasta Osteria in Rock Hill. With a revamped spring menu and rebuilt patio, the restaurant is sure to check all the boxes.
Katie Collier, who co-owns the restaurant with her husband, Ted Collier, says this spring has been all about innovation and experimenting with new tastes and ingredients. Though some favorites like the eggplant-parmigiana small plate are back, the Katie's team has added plenty of new options like a cucumber crostini, a prawn-and-avocado salad and a house-made torchio pasta.
"We added about 25 new menu options," Collier says. "We were very inspired by seasonal ingredients, but we were also looking to incorporate some South American ingredients and use them with Italian methods of cooking."
Collier says the restaurant has a few "really incredible" chefs from South America in the kitchen, and she was interested in incorporating more of their style of cooking into the restaurant's menu.
The patio has become such a highlight for Katie's visitors in the warm months that the team actually had to rebuild and rework it to create more space.
"We got rid of the picnic tables so we could seat more people and reconfigured the garden," Collier says.
The garden now surrounds the perimeter of two garden tables. Visitors who sit at these tables are literally inside the garden and are surrounded by all the vegetables and herbs that are growing there. Local craftsman Martin Goebel built the two tables, which are full slabs of oak tree with live edges.
She also notes that the outside area now features more nights of music, and visitors can enjoy live tunes five nights a week.
New to the patio area is an outdoor bar, where visitors can enjoy the revamped cocktail menu. This season's drink menu includes a wide range of fresh-pressed juices and a variety of herbs. Some highlights include a grapefruit-and-rosemary paloma, the basil-mash margarita and a cucumber-dill mule, along with favorites like The Famous Watermelon.
"They're great to enjoy by the glass or in a pitcher on the patio with friends," Collier notes.
For those who prefer to take the Katie's Pizza & Pasta Osteria experience home to their own kitchens, the Colliers are launching a meal kit company called VERO Pizza & Pasta, coming in June.
"We'll have recipe cards that are interactive, so you can have fun making [the recipes] with family and friends," Collier says. "It's all about the interaction of cooking and reconnecting with people."
In addition, the Colliers are working on a new restaurant at 14173 Clayton Road, which is expected to open in early July.
Katie's Pizza & Pasta Osteria, 9568 Manchester Road, Rock Hill, 314-942-6555, katiespizzaandpasta.com