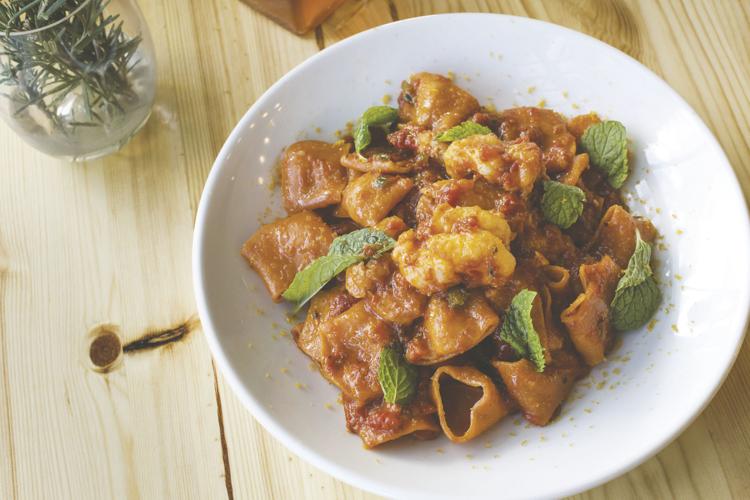 Across the globe, the holiday season takes on many expressions of joy. Discover the warmth of the season in the form of hearty Italian cooking, made fresh right here in St. Louis at Katie's Pizza & Pasta Osteria.
"We like to do a lot of decadent, over-the-top Italian recipes for the holidays," owner and chef Katie Collier says. "We have some really incredible specials, like the black truffle risotto or the blood orange and scallop salad. Truffles and blood oranges are both in season. We also have sweet potato pansotti, with a traditional walnut sauce. We choose recipes from Italy and add a modern Katie's interpretation to them."
When considering a clever idea for a present, remember the gift of a great meal always hits the spot. At Katie's, that gift might even come with a bonus. "Every time you purchase a gift card of $50 or more, you get a pound of fresh pasta in any shape or color," Collier notes. "We offer a variety of 10 in-house pastas, which you can give as a gift or keep for yourself."
The season of giving doesn't stop there, though. The restaurant's owners bring the focus back to the community through a day of philanthropy. "On the second Tuesday of the month at our Town and Country location, and on the fourth Tuesday of the month at Rock Hill, we host Giveback Tuesday, with proceeds going to local charities," Collier comments.
The 2017 holiday season at Katie's promises plenty of ways to celebrate, including the launch of a new holiday market. "We're opening the KPPO Holiday Pizaar from 5 to 9 p.m. on the first four Saturdays in December, with fire pits, Christmas lights and hot chocolate," Collier shares. "While waiting for your table, you can shop incredible local vendors. We'll have lots of hand-crafted jewelry and art, Vero meal delivery kits and brews from Kaldi's coffee – all kinds of cool stuff."
For Collier, this is the season to spread good cheer – a message she takes to heart. "I really love the holidays," she says. "Being with my mom and finding or making really cool gifts for people. We go to Pea Ridge and do the tree hunt. We host a huge family brunch on Christmas day and hang out with drinks by the fire. Cooking is my favorite thing. I love the energy you find at the restaurants, when people come in with gifts and wearing holiday sweaters. It's great to see everyone together, having fun." Take part in the celebrations at Katie's this year and truly savor the season.
Katie's Pizza & Pasta Osteria, 9568 Manchester Road, Rock Hill, 314-942-6555; 14171 Clayton Road, Town and Country, 636-220-3238, katiespizzaandpasta.com