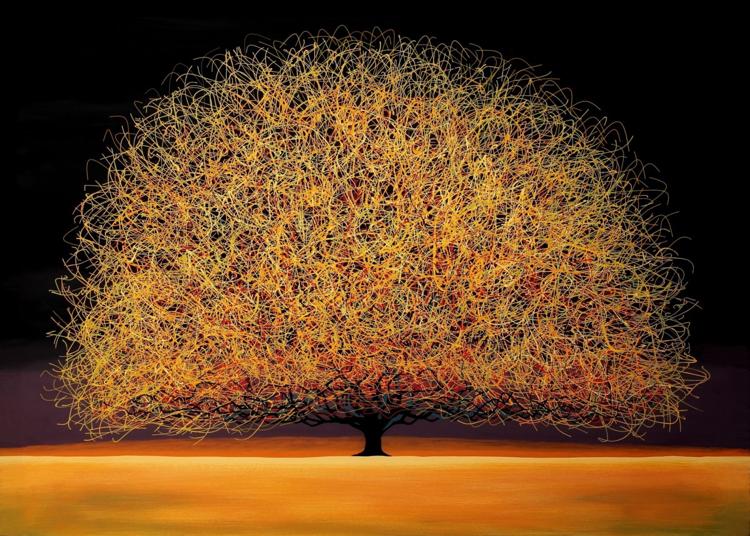 Art on the Square is back for another year of community celebration, ready to continue wowing visitors from both near and far. The expansive, award-winning art show taps into the creative side of people from all age groups.
The Children's Art Garden boasts photo ops with Disney cutouts. Kids can get crafty with Sugar Doodles, decorating cookies, or design a canvas square, which will later be combined to make a giant flower mural. "The Saint Louis Zoo is doing a great group project, creating a larger-than-life grizzly bear out of recycled wood chips, which, when completed, will be on display at the zoo," Art on the Square executive director Patty Gregory says. "There is an educational aspect to it as well, since kids will learn about grizzlies and get to express their wishes for the species."
In addition, the annual high school competition gives students a chance to earn $250,000 in scholarship money from Lindenwood University. "We are featuring 43 southern Illinois schools, with close to 300 applications," she details, explaining how the competition encourages careers in the arts. "Several artists have even kept in touch to mentor students when they go on to college."
A unique attribute of Art on the Square is its teaching approach on how to incorporate art inside one's own home. "We have an interior design stage, which is one of the great things that separates us from other shows," Gregory says. "This year's speaker is HGTV's Design Star Jennifer Bertrand. She will take a blank room, fill it with furniture and show people how to [integrate] different pieces of art in their homes."
Of course, around every corner, a new treasure awaits visitors, with artists of every kind sharing what drives them to create. Gregory highlights a few. "Jennifer McCurdy has collections in 16 museums across the country, including in the Smithsonian," she says. "Sylvester Robinson from Chicago makes fabulous handbags, using beautiful colors and leather, and incorporating woodblocks. We've never had Kendra Bennett before, and she'll be well received. She takes artistic tissue paper and fits pieces between glass and frame to look like a picture. It's absolutely beautiful."
Even with talents from South Africa to South Carolina, the real beauty found at Art on the Square is the sense of community. From city sculpture tours to local businesses getting involved, everyone is thrilled to take part in this one-of-a-kind show. "We're all volunteers," Gregory shares. "And we do it out of love for our community."
Art on the Square, P.O. Box 23561, Belleville, Illinois, 618-233-6769 or 800-677-9255 (visitor information), 618-444-3802 (general information), artonthesquare.com
Art on the Square May 19-21
Friday 5 p.m. - 10 p.m.
Saturday 10 a.m. - 8 p.m.
Sunday 11 a.m. - 5 p.m.
Belleville Public Square, Belleville, Illinois
For more information and to catch the free shuttle, visit artonthesquare.com.
Be the first to know
Get local news delivered to your inbox!