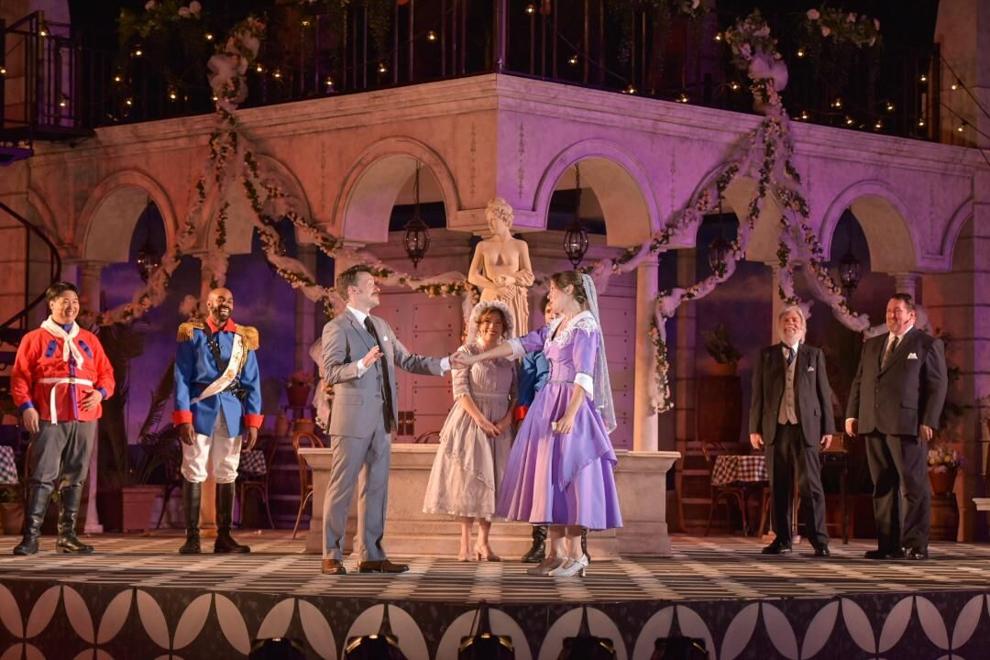 Play: "Much Ado About Nothing"
Company: St. Louis Shakespeare Festival
Venue: Shakespeare Glen, across from the St. Louis Art Museum in Forest Park
Dates: Through June 26 except Mondays
Tickets: Free, but reservations are required for pandemic pod seating – contact stlshakes.org
Highlights: Director Bruce Longworth puts the emphasis on the comedy with delightful results in the St. Louis Shakespeare Festival's entertaining, enjoyable rendition of "Much Ado About Nothing."
Story: Leonato, governor of Messina, welcomes Don Pedro, the Duke of Aragon and conquering hero of a recent battle, to spend time at his estate. Don Pedro is accompanied by a count named Claudio, and Benedick, a lord and soldier. Also joining Don Pedro are his illegitimate brother, Don John, and the latter's companions, Borachio and Conrade, as well as a balladeer named Balthasar.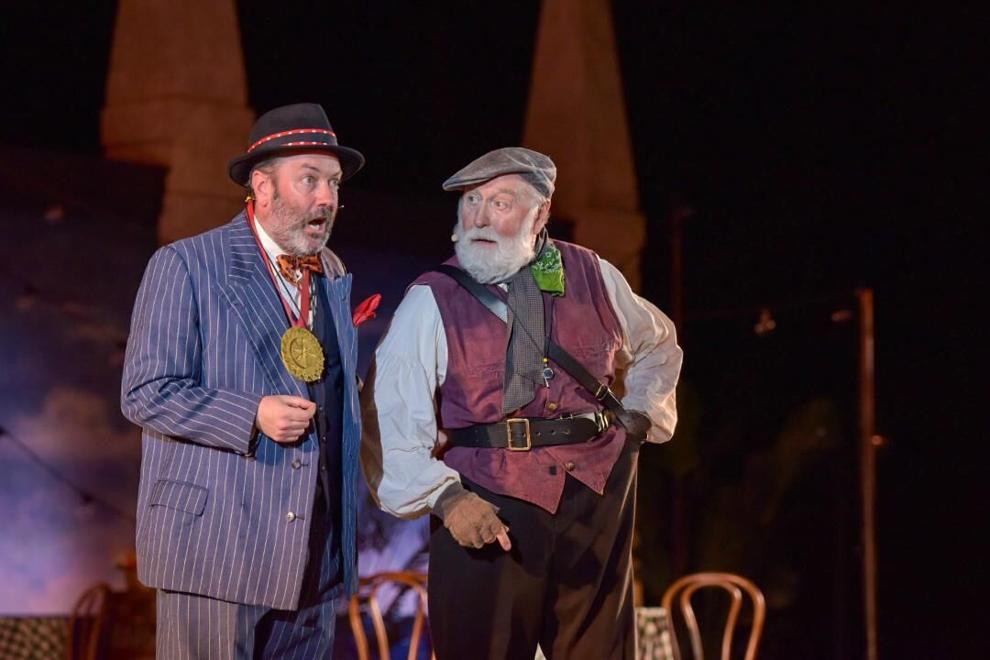 Benedick once had a relationship with Leonato's niece, Beatrice, but the two harbor bitter memories of each other. Beatrice is displeased to see Benedick, but their friends conspire to bring the two together again by convincing each to each that he and she feel unrequited love for the other. Meanwhile, Claudio renews his courtship of Leonato's daughter, Hero.
The vengeful Don John seeks to upset the plans for romance by convincing Borachio to have a rendezvous with "Hero," who actually is her chambermaid in disguise. Witnessing this, Don Pedro and Claudio are shocked, so much so that the next day, Claudio calls off his marriage to the stunned and devastated Hero.
Surprised by Claudio's action, Leonato is angered and humiliated at his daughter's alleged "infidelity," threatening her with death. Friar Francis, officiating at the ceremony, later suggests that Hero's death be faked in order to elicit Claudio's remorse.
Dogberry, the cocky and incompetent local constable, somehow manages to capture Borachio, who confesses to the dastardly deed he undertook at Don John's request. Hero is exonerated and, after masquerading as her identical "sister," weds the penitent and grateful Claudio.
Benedick, a confirmed bachelor who has long resolutely decried marriage, professes his love for the skeptical Beatrice, who reveals her mutual attraction to Benedick. They, too, agree to marry, and dual marital celebrations ensue at Leonato's estate.
Other Info: William Shakespeare's comedy is best enjoyed set in its time period, as the treatment of Hero is problematic at best and misogynistic with even a modicum of thought. Fortunately, Longworth has assembled a very strong ensemble, led by Claire Karren's splendid portrayal of the acerbic, witty and headstrong Beatrice. Karren's pointedly satiric jabs resonate in a voice that carries clearly to the farthest reaches of Shakespeare Glen, mining the humor in the story while defining Beatrice as a fiery, independent spirit.
Her counterpart, Stanton Nash, is consistently amusing as the overly confident Benedick, who chafes at Beatrice's sharp tongue yet finds himself inexplicably attracted to her because of that feisty spirit. Nash elicits plenty of laughs as Benedick stumbles around Leonato's garden in "hiding," while he overhears the faux comments by Claudio, Don Pedro and others about Beatrice's "pining" for Benedick.
Longworth moves the story along in two breezy acts, especially the dual scenes in the garden, one with Benedick and the other with Beatrice lurking in the shadows as they eavesdrop on "conversations," including an abrupt dip in the fountain by Karren as Beatrice loses her balance.
Many fine performances keep the action moving at an agreeable pace. Chauncy Thomas shines as the genial Don Pedro, coaxing Claudio to pursue Hero and setting Benedick up for the latter's own romance. Christopher Hickey is a welcoming, cordial Leonato, while also showing the governor's brusque treatment of his daughter, even before allegations are proven.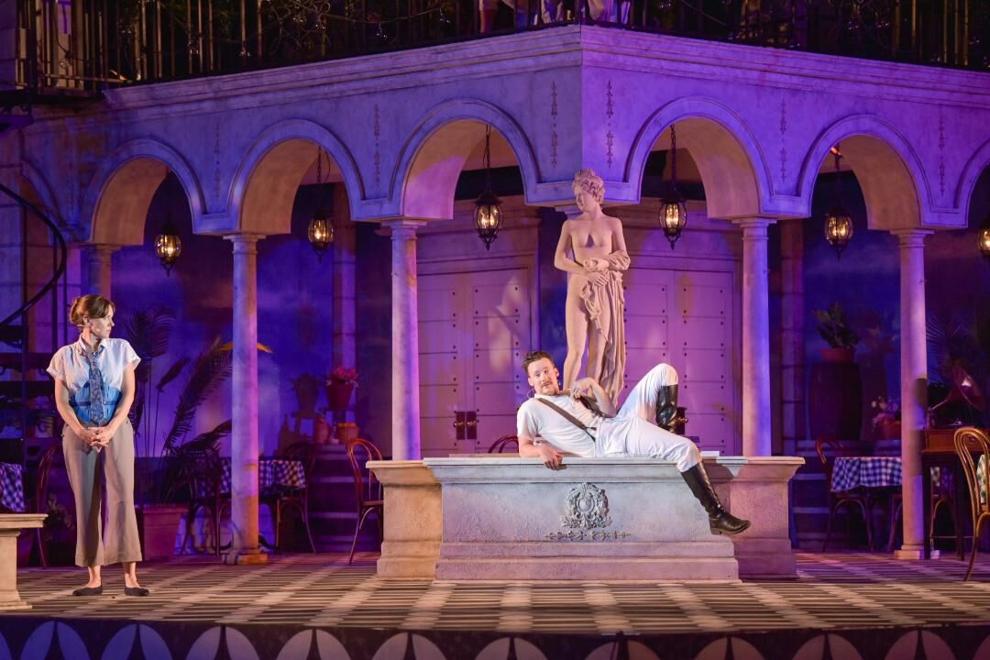 Kenneth Hamilton is accomplished as the agreeable Claudio, who proves easily duped in his jealous love for Hero, and Sorab Wadia waxes menacing as the ill-humored and duplicitous Don John. Liam Craig is engaging as the language-mauling Dogberry, who somehow manages to capture Borachio, and Whit Reichert is a delight as Dogberry's ever-faithful but dimwitted pal, Verges.
Aaron Orion Baker excels as Borachio in the latter's profoundly penitent speech upon his capture in Act II, and local favorite Gary Glasgow delivers a fine performance as the quick-thinking Friar Francis. Carmen Cecilia Retzer clearly shows the virtue of the sympathetic character Hero, while Maison Kelly and Jenna Steinberg nicely handle their parts as Hero's handmaidens, Ursula and Margaret, respectively.
Tim Kidwell does well as Leonato's brother, Antonio, as does Carl Overly Jr. as Litarius and Hugh Oatcake, Alex Rudd as Conrade, and Michael Thanh Tran as Balthasar. Matt Pace and Brien Seyle provide charming music as the wandering minstrels onstage, while the color guard comprises Mack Carter, Michael Foley and Andrew Harmon.
Action takes place on Josh Smith's handsome, two-level set design, featuring a garden pool at center stage surrounded by sundry plants. It's all nicely illuminated with John Wylie's lighting design, and Dorothy Englis' costumes handsomely adorn the players.
Kareem Deanes' whimsical sound effects, Rusty Wandall's supportive sound design, Brandon Fink's complementary choreography, and Matt Pace and Brien Seyle's musical compositions all contribute to the appealing presentation.
St. Louis Shakespeare Festival succeeds in finding the humor and accentuating it in its engaging and amusing rendition of "Much Ado About Nothing." And it's free, too.