For more than two years, local teen Madeline Harwell has been hand-lettering intricate and encouraging matted prints, journals and more in her online shop, Inspired Inks.
"Inspired Inks honestly really helped me through a hard time in my life where I was struggling with anxiety and depression really badly," Harwell says. "There was a police officer shot right outside our neighborhood, officer [Ryan] O'Connor; I was [in the area] when it happened, and it was our neighbor's house that got broken into. It's a long story, but it really put a lot of anxiety in my life, and I was not functioning well."
Harwell says she ultimately discovered – and fell in love with – lettering and watercolors.
"I have never been really good at sports or music, and I just started doing art on the side," Harwell says. "I was just like, 'OK, this is kind of my thing. I really love it. I think it's something I could grow at and become better.' I just started selling little custom items on the side, but I ended up getting the opportunity to work with a Christian band, Citizen Way."
Harwell says it all started when she attended a Citizen Way concert and gifted the band some of her artwork.
"They ended up loving it," Harwell says. "I was able to create pieces for their ministry, Generosity Rocks. I would just constantly sit down and write passages of hope and peace, and it just gave me confidence and excitement in my life again. That's kind of what inspired Inspired Inks."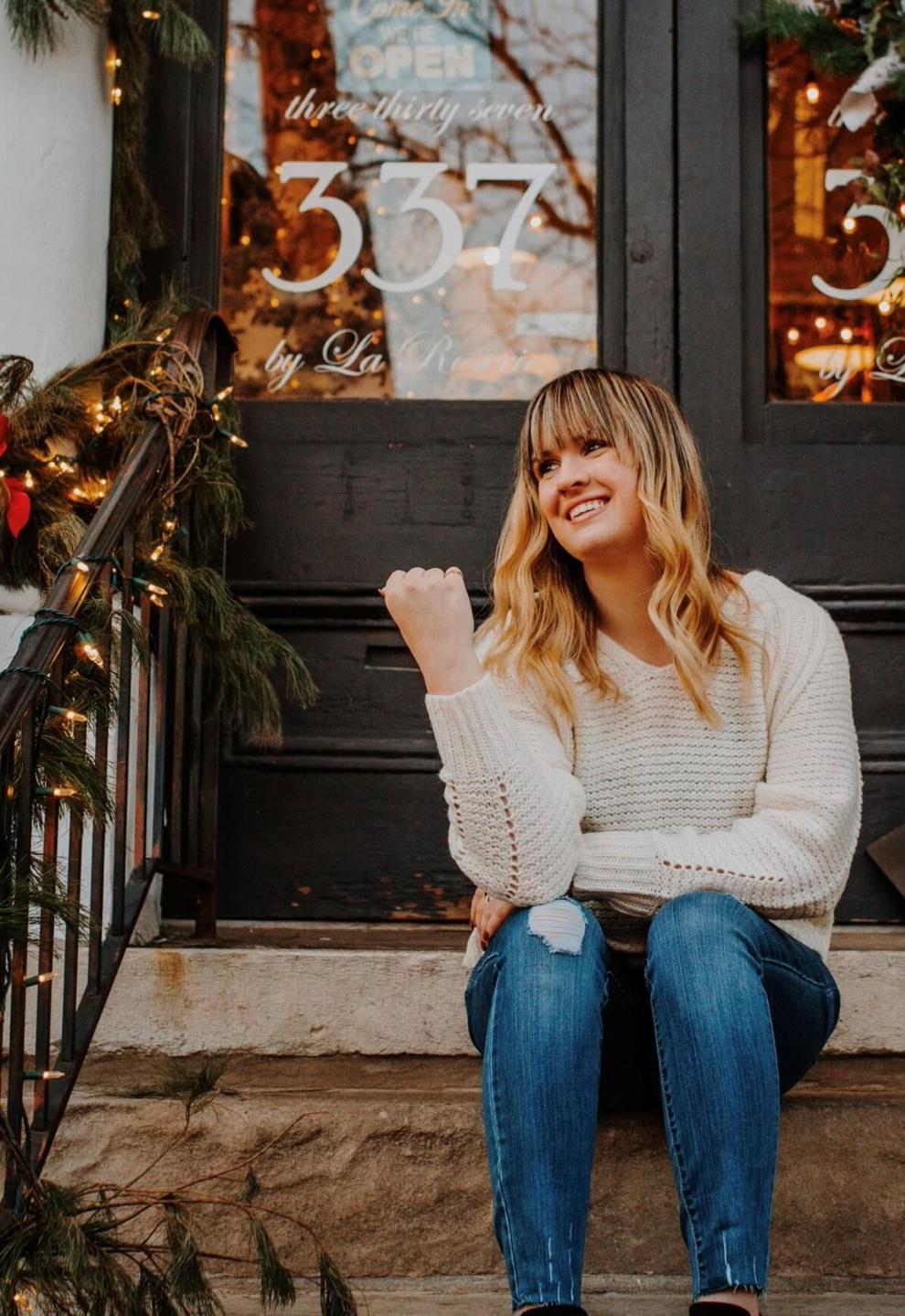 Inspired Inks products include journals with such sayings as "Enjoy the moment"; stickers featuring fun designs, such as a lemon that says, "Squeeze the day"; a watercolor map that says, "What a wonderful world"; a Missouri floral T-shirt (an up-and-coming fan favorite); tote bags featuring watercolor designs with such sayings as "Today I choose joy"; and the forever fan favorite, her matted prints.
"I do everything by hand on paper with pen and ink, and then we have it scanned in and printed locally by a family friend who has a print shop in the Fenton area," Harwell says. "I matte them all, so they're just a little nicer-looking and ready to be put in a frame."
The prints change seasonally and often include nature.
"Honestly, I just love nature and flowers," Harwell says. "I'm not a huge realistic floral painter, so I kind of make up my own in a way, and I like to find cool color schemes. I think they are just very unique in a way. With being hand-painted, you can tell they are handmade instead of something mass-produced by a computer."
Inspired Inks items are available at the Cozy Shop on Historic Main Street in St. Charles, the Pleated Boutique at The Streets of St. Charles, the Lake Saint Louis Farmers & Artists Market (which is slated to reopen in the spring of 2021), through Etsy or directly through the Inspired Inks website. Proceeds from their sale go in part to charities, such as Compassion International, a Christian child sponsorship program; The BackStoppers, which provides financial assistance and support to families of fallen first-responders; and Generosity Rocks, which empowers musicians to share the gospel.
"I really wanted to give back because I've been blessed with Inspired Inks," Harwell says. "I never imagined to have a small business, but here we are. I think people just need love in this time. And if I have been blessed, there is no reason I shouldn't bless other people … I just wanted it to be something [that lets people] give back and so people know they have a purpose when they're buying from Inspired Inks."
Inspired Inks, inspiredinksbymadeline.com