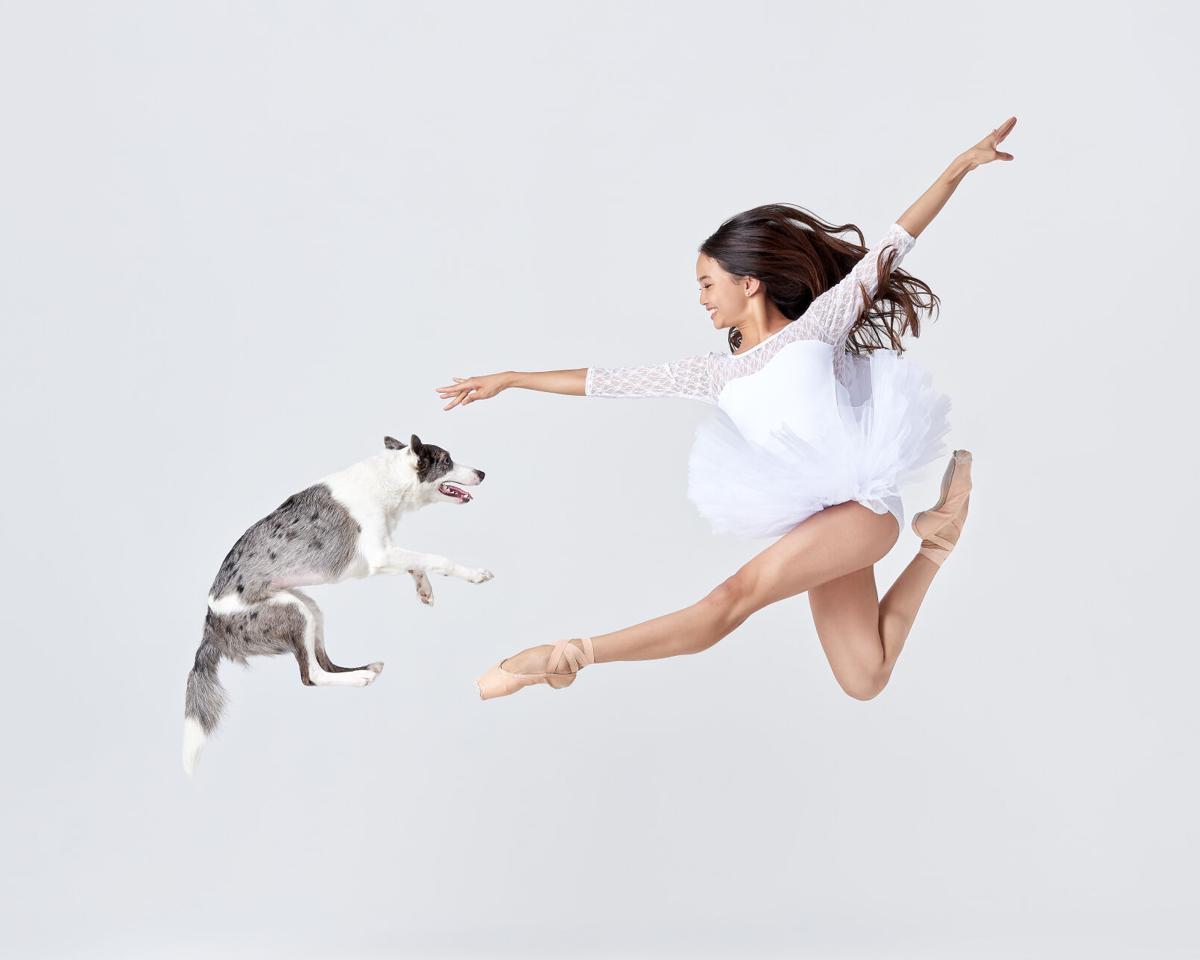 St. Louis-based photographers Ian Kreidich and Kelly Pratt Kreidich have traveled to numerous cities including New York, Los Angeles and Atlanta to work on unique projects that spark many smiles, as well as tail wags.
The husband-and-wife duo started Dancers & Dogs in January 2017 and have since wowed the internet with viral photos of amused dogs alongside renowned professional dancers. Sometimes the dogs belong to the dancers they're photographed with, but in other instances, they're adoptable pets with stories to tell.
In December, an annual "Muttcracker" initiative paired 13 dogs and cats from Stray Rescue of St. Louis with Saint Louis Ballet dancers to raise awareness of animals in need of "forever homes," plus spread joy in a challenging season. The year 2020 marked the third year of the Muttcracker and the second to include cats.
"The end of the year was really difficult, with the pandemic and the cold weather and the election and just all of the stress," reflects Natalie Thomson, director of marketing for Stray Rescue. "We were just really excited to, hopefully, put smiles on peoples' faces, in addition to bringing awareness to adoption in general, not just our shelter."
Pratt Kreidich says she and her husband adopted their dog from the St. Louis Senior Dog Project, adopted one of their cats from the Humane Society of Missouri and found their second cat wandering around her in-law's backyard. Dancers & Dogs might have begun with a fun vision the two photographers developed together, but it has evolved to serve a cause close to their hearts.
"[We] try to get the word out to make sure people consider rescuing animals, not just purchasing animals," Pratt Kreidich details. "It was big in 2020 to still do the project. We felt like people would really like to have some cheerful images to look at."
Because of pandemic restrictions, they've cut down significantly on traveling for work, yet the project still garnered national attention. The bright and colorful Muttcracker images reached thousands of people through Dancers & Dogs' social media alone, plus appeared in publications such as Insider and People.
By Christmas Eve, all the pets involved in the 2020 Muttcracker had been adopted.
"This project helps us tremendously every year – we're able to be seen all over the country," Thomson says. "At Stray Rescue, we save the dogs that have nowhere else to go. They've been through horrible, horrible things. Sometimes, the stories are really difficult for people to read, but this partnership has led us to show these dogs in the most beautiful way possible."
Thomson adds that the animals' backgrounds and personalities were taken into consideration when determining which would be a good fit for the project. On the Dancers & Dogs website, the Kreidichs describe eligibility requirements that dogs must meet to participate in any of their projects. "We always want to keep the dogs' welfare in mind when bringing them on set," the website states.
"For cats, we have plans," Pratt Kreidich says. "But unfortunately, cats are a lot harder to deal with as far as photography goes. Not all cats are happy to be around strangers and in new places. Dogs are so vast in their diversity on their own – you have tiny dogs, really big dogs, you have fluffy dogs, smooth-coated dogs – so I think that is kind of what drew us to that to start with."
Since wrapping up sales on 2021 Dancers & Dogs calendars and valentine-themed merchandise, the Kreidichs have been working on new apparel designs and planning for the year ahead. Once they're able to travel again, coordinating Dancers & Cats projects will be top priority. "We have lots of ideas," Pratt Kreidich adds optimistically. "It's just, you know, trying to do things safely is difficult."
Those interested in commissioning a personal Dancers & Dogs photo shoot may email contact@dancersanddogs.com to inquire about opportunities in the metro area and elsewhere. Pratt Kreidich notes that there should be more opportunities when warmer weather arrives, allowing outdoor shoots and safer means of meeting new people and pets.
Dancers & Dogs, 525 Central Place, St. Louis, dancersanddogs.com