At 23 years old, St. Louisan Emeara Burns knows the pain of losing not just one friend but four friends to gun violence in the metro area. In the wake of her friends' deaths, she turned to creative writing to help her process the tragedies and collaborated on "Who's Ready?" a song produced through the Saint Louis Story Stitchers Artists Collective.
"We ready for the violence to stop," the chorus to that song echoes. "Looking at my city and I see it is in trouble … People dropping left and right, I'm seeing families crumble," the rapped verse continues. "We gotta help each other 'cause we're all part of the struggle … "
Story Stitchers is a nonprofit arts school that was founded in 2013 by a small group of artists who sought to take action against gun violence. It now serves at least 100 St. Louisans ages 16 through 24 each year, helping young people cope with traumatic experiences, share their stories and explore artistic expression.
In the last year, national philanthropic organization The Lewis Prize for Music took notice of Story Stitchers' work and awarded the nonprofit a 2021 Accelerator Award and $500,000. The Lewis Prize for Music supports arts leaders across the country "to ensure every young person has the opportunity to access transformative music learning, performance and creation that benefits them and their communities," according to its website.
"Saint Louis Story Stitchers is giving young people the skills and opportunities to humanize the challenges of gun violence in their city," founder and chairman Daniel R. Lewis says in a video. Story Stitchers' youth-led programs provide opportunities for young people to partner with professional artists; engage with the community to reframe and retell their stories to promote understanding and civic pride; and address social justice issues through hip-hop, videography, podcasts and more.
Story Stitchers will use its funding over the next five years to strengthen the organization as it develops a music and technology center at a location to be determined. Susan Colangelo, the founding president and executive director, says the nonprofit's arts programs help reduce youth involvement in criminal activity, and she envisions the new center providing a safe place for young people to gather and engage with mentors and the arts for years to come.
"We are deeply honored to be a recipient of this transformational gift from The Lewis Prize for Music," states Colangelo in a press release. "Our youth are driving us towards their vision of a youth arts and technology center for teens and young adults."
Story Stitchers currently has two locations: a storefront studio north of the Delmar Loop and a new auxiliary program space at the Kranzberg Arts Foundation in St. Louis' Grand Center Arts District. Burns, now the youth program director and co-chair of the Stitchers Youth Council, says conversation about a larger, more comprehensive center has been in the works for years, with the COVID-19 pandemic underscoring the need for more space.
Burns recalls a meeting in which Colangelo prompted program participants to dream big: "If we could have our own big space, what would we put in it? What would we use it for? What would we do?" The response involved a dance studio, visual arts studio, recording studio and tech center that would make Wi-Fi and computers accessible to those who don't have them at home.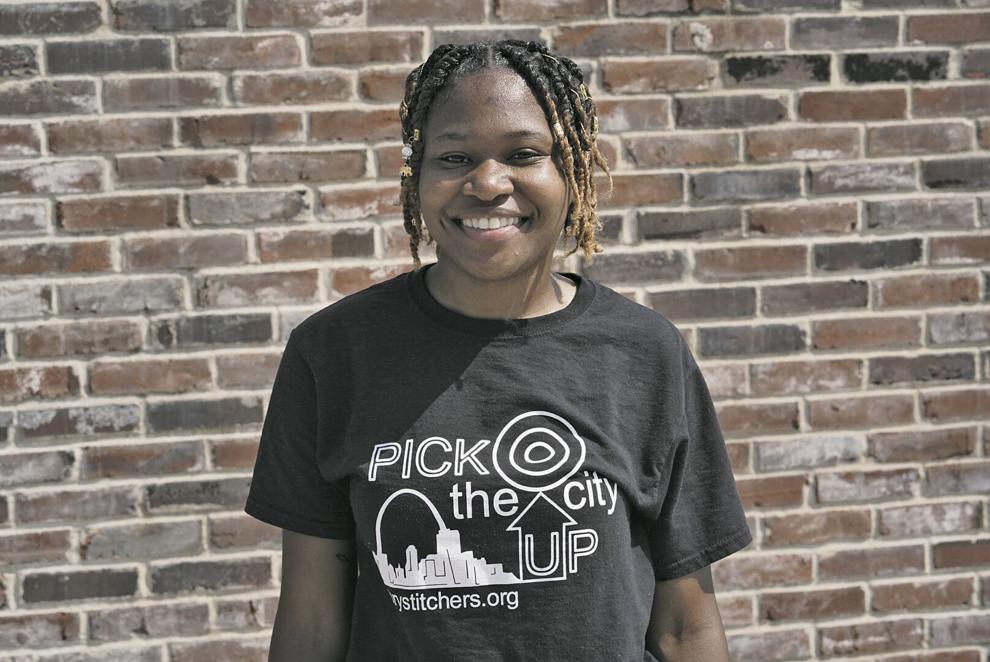 "The one thing that really stuck out to me that they did mention was having a part of the center where there were other resources," Burns says. "I don't know if you'd call it counseling, but [provide] people with information. Some of the youth have experienced homelessness or joblessness … They wanted to have something – resources – where we could go and make sure that every part of our lives is being balanced out."
The majority of youth participants at Story Stitchers are people of color and come from communities hit hardest by the pandemic. Colangelo says various organizations provided financial support to keep Story Stitchers alive and well during this time, including a $100,000 grant from the Spirit of St. Louis Women's Fund and money from The Lewis Prize for Music's COVID-19 Community Response Fund.
When reflecting on her first years with Story Stitchers, Burns expresses gratitude for how the organization empowered her during a difficult time as a teen. She describes "Who's Ready?" as a project that became available "at the perfect time" in her life, providing a "revolution song or chant that would build our city up and keep hope alive."
Saint Louis Story Stitchers Artists Collective, 314-899-9001, storystitchers.org
616 N. Skinker, St. Louis