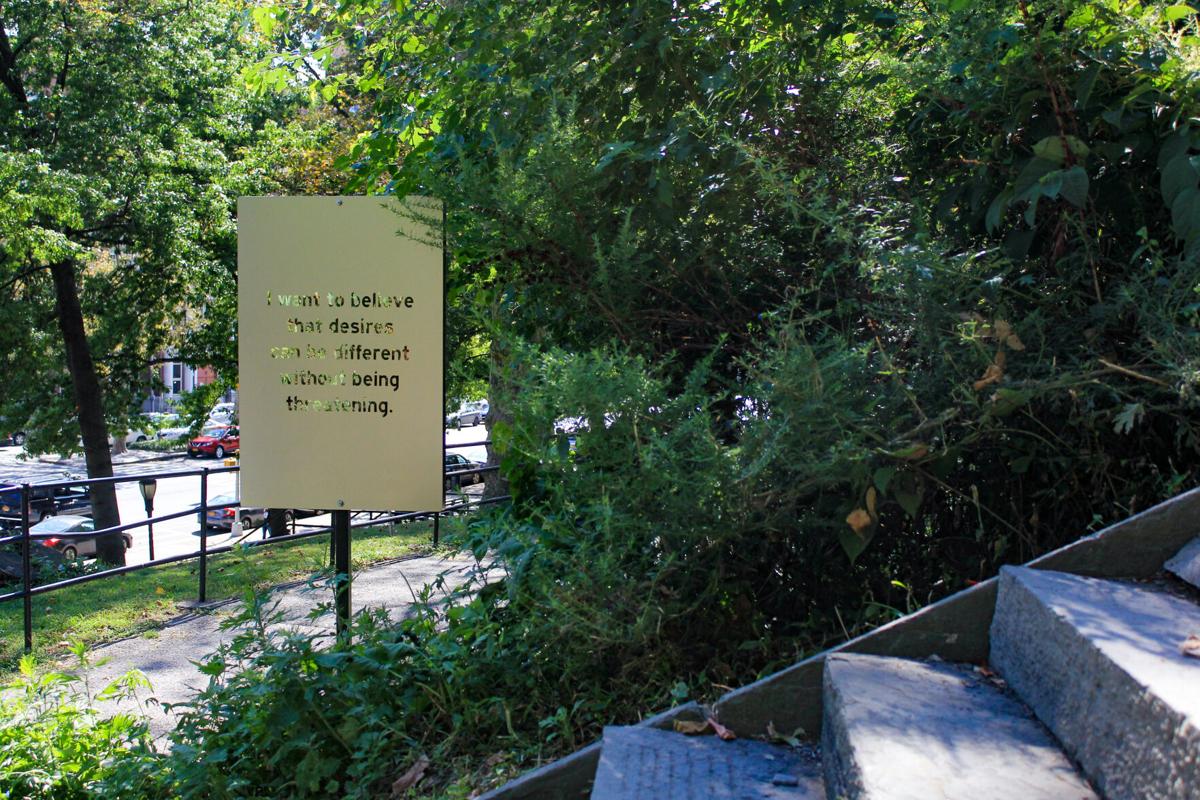 Through Nov. 14, the Pulitzer Arts Foundation in St. Louis' Covenant Blu-Grand Center neighborhood will be displaying an outdoor sculptural installation titled "Chloë Bass: Wayfinding," which opened April 17. "Wayfinding" – the first institutional solo exhibition by Bass, an assistant professor of art at Queens College, CUNY – opened at The Studio Museum in Harlem in 2019, in that New York City neighborhood's St. Nicholas Park. According to background information from the Pulitzer, Bass "works in performance, publications, installation and social spaces, using daily life as a subject for deep research into scales of human intimacy."
Which artists and works would you cite as specific inspirations for "Wayfinding," as well as the larger project of which it's a component?
While there are some influences listed for my overall art practice on my website, some additional specific reference artists for the "Wayfinding" project include [New York neo-conceptual artist] Jenny Holzer for use of language, particularly language in public space, and [the late American sculptor/conceptual artist/writer] Robert Morris, as I have always been somewhat influenced by the legacy of minimalism, and was trying, with "Wayfinding," to produce something like a minimal monument. I wouldn't say these are necessarily the inspirations for the larger Obligation to Others Holds Me in My Place project, but maybe my main references can serve as the reference frame for that work.
What led you to choose the three specific questions that underlie the installation – that is, "How much of care is patience?", "How much of life is coping?" and "How much of love is attention?"
In fact, a fourth question is being added for the Pulitzer, and it's "How much of belief is encounter?" I'm pretty excited for this new one and for how it fits into the larger collection. All four questions, if you take them at face value, might have the same answer, which is "A lot, maybe all." For example: "How much of love is attention?" "A lot, maybe all." In framing love, life, coping and belief in these ways, there is an implicit underlying question of value: If love is mostly attention, does that shift the way you value or idealize it? If belief is mostly encounter, does that shift its value as a cultural foundation with respect to religion? Et cetera.
If you take the questions beyond face value, I think that all four also lead to very interesting conversations within yourself or between people – it's a way to start a conversation that might be quite intimate, tender and revealing, not so much in an explicit way but revealing of interior landscapes and emotional experiences.
I like my work to serve as souvenirs for the future, and holding onto or answering these questions now and in the future both intellectually and through the meat of our everyday lives feels important to me.
Because of divergences in ambiance between the installation's original placement in New York's St. Nicholas Park and the Pulitzer's general environs, to whatever extent, how did you have to alter or augment "Wayfinding"?
The installation has been augmented through the addition of a fourth full section of the project, which is entirely new in content, although familiar in form. Drawing from that new question, "How much of belief is encounter?", the new section includes one new billboard (10 by 4 feet), one new image-based sign (24 by 36 inches), two new double-sided text signs (24 by 36 inches) and four new garden markers (5 by 8 inches) which try to take into account both St. Louis as a city/site and some of our feelings during the challenging circumstances of 2020 and 2021.
The original "Wayfinding" installation was conceived, designed and installed before the COVID-19 pandemic, and although it remained on view in New York through the end of September 2020 with what I think was pretty good emotional resonance/relevance – and safe attendance, which was even more amazing – the content of the project meshed with our pandemic uncertainties only in incidental ways.
I'm not turning the overall work into a pandemic-themed project at this point, but I did want to make some new content more specifically dealing with touch, social contact and direct human engagement – both its presence and its absence.
Pulitzer Arts Foundation, 3716 Washington Blvd., St. Louis, 314-754-1850, pulitzerarts.org