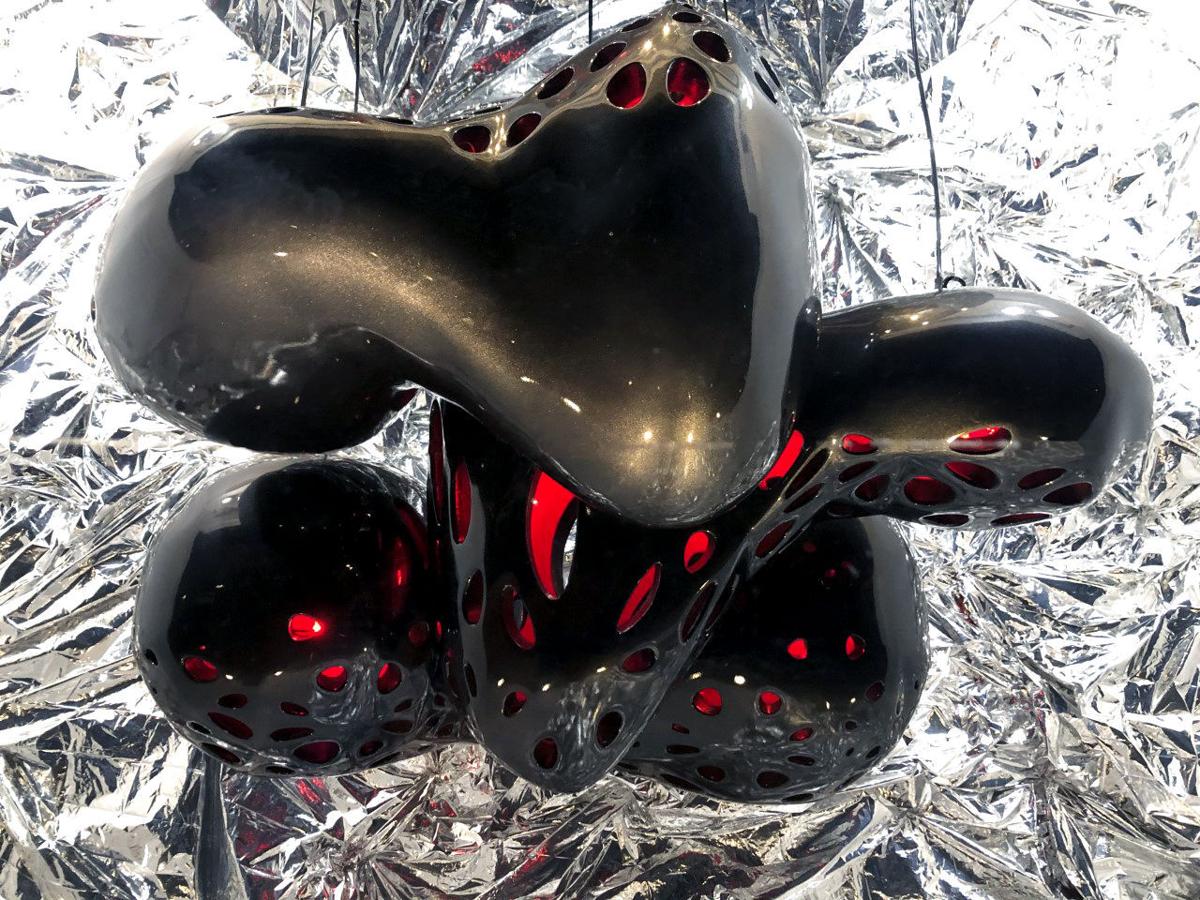 Area artist Patricia Olynyk describes her fluidly mesmerizing work Oculus (shown in the accompanying photograph) as "a large-scale, collaborative light sculpture that depicts a colossal abstracted drosophila [fruit fly] eye, replete with compound faceted surfaces. It both recalls the circular opening at the apex of a cupola and alludes to a surveillance device or drone hovering in midair."
Olynyk – the Florence and Frank Bush Professor of Art at the Sam Fox School of Design & Visual Arts at Washington University in St. Louis – further describes the sculpture as a "cluster" measuring "approximately 56 inches wide by 44 inches deep. The height is variable. On display … , I'd say it's around 60 inches high from the platform at the top to the bottom."
Olynyk created Oculus with extremely high-tech assistance from the nationally recognized Metron Designworks and Axi:Ome. 
"The openings on the Oculus sculpture are actually distorted to the same proportion of the overall distortion of the form itself. It would probably take a mathematician or an architectural modeler to notice this – but this is the reason why the modeling in T-splines [mathematical models for defining freeform surfaces in computer graphics] took so long," Olynyk says. "It would've been easy for us to simply poke holes in a digital form, but I wanted the math to be perfect.
"Metron Designworks was brilliant in building the digital models. Then it had to be digitally sculpted on a CNC [computer numeric control] router and finished/hard-coated at Craftsmen Industries, whose primary clients are Boeing and the military. The hard-coat and painted process I used is pretty much the same, I've been told, as the one [British-Iraqi architect] Zaha Hadid used on her biomorphic architectural forms."
Otherwise, perhaps by accident, Olynyk echoes the title of the 1966 science fiction film Fantastic Voyage (subsequently novelized by the late polymath Isaac Asimov) when she concludes: "Ultimately, Oculus strategically triggers an affective encounter with the colossally represented miniscule, offering a fantastic voyage that navigates spatial, temporal and phenomenal worlds."
Ladue News readers wishing to view Oculus in all of its three-dimensional glory should hasten to Clayton's acclaimed Bruno David Gallery, whose Window on Forsyth display space it will grace till Jan. 16. To learn more about our featured artist, visit patriciaolynyk.com.
Metro area artists who wish to be considered for future installments of this monthly department of Ladue News should email inquiries to bhollerbach@laduenews.com with "Art & Soul" in the subject line.