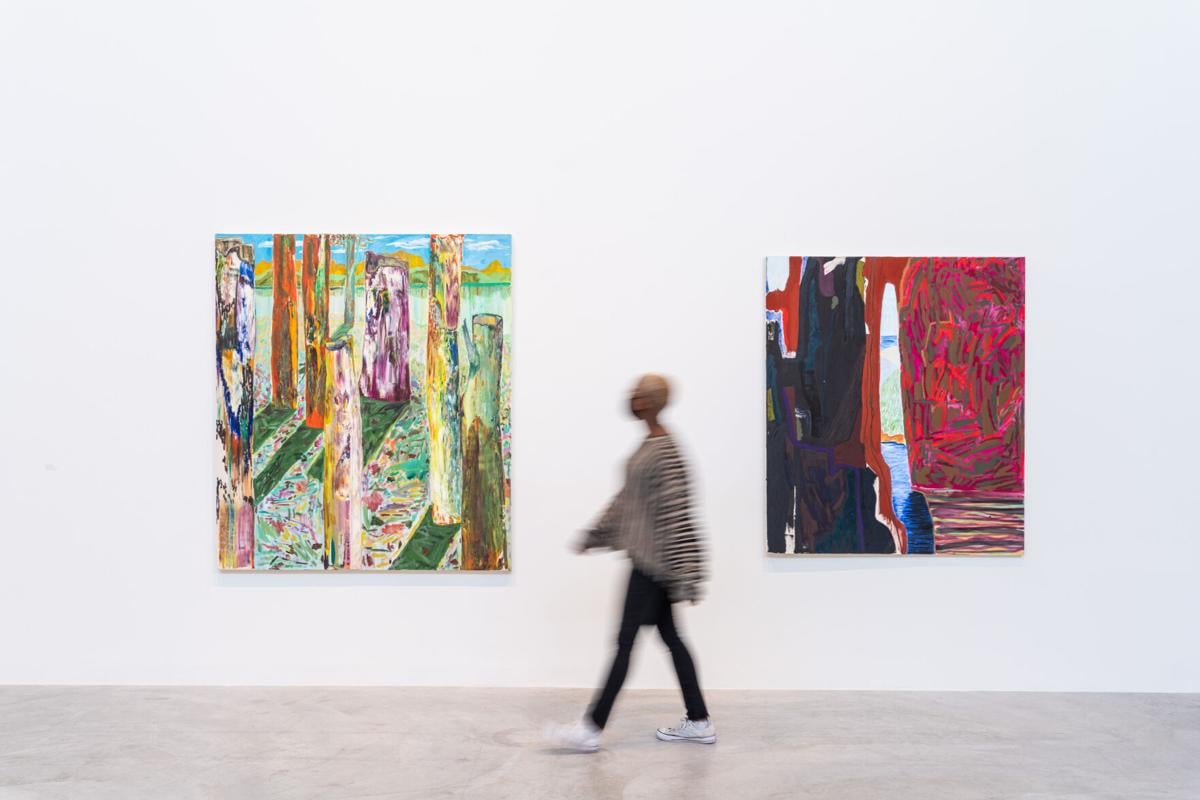 Change across the spectrum calls into question what the term "landscape" even means anymore, and an ongoing exhibition from Brooklyn, New York-based artist Shara Hughes subtly explores that often fretful seismic indeterminacy.
That exhibition, "On Edge," which opened on Sept. 3, will run till Feb. 27 at the Contemporary Art Museum St. Louis in St. Louis' revered Grand Center Arts District. Overseeing it are Wassan Al-Khudhairi, CAM'S chief curator, and Misa Jeffereis, the museum's assistant curator.
The Fall/Winter 2021-22 edition of Mesh, CAM's annual magazine, relates that "On Edge" constitutes a survey of more than 30 works created during the better part of the last decade, focusing on "Hughes' re-imagining of landscape painting."
Mesh continues: "In her first solo museum exhibition in the United States, audiences encounter a singular vision within a long historical tradition. Her paintings fit within the context of the early Modernism of Matisse's Fauvist landscapes or the patterns found in Gustav Klimt's plein-air paintings."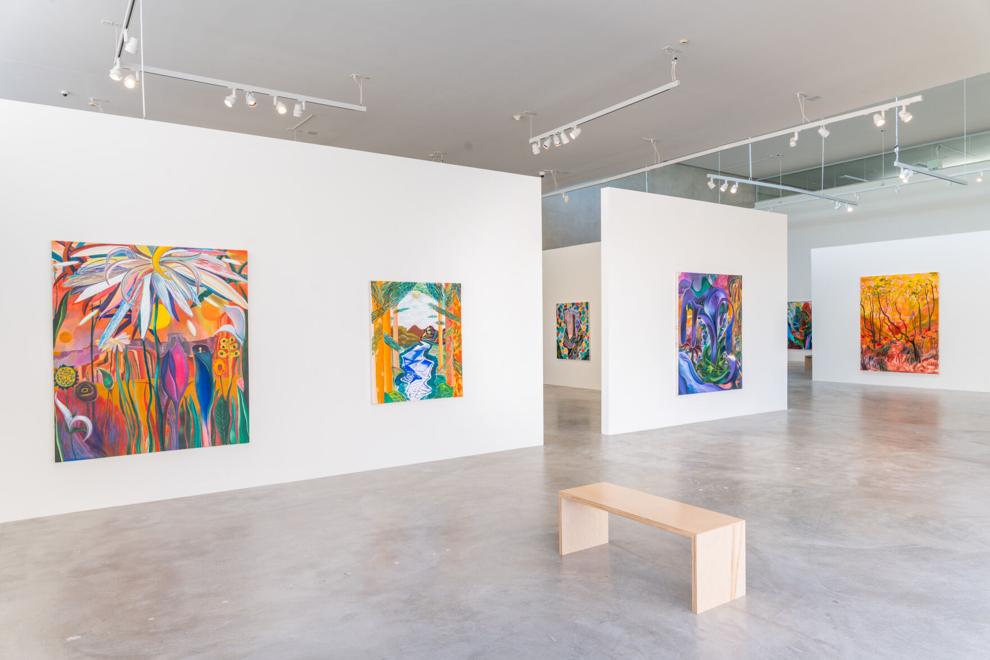 Visual art aficionados should instantly mark the mentions of Henri Matisse (1869-1954) – Pablo Picasso's lifelong French frenemy and arguably the only painter of the 20th century to rival the mad Spaniard for impact – and, intriguingly, Klimt (1862-1918), an Austrian symbolist painter not often elevated to quite that level but still justly celebrated for the electricity of many of his works.
Immediately declaring those mentions "points for departure," Mesh further describes Hughes as "a landscape painter whose paintings 'are not really about landscapes' at all," whose works in the 2017 Whitney Biennial – the longest-running survey of American art, sponsored by New York City's acclaimed Whitney Museum of American Art – were previously described as "framed views of hallucinatory realms."
Jointly by email, Al-Khudhairi and Jeffereis explain their inspiration for introducing Hughes' vision to CAM. "We wanted to give the artist the opportunity to bring together works that had been placed in private collections and dispersed across the country," they state.
"In this way, she could have the space to reflect on the past seven years of work and find connections and new relationships between a significant complement of paintings. Plus, we were attracted to the energy and dynamism of the compositions, the brushwork, facture, color combinations and subject matter – they're just plain beautiful paintings!"
Al-Khudhairi and Jeffereis also deal with the divide between Hughes' landscapes and those of, say, England's John Constable (1776-1837) or his countryman and contemporary J.M.W. Turner (1775-1851).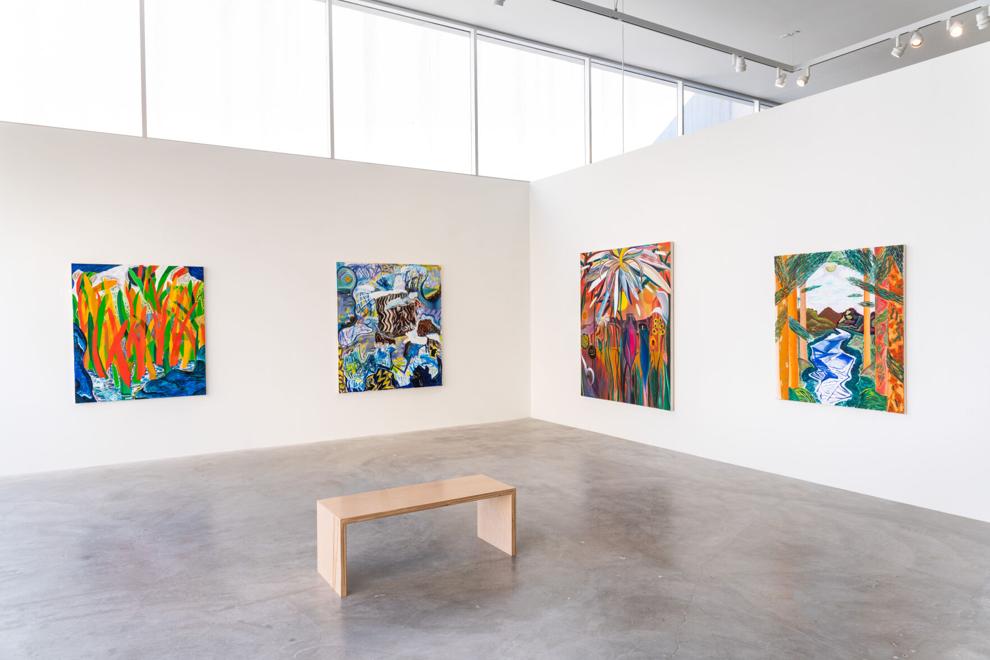 "We like how the artist creates scenes that aren't locatable – she invites us to bring our own interpretations, feelings, experiences to the works," the CAM duo states. "They're very open-ended, inviting, and welcome many points of view and interests. Her process is unique: no sketches, no plan, no premixing the color palette. Starts abstractly and then works intuitively toward resolution. She trusts her intuition. Her method of improvisation, making each painting a fresh discovery, a new terrain – we think this is all very inspiring to young artists."
Mesh, the museum's annual, explains: "Employing a variety of mark-making techniques, the artist loosely depicts floating moons, gnarled trees and blazing sunlight, bridging the abstract and representational. Hughes places her emphasis on gesture, symbolism and iconography. Her paintings are imbued with psychological complexity, bringing to life a world of elegant chaos infused with a vibrant harmony of the organic, the subjective and the surreal."
Al-Khudhairi and Jeffereis conclude by characterizing the response to "On Edge" as "overwhelmingly positive."
"A number of visitors have made second and even third trips back to the museum because they wanted to focus on Shara's work alone," Al-Khudhairi and Jeffereis state. "We don't know that anyone has been specific about the blend of abstraction and representation, but … think Shara's broad inclusion of multiple styles and techniques on a single canvas has been captivating for audiences.
"Some see influences of [19th-century French genius Paul] Cézanne or even [19th-century Dutch genius Vincent] van Gogh emerging from her use of color, line, shading, her brushwork. It's a show with a lot of color, and that is especially welcome as we enter the winter months." 
Contemporary Art Museum St. Louis, 3750 Washington Blvd., St. Louis, 314-535-4660, camstl.org