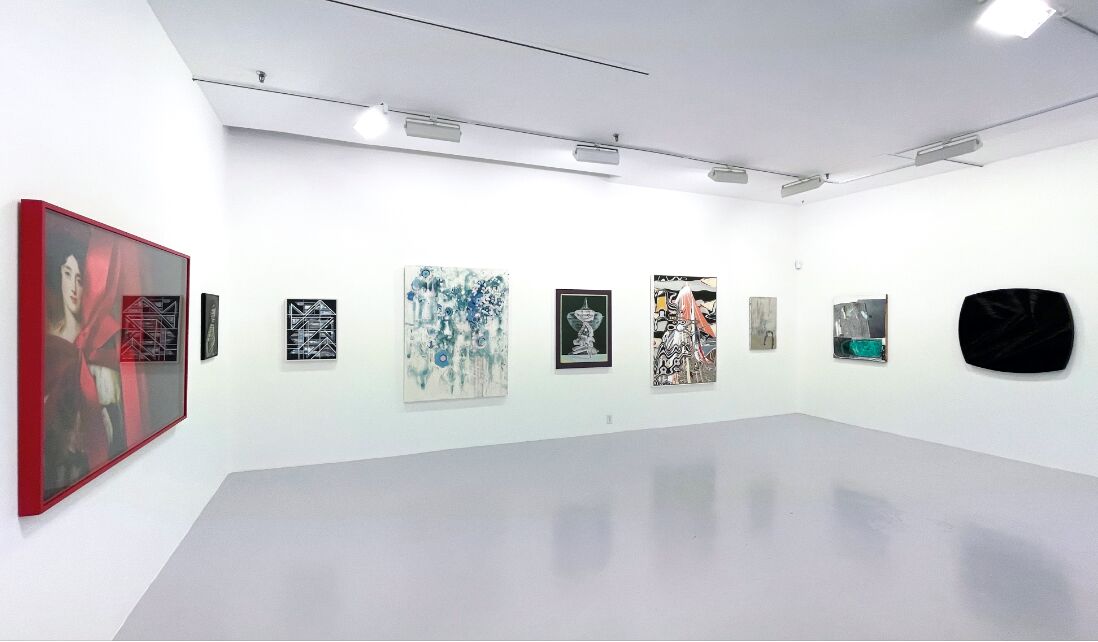 Local devotees of visual art have a few weeks left to enjoy a thought-provoking group exhibition featuring more than five dozen creators at Clayton's revered Bruno David Gallery: "Bilingual: Abstract & Figurative."
The exhibition runs online till Aug. 29. As its title hints, it constitutes a dialogue between abstraction and figuration, two varieties of art that often have been considered conflicting.
The Illustrated Dictionary of Art Terms by Kimberley Reynolds with Richard Seddon states of representational art ("[o]ften used interchangeably with figurative") that it "presents its subject in an immediately recognizable manner, though it may not be entirely realistic."
That volume likewise defines abstract art as work "entirely independent of the natural world, although it may have had its origins in nature. Such a work is considered as an object in its own right and has no distinguishable subject matter."
The gallery's namesake succinctly reflects on the precepts underlying the exhibition and guiding his selections for it. "As the title suggests, with 'Bilingual: Abstract & Figurative,' I tried to show representational and abstract works, along with artists who do not [ordinarily] show with the gallery," David says. "So this group exhibition is bilingual and invitational."
Artists featured in the exhibition almost run the proverbial gamut from A to Z, from Ricky Allman to Bryant Worley, and include such Bruno David Gallery stalwarts as Bunny Burson, Chris Kahler and Thomas Sleet. The featured works include the following highlights:
From Carmon Colangelo comes the customarily seductive quasi-kineticism of Magic Mountain, and the estate of the beloved Leslie Laskey, who died in mid-June just two weeks before his 100th birthday, places his gorgeous, glyphic Living Room.
Andrea Stanislav's Dispersion/White Horse almost explodes with visual energy, while James Austin Murray's Volcano Class III shimmers with jet mystery.
With Ace for JLM, meanwhile, Heather Bennett contributes a portrait of an enigmatic brunette, and Peter Bolte contributes a pair of portraits, the first from the world of music, the second from the world of film (Trevor Dunn and Jean-Luc Godard).
Arny Nadler manages the neat feat of all but counterpoising himself via Firstling Study No. 32, whose black-and-white ethereality calls to mind Chinese calligraphy, and Firstling No. 23, whose gray weightiness makes one fear for the physical integrity of the stand beneath it.
The gallery's press release on the exhibition includes a telling rumination on its topic. "The conventional art historical narrative of modern art presents a story of a contentious shift from figuration into nonobjective abstract art, creating a gap between the two," states that release. "Only in the later part of the 20th century would this intellectual wound separating abstraction and figuration begin to mend, as artists emerged that embraced both.
"Today we can appreciate how the historical conflicts between the languages of figuration and abstraction ultimately enabled artists of the present moment to be 'bilingual' in abstraction and figuration."
David, as a longtime art aficionado himself, sounds almost relieved that proponents of figurative art and proponents of abstract art may finally have achieved an aesthetic détente sufficient to power the metaphoric dialogue of "Bilingual."
"As an art enthusiast and a part of the 'art world' since 1984, I'm always thankful for all artists to have the freedom to create without following the current 'movement,'" he says. "It's refreshing to see that art 'movements' are no longer a force, dictating what we should create, see, collect and show."
Bruno David Gallery, 7513 Forsyth Blvd., St. Louis, brunodavidgallery.com, 314-696-2377