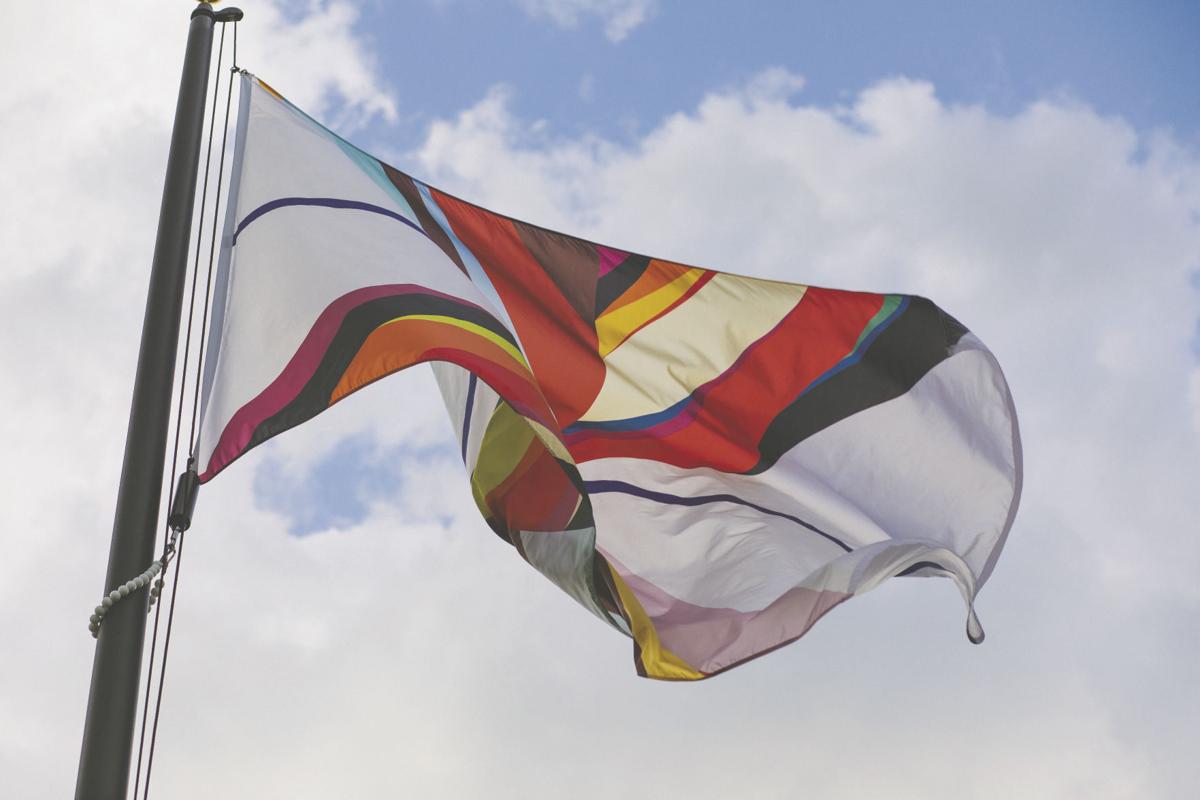 Laumeier Sculpture Park recently launched "From Periphery to Center," an exuberant new free exhibition commissioned from artist Odili Donald Odita.
The exhibition, which opened Aug. 8, runs till Dec. 20 in a unique tandem presentation. More specifically, because it seeks "to forge connections between north and south St. Louis County," according to a press release from Laumeier, the exhibition involves two sites: Laumeier proper, the 105-acre open-air gem in Sunset Hills, and 7-acre Jeske Sculpture Park in Ferguson.
Odita's "From Periphery to Center" takes the form of flags, whose varicolored vivacity may well recall Chinese tangrams, the object mechanism of a kaleidoscope or particularly kicky stained glass. Five flags grace Laumeier, while 10 grace Jeske.
Laumeier's press release describes the exhibition as "a meditation on similarities and difference, bonds and divisions" and notes that the artist took particular interest "in the conversations on inequity and social justice that ensued after the [Aug. 9, 2014] killing of Michael Brown by police, which brought local conditions and events to national and international attention."
It continues that with "From Periphery to Center," the artist wishes "to address the idea that concepts of periphery and center are subjective and changing, and that events do not cease to make [a] significant impact when they occur outside of a broader horizon of attention."
Laumeier curator Dana Turkovic details what inspired the exhibition from Odita (born in Nigeria but nowadays based in Philadelphia).
"Odili was part of an exhibition I curated last year, but he has shown in St. Louis a number of times, so he has a familiarity with our city," Turkovic states. "While doing research for that exhibition, I became aware of a piece he did for [the citywide contemporary art triennial] Prospect New Orleans working with the flags.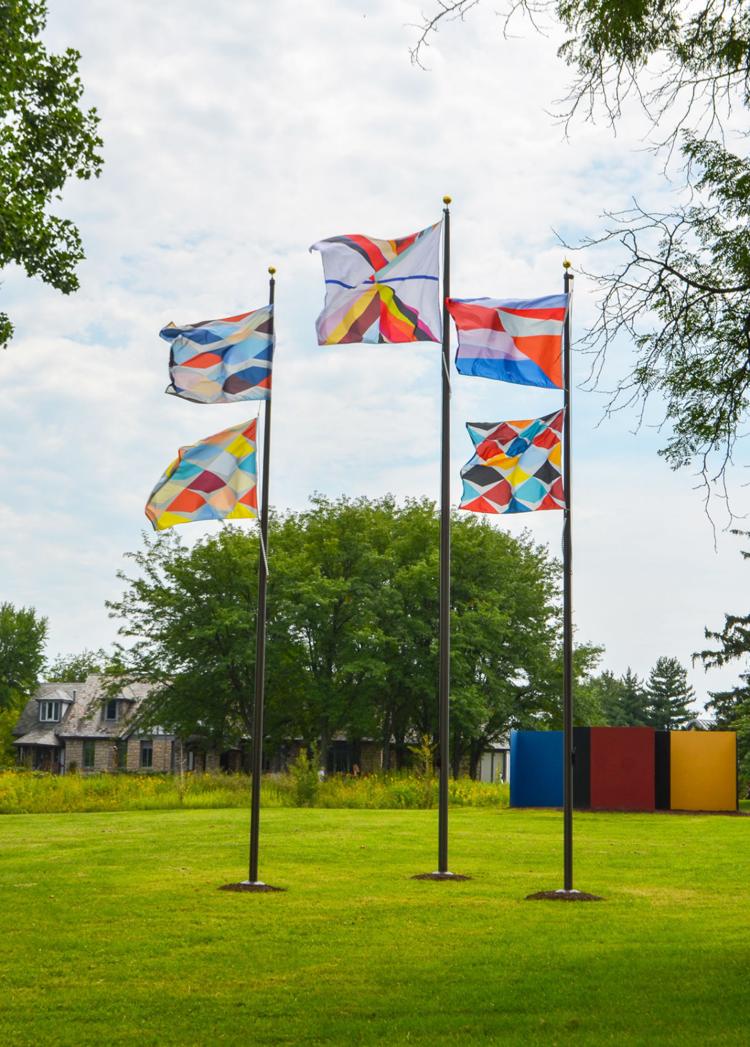 "I liked how Odili's project there looked at geography and place with an expansive view, asking the audience to travel to each site. I also responded to the translation of his approach to painting to a public art practice, using his research to create a composition that was layered with meaning and about history and place."
Turkovic also explains the commission's evolution: "I think Odili really expanded the project in terms of the amount of flags he designed for the project, and he really thought through each design, both conceptually and formally" – especially the flags' placement relative to other works and the surrounding landscape, for a potentially new and surprising experience of a given space.
Otherwise, Turkovic discusses a visitor's potential "takeaway" from the exhibition, aesthetically or otherwise, and enthuses about collaborating with Jeske.
"I think with Odili's work for 'From Periphery to Center,' one of his hopes – and ours – is that each installation within the context of a sculpture park can be a place for conversation and dialogue," she says. "Odili's combination of abstraction and public sculpture sets the tone for universal interpretation.
"Also, it's exciting to work with another park with a similar mission and to expand the footprint of an exhibition. The collaboration with Jeske invites and encourages visitors to experience the [metro area] in a much bigger way and to travel to areas they may not have been to or haven't been to in a long time."
Finally, given that the pandemic has caused many area residents to limit travel, Turkovic calls this "the perfect time to get to know your own city and to really explore it geographically and historically," adding that, in that respect, "Odili's multisite installation becomes about much more than the objects themselves."
Laumeier Sculpture Park, 12580 Rott Road, St. Louis, 314-615-5278, laumeier.org
Jeske Sculpture Park, 211 Thoroughman Ave., Ferguson, 314-521-4661, jeskesculpturepark.com
Be the first to know
Get local news delivered to your inbox!