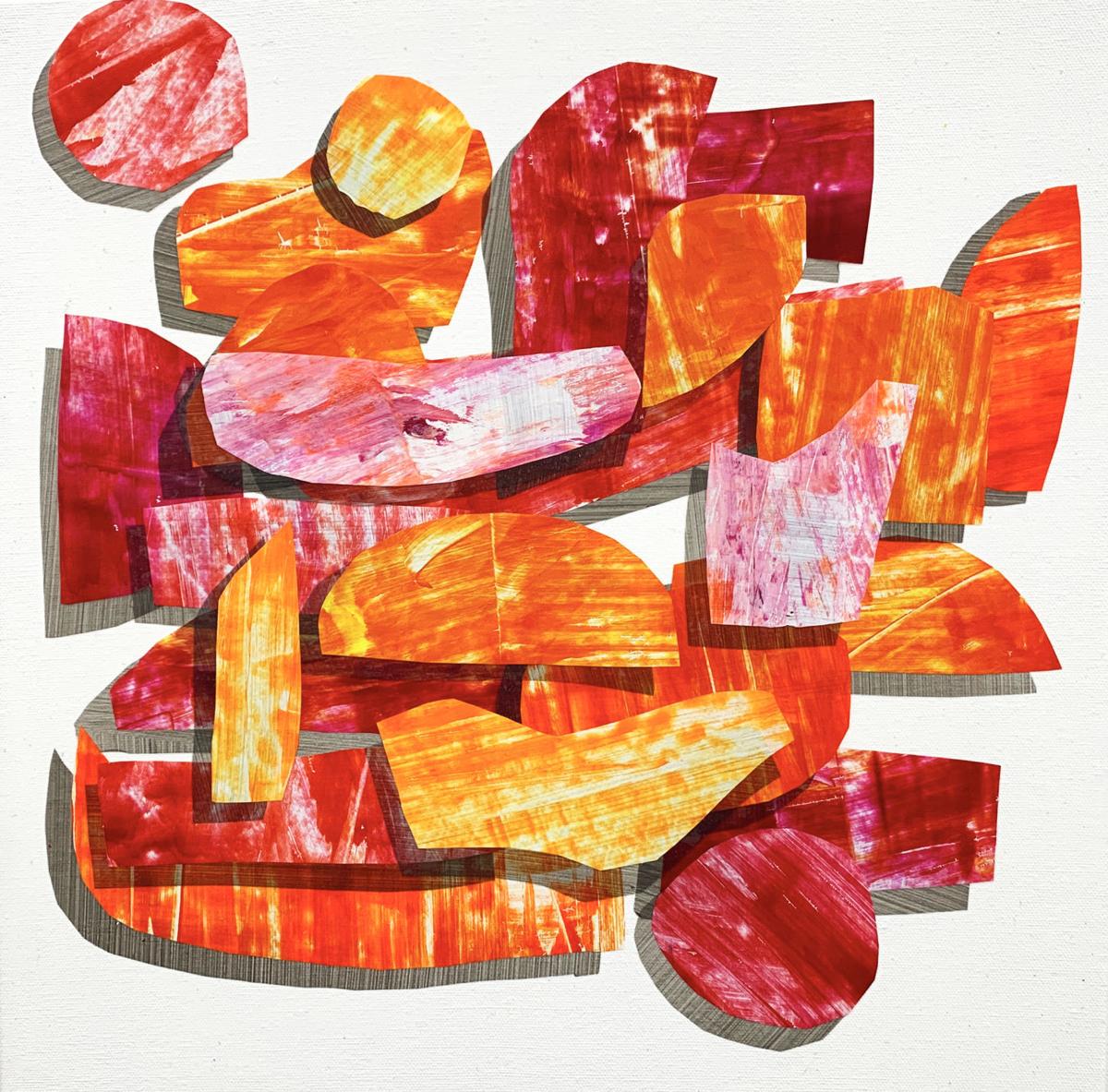 Collage delights so many visual art devotees, one can't help suspecting, because it mimics the human sensorium as a marvelous medley of disparate inputs – as illustrated by St. Louisan Daniel Raedeke's Projected Territories, shown here.
"This piece is part of an ongoing series called Collagesque, where I have fun experimenting with the shapes, patterns, colors and textures," Raedeke states of the 15-inch-square acrylic on canvas on panel.
The artist, who has lived here since 2000 with his wife (also an artist) and son, teaches painting and animation at Ladue Horton Watkins High School. "Working as a teacher for many years, I'm always drawn to the spontaneity and pureness of student collage projects, where colored paper is cut and pasted to create a picture," he relates.
"When working on this series of paintings, I was interested in this more basic approach to image-making, albeit informed to some degree by our contemporary digital sensibilities, where the handmade converges with our increasingly computer-generated environment.
"For this painting, I mimicked old-style hand-painted cel animation techniques – working backwards, I paint on plastic and transfer thin veneers of paint onto the canvas, creating illusions of depth with painted drop shadows."
At a certain remove, Raedeke's Projected Territories, in its palette, recalls that other palate common to humans, the gustatory one; it calls to mind a deconstructed bowl of fruit, with its dusty oranges, restrained reds and sporadic pinks duplicating the visual spectrum of a bowl of nectarines and peaches.
"These paintings are fun to create because they allow for unexpected chance and random improvisation and surprise," Raedeke says. "They require a degree of arbitrary intention that forces you to be in the flow and accept what happens – like you just dropped a bunch of shapes onto the canvas. I like building contradictions in my work and seeing how they interact – intention and chance, flatness and depth, digital and handmade, nostalgia and innovation."
The artist states that he's soloed several times in exhibitions in St. Louis and Chicago alike and that he's taken part in group exhibitions in both the U.S. and Canada. As one of many highlights, he cites "my solo exhibition 'Always Almost New' at Laumeier Sculpture Park in 2004 as part of the Kranzberg Exhibition Series, where I created a toy series that came to life through sculpture, paintings and animations. …
"My last show, 'Adventure,' was a series of new digitally inspired paintings at Bruno David Gallery in 2019. I've shown my work locally at Bruno David Gallery since 2006." David's venerable Clayton venue represents Raedeke.
Finally, succinctly and quite appositely for a collagist, he states: "I am interested in 3D animation, painting and sculpture, and how these art forms interplay."
To learn more about our featured artist, visit artsy.net/bruno-david-gallery/artist/daniel-raedeke or instagram.com/danielraedeke.
Metro area artists who wish to be considered for future installments of this monthly department of Ladue News should email inquiries to bhollerbach@laduenews.com with "Art & Soul" in the subject line.