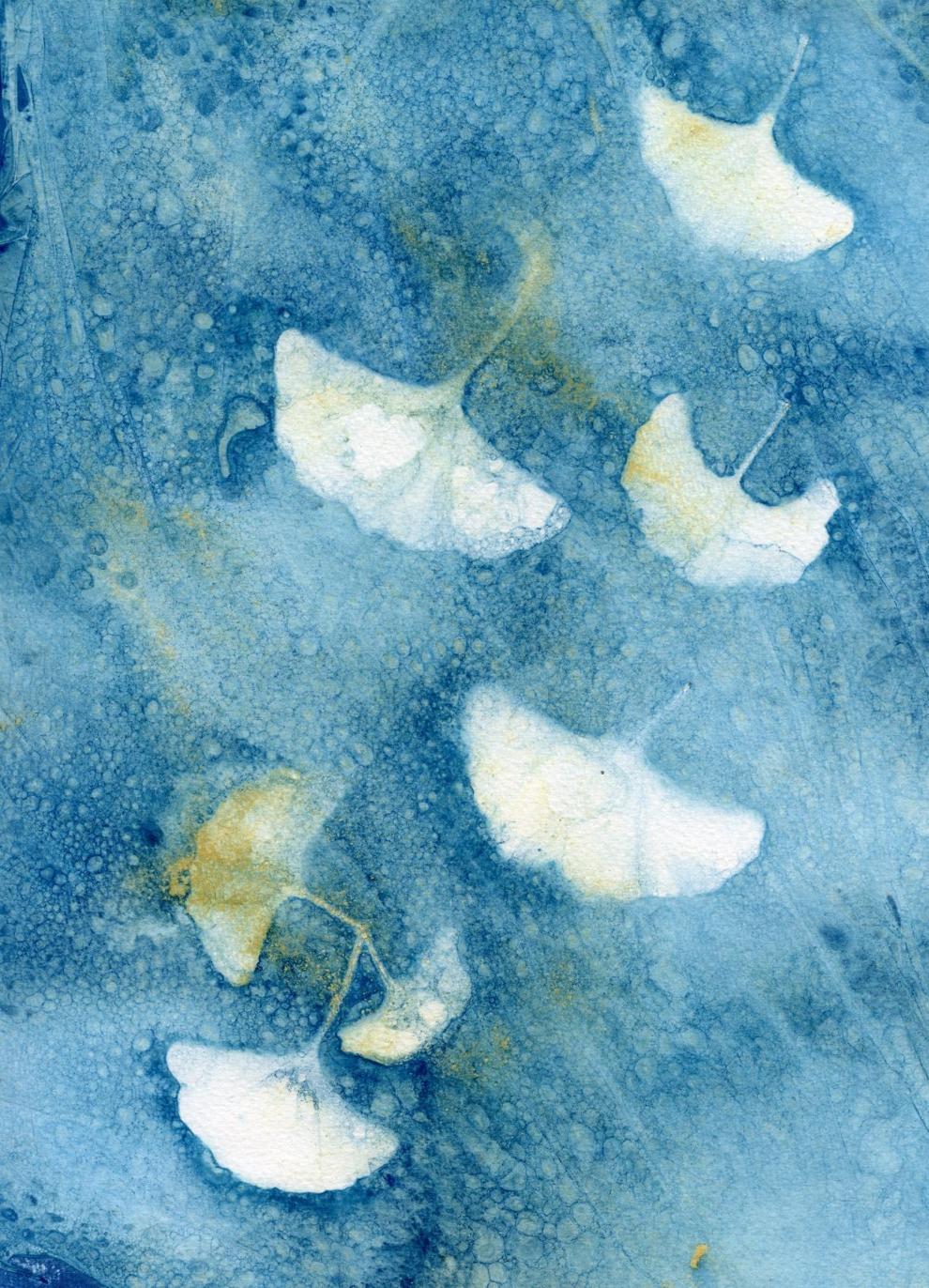 During this season of gray, gray and still more gray, a bit of blue can go a long way toward battling winter gloom, especially bright blue, like the jet of a gas range, a bolt of midnight lightning – or, for that matter, Jane Linders' Falling Gingko, the 9- by 12-inch wet cyanotype shown here.
Linders, a Maryland Heights resident, created Falling Gingko in 2020 at the height of this nation's first collective tussle with COVID-19. "Staying busy is my go-to coping strategy, and printing using the wet cyanotype method kept me distracted during this troubling pandemic," she relates.
"Cyanotypes, also called 'sun prints,' are one of the oldest photographic printing processes, dating back to 1842. Sir John Herschel developed this first silverless photographic process using only two chemicals and the sun as a light source. These sun prints are decidedly low-tech, as the final image of a cyanotype appears only with the aid of sunlight as a light source and water for a developer.
"This inexpensive, simple and permanent process was used for the blueprint process for copying architectural plans – hence the name 'blueprint,' as the images are a deep Prussian blue color. The very first book of printed text and photographs, by Anna Atkins, used the cyanotype process.
"My attraction to the cyanotype process is the physical involvement during the printing process, allowing me to use my hand, eyes and intuition. I like the way the light, time, salts and myself slowly deposit an image on beautifully handcrafted paper."
Linders also provides a bit of "big picture" background on the technique whereby Falling Gingko came to be.
"Many 19th-century processes like cyanotypes are making a comeback with fine art photographers," she says. "You can see modern versions of this antique process in many art exhibits and museums around the country. The current revival of alternative process is more than a trend, and I find the hands-on technique much more satisfying than simply pressing a print key on a computer."
Beyond the formal inspiration of the cyanotype process on Falling Gingko, Linders cites an inspiration based on content. "My backyard garden represented a constant coming and going of the seasons and was a source of comfort and joy in the ever-changing world," she says. "As plants popped up here and there, it was a reminder to slow down and remember that everything has its own time. I marked the passing of the seasons by printing cyanotypes directly from plants found in my suburban backyard.
"The varieties of leaves and weather produced variable results. These prints were made during the sultry St. Louis summer days. I tossed the spice turmeric on the prints for a splash of yellow color and to mimic the flash of lightning, of quick thunderstorms that so often interrupted my printing process and the fireflies that lit up the summer night skies."
Finally, the artist recounts an amusing anecdote about her general background.
"My '15 minutes of fame,' as Warhol suggested would happen to everybody, was when I won a photography award, and one of my photos was exhibited in the Smithsonian," Linders says. "A real thrill! My daughter happened to be visiting Washington, D.C., at the time of the exhibit and stood next to my photo. I asked her if anyone else was looking at my photo. She said, 'No, it's placed next to the ruby slippers from The Wizard of Oz.' How does one compete with that!?
"Oddly, a few years later, another photo of the Eat-Rite Diner [a landmark of St. Louis' LaSalle Park neighborhood that shuttered in December] was selected to be in the Smithsonian. They also contacted me for a release of the photo because they were going to use it in a Smithsonian TV show … When the show aired, we gathered around the TV, only to see my photo whip by the screen for 2 seconds. Oh, well, it was something, eh?
"Fifteen minutes of fame? More like 2 seconds."
To learn more about our featured artist, visit jane-linders.pixels.com.
Metro area artists who wish to be considered for future installments of this monthly department of Ladue News should email inquiries to bhollerbach@laduenews.com with "Art & Soul" in the subject line.