John Barr and Kelley Hall-Barr are drawn to small-town life.
Best-known for running the show at Civil Alchemy and The Frisco Barroom – a hip boutique and stylish restaurant, respectively – the entrepreneurs opened The Annex Coffee and Foods in fall 2020 to marry pieces of the two concepts. The result is an all-day corner market in Webster Groves' Old Orchard neighborhood that evokes a time and a place when life moved a little slower.
It's a project the two have dreamed about for years.
"Before we opened The Frisco, we had imagined doing a market on the level of Village Wine & Cheese," says Barr, citing inspiration from his college days at the University of Missouri-Columbia. "I think The Frisco was also so busy that we couldn't put the extra load onto our team."
The Frisco Barroom's success stalled progress on the corner market. The couple dragged their feet for a year and a half, playing with the idea of opening a folk music coffeehouse in the same stretch of Big Bend Boulevard where Civil Alchemy and The Frisco Barroom – neighbors only a few doors apart – welcome guests for shopping and dining.
As with every story in 2020, things changed in the COVID-19 pandemic.
"When the pandemic hit, it was an opportunity," says Barr. "We were losing so much of our kitchen, it allowed us to go, 'Well, now we have the labor, now we have the time – we can spend the next nine months focusing on that while The Frisco goes into hibernation.'"
Barr mentions that Civil Alchemy forged ahead, seeing great success with the growth of its subscription alcohol service. But thanks to lockdown, the couple was able to dedicate unspent energy on The Annex, which merges gourmet food, retail offerings and a coffee shop. In so doing, Barr says he and his wife probably saved 10 jobs.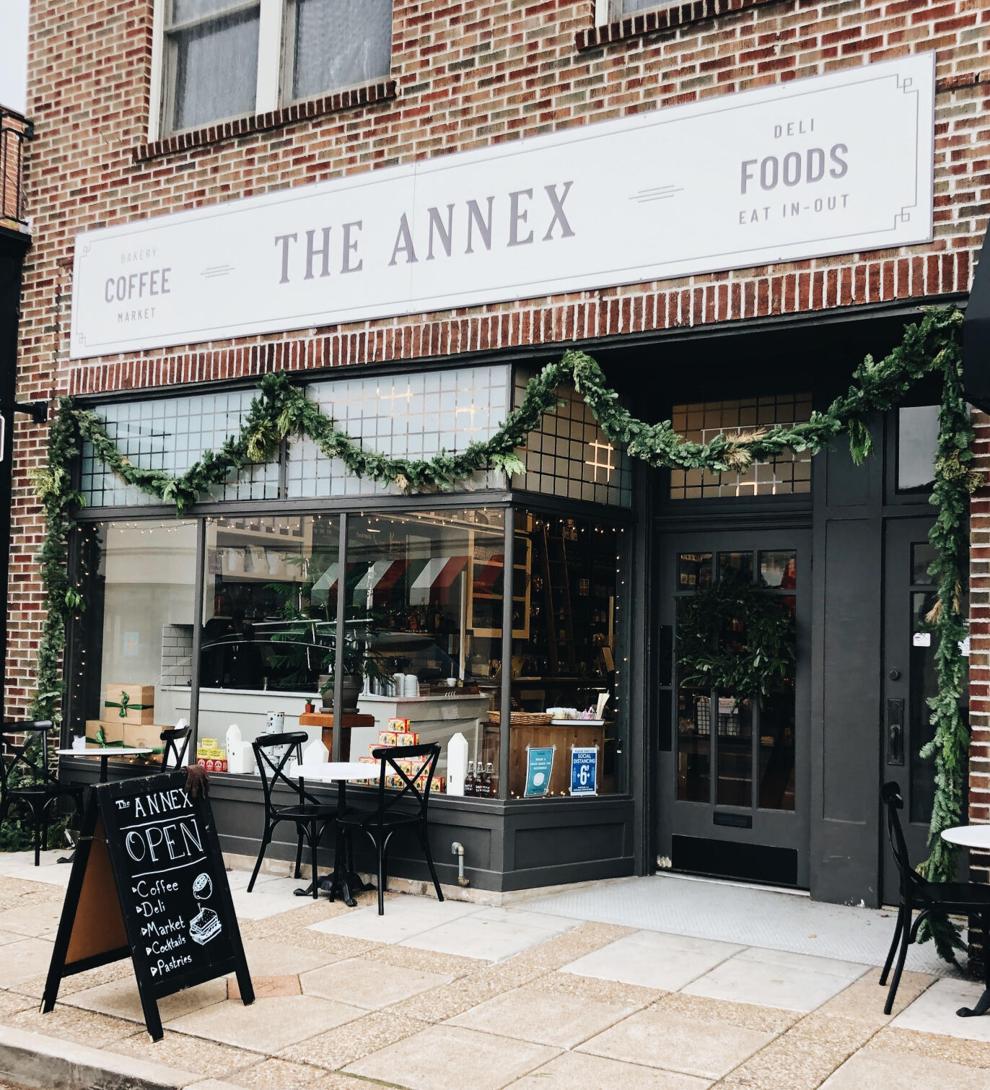 Sandwiched between The Frisco Barroom and Civil Alchemy, The Annex takes an old-timey approach to the classic local market. Red brick walls and well-stocked shelves give the establishment an undeniable sense of timelessness. Customers can stop in morning, noon and night for a bite, a cup or a bit of foodstuff for an upcoming meal at home.
"We consider it part coffee, part bakery, part deli, part grab-and-go and part grocery," says Barr.
The dining menu includes simple-yet-scrumptious breakfast items like an a.m. burrito and slices of fresh quiche, as well as a collection of sandwiches featuring artisanal ingredients that elevate any selection. Think a BLT with crispy glazed pork belly, tomato fennel jam, arugula and blue cheese aioli on toasted white bread, or a Cuban made with savory sliced mojo pork loin, ham hock terrine, stone-ground mustard, shaved pickles and peppers, and Swiss on a baguette.
Meanwhile, the coffee and cocktail menu was designed by Swiss Army person Matt Foster, who serves as a manager, mixologist and barista. Barr says Foster takes his drinks seriously, but also understands that crowd-pleasers keep people in the shop. In other words, The Annex is serious about coffee, but also understands that sometimes you pay the bills with pumpkin lattes.
The menu proves this wide-ranging approach. The Annex crafts seasonal lattes as well as more traditional drip and espresso sips – and plans to rotate its coffee selection every few months to showcase different local roasters. Right now, St. Louis' Coma Coffee Roasters is behind the beans. Fittingly, the shop also features unique cocktails, mocktails, tea and more.
What makes this concept really click is the uniqueness of its products paired with the classicism of its space in a historic building in a historic neighborhood. Basically, The Annex feels right at home amid the other charms of Old Orchard.
"Webster has definitely held on to its small-town charm," Barr says. "It's definitely what we love about being here, is that it feels like a small town just on the edge of the city."
The Annex Coffee and Foods, 8122 Big Bend Blvd., Webster Groves, 314-731-6329, theannexstl.com