To satisfy your sweet tooth and beat the summer heat, look no further than The Baked Bear, whose Delmar Loop location dishes custom ice cream-stuffed cookie sandwiches with manifold different flavor combos.
The franchised dessert shop comes from St. Louis native Colin Tillman, who partnered with Steve Lemley to bring the brand here. The Loop location, which launched in 2018, marks the 7-year-old San Diego-based chain's 29th nationwide but its first in Missouri.
The shop's blue hue from its logo fills the 1,300-square-foot space with pops of color, accompanied by neutrals from its wood and white subway tile. At the counter, guests build their own treats.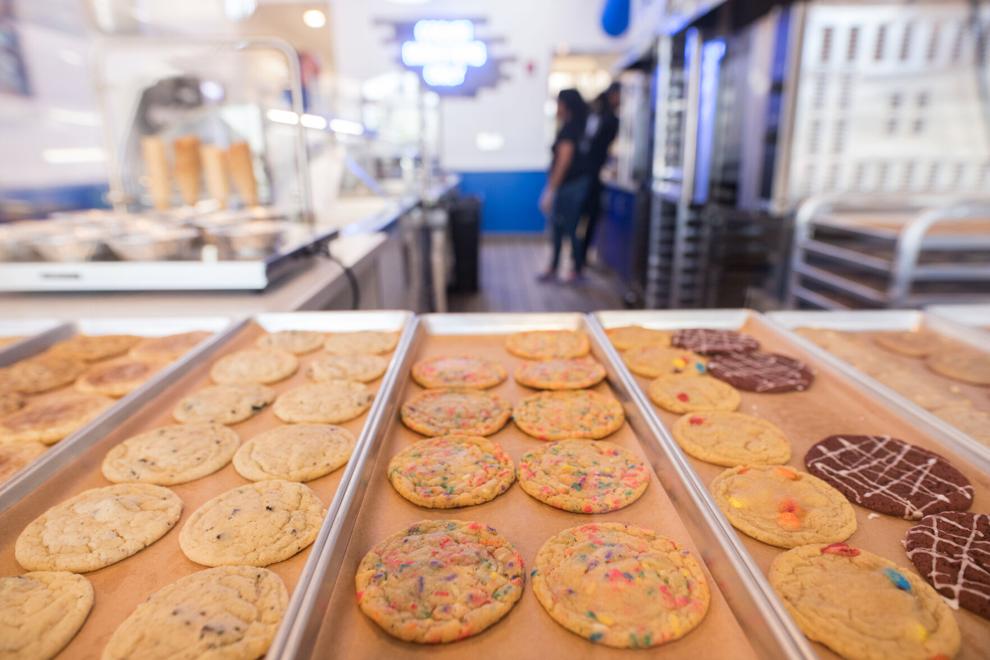 "We offer made-from-scratch, fresh-baked cookies and brownies along with premium ice cream," Tillman says. "It kind of starts and ends with the ice cream sandwich. There's something like 4,500 possible combinations you can create with it all."
Currently available are 10 types of cookies/brownies (plus a Cookie of the Month) and 13 ice cream flavors. To make a sandwich, a guest chooses from such cookie/brownie options as chocolate chip, "Funfetti," sea salt peanut butter chocolate and red velvet, mixing and matching as desired.
The Baked Bear's brand of craft ice cream features an all-natural mix made with hormone-free cream, pure cane sugar and natural stabilizers. Popular flavors include espresso bean, salted caramel fudge and "Bear Batter" – a bright blue ice cream flavored with cake batter, fudge and brownie bits. Tillman's personal fave combines peanut butter cookies filled with mint chip ice cream.
Guests otherwise can enjoy a dozen toppings, among them hot caramel, hot fudge, whipped cream, sprinkles and Oreo crumbs. They also can have their sweet sammies warmed in a hot press.
Other items include hot fudge sundaes and the Bear Bowl – a warm chocolate chip cookie or brownie topped with a scoop of ice cream. In addition, cookies/brownies and ice cream can be purchased individually, with specials available, including the aforementioned Cookie of the Month. Seasonal rotating ice cream flavors include options like peanut butter and jelly.
"I think this east end of Skinker [Boulevard] is really making a resurgence over the past few years, and we're really excited to be a part of it," Tillman says. "We look forward to welcoming anybody who wants to come in who loves excellent dessert."
The Baked Bear, 6140 Delmar Blvd., St. Louis, 314-578-8576, thebakedbear.com/st-louis