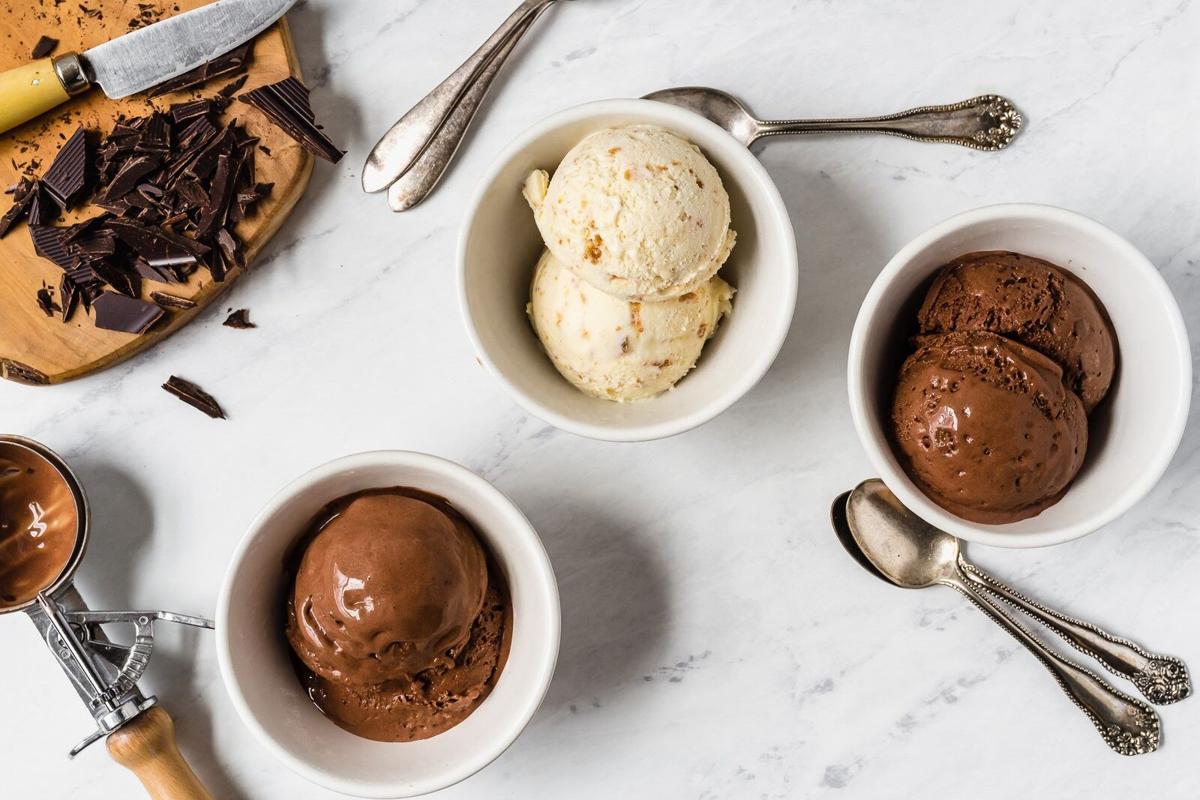 Rachel Burns was inspired to create Bold Spoon Creamery amid the aftermath of a modest mishap.
"I planted mint in our University City backyard," says Burns, owner and founder of Bold Spoon Creamery. "When you plant it, you should actually put it in a pot because it, like, completely takes over, and I didn't do that, and so it did completely take over. … We were giving it away, my husband was making mojitos, and it wasn't making a dent; but it was so beautiful and green and lush."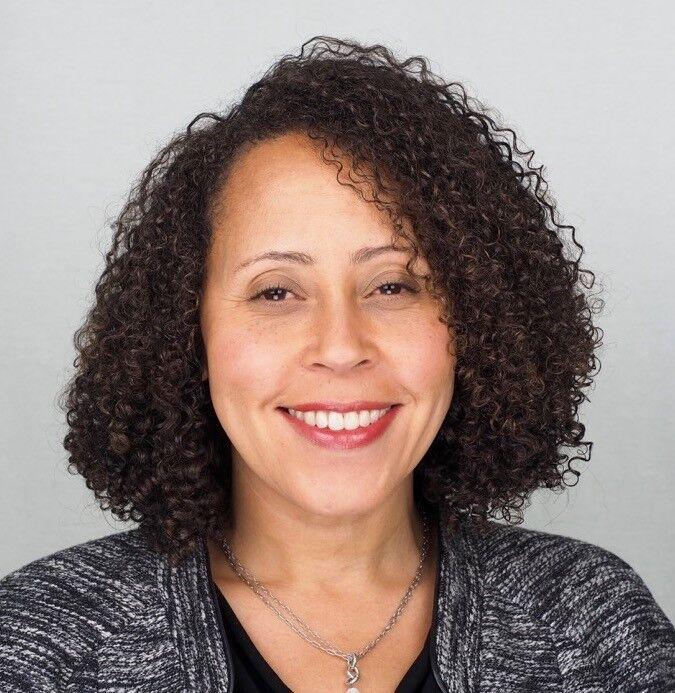 You might say this mistake was "mint" to be (pun intended), as it ultimately led to Burns making a batch of mint ice cream – and then another and another.
"We had one of those [Cuisinart ice cream machines] in our basement, and honestly, for years and years I just walked past it, paid no attention to it, didn't think about it at all," Burns says. "And then when I had this abundance of mint I was like, 'Oh, I love mint ice cream – I'll do that.' So we started making it, and I literally for the first summer only made mint ice cream. Like it honestly never occurred to me to try to make another flavor."
Once the ice cream became a fan fave among family and friends, Burns began experimenting with different flavors, different ice cream recipes and even cooking methods.
"It just became obvious to me that it was more than a hobby because I was thinking about it a lot," Burns says. "I would be walking around in a store, see an ingredient and wonder how that would be in an ice cream, and then I would go home and try."
Flavors now include crowd-pleasers such as Goat Cheese with Fig Jam, Brie with Spiced Honey, Salted Chocolate, and Coffee with Chocolate Freckles, as well as seasonal offerings like Lemon Curd.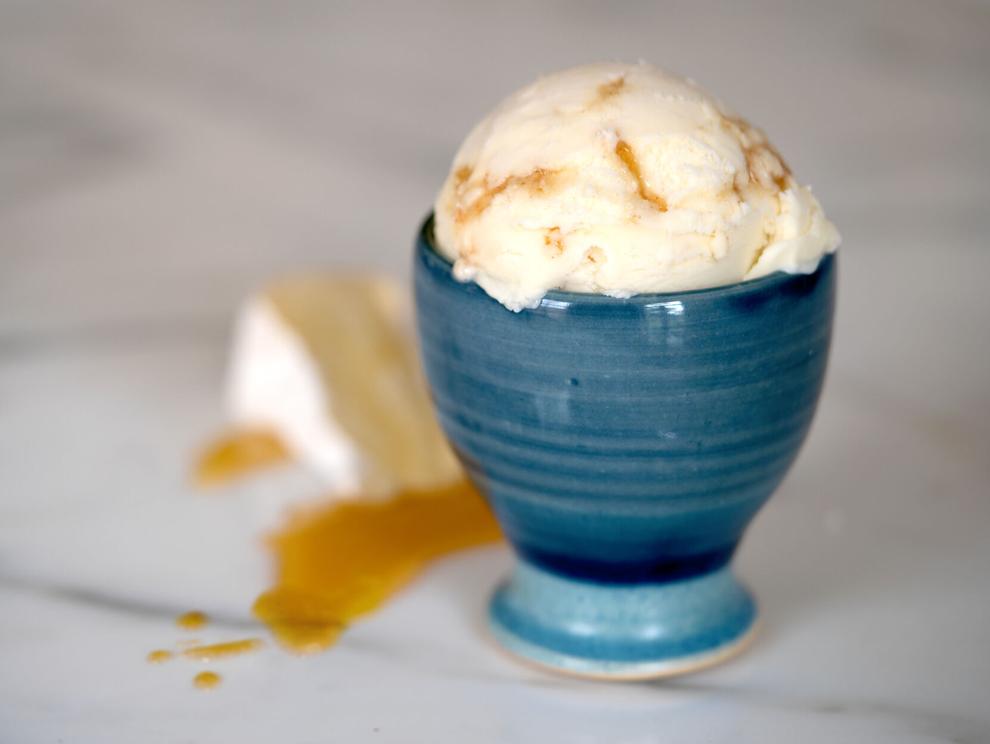 "Last summer, we had the series of flavors called TGFM, which stands for Tower Grove Farmers' Market," Burns says. "We would pair with a different vendor and make a custom flavor around one of their products. It was fun!" The limited series is returning this year as TGFM V.5, with the latest launch featuring mulberry ice cream swirled with balsamic sauce and Yoder Family Farm strawberries.
What's also fun is that Bold Spoon Creamery prides itself on using locally sourced ingredients in all of its ice creams, such as milk and cream from Greenville, Illinois' Rolling Lawns Farm, goat cheese from Bloomsdale, Missouri's Baejte Farms and coffee from St. Louis' Kuva Coffee Roasters.
"We just really love to support other local small businesses," Burns says. "We also like to use very simple, clean ingredients. By design, our ice cream really doesn't have that many ingredients."
Although Burns broached the subject of making Bold Spoon Creamery a business in 2019, it wasn't until March 2020 that Bold Spoon Creamery was officially "ready to go."
"That was a crazy time," Burns says. "My business model initially was to sell to restaurants primarily, so you can imagine that in March of 2020, that was not a viable business plan because they were completely uncertain of their future."
Instead, Burns says she took to the streets with her sweets – literally.
"My husband called me 'a woman and her wagon,'" Burns says with a laugh. "I literally made ice cream, and then we had a cooler with a handle and wheel, so I'd pack it up with some dry ice and just went around my neighborhood and gave it away. I just needed to start something, get the name out and have people taste it."
These efforts ultimately led to Bold Spoon Creamery's first sale on May 2, 2020. Just a little over a year later, Bold Spoon Creamery ice creams can now be found at Tower Grove Farmers' Market, six Schnucks stores, all Straub's locations, The Woman's Exchange, The Smokehouse Market, The Annex and Garden District STL.
"It has just been this crazy evolution," Burns says. "Its current state now is not what I thought it would be, but that's true of virtually everything for this year. But it has turned out really spectacular."
Bold Spoon Creamery, 314-406-0765, boldspooncreamery.com